Evolution 2010: The Games
This post has not been edited by the GamesBeat staff. Opinions by GamesBeat community writers do not necessarily reflect those of the staff.
I'm worried about my computer. It tends to overheat when I have it on for too long or if I'm streaming videos, and I'll be doing both this weekend as Evolution 2010 airs live online. For those who don't know, Evolution (EVO for short) is to the fighting-game scene as the World Cup is to soccer: A gathering of the best players from around the world, except with everything crammed into one weekend and with no official to call offsides on your perfect win.
As a fighting-game fan I see no problem in watching a stream of other people playing video games in Las Vegas. However, some of you might be checking this out for the first time, so I decided to make an unofficial preview for EVO 2010, highlighting the background of the six main tournaments and what makes each game unique.
The tournament starts tomorrow at 9 a.m. Pacific Time. All tournaments have a double-elimination format that you can learn about here. For the stream click here. Event Hubs also has a stream without live chat.
---
Background: The most-popular fighting game in the United States. Over a thousand people competed in last year's Street Fighter 4 tournament, and its sequel remains the main event for this year. Besides just being popular, SSF4 has been helped by the array of Internet sites and YouTube videos created to help newcomers learn the game.
Meanwhile, the community's effort to stream as many tournaments as possible has turned the game into a spectator sport. You can even root for well-known players, whether it's big names like Justin Wong and Daigo Umehara, players reknowned for playing certain characters, or even guys who win with regular control pads instead of $100+ arcade sticks.
There are a lot of events tied into this year's tournament. There will be a women's invitational tournament for all girls who enter the main tourney to try and extend Street Fighter beyond its mostly-male audience. SSF4 Producer Yoshinori Ono will make an appearance, and MadCatz will award the final eight players and the women's invitational winner with gold-plated tournament sticks. Even Stetson is in on the action, as the company will award the best-placing Ken player with the cowboy hat from his alternate costume.
Playstyle: Super Street Fighter 4 brings back the gameplay people enjoyed in the 90s along with two new mechanics: Focus Attacks, which absorb your foe's attacks and can also be used to cancel out of your own moves; and Ultra Combos, powerful comeback attacks you gain by taking damage. Most Ultras are too slow to use in normal combos, so players have to either capitalize on a mistake or use specific combos that set up that Ultra, which often require Focus Attack cancels.
SSF4 is largely the same as the original with new characters, new Ultras, and balance tweaks aimed at reducing damage, which help World Warriors with low health or hard-to-land Ultras. Few characters have been seriously hurt by the changes, so it'll be interesting to see if players will stick with their old characters or go with one of the new challengers.
---
Background: Namco Bandai must be pretty annoyed by Street Fighter 4. The company never stopped making fighting games in the gap between now and the arcade golden days, but Capcom makes one decent title in ten years and suddenly the genre is "revived." They might not care though – it's latest offering Tekken 6 has been more popular than SF4 in Japanese arcades, and recently the game made it into Major League Gaming. Now Tekken 6 will have its first time at the EVO spotlight.
Playstyle: Tekken is different from the 2D fighters that constitute EVO's main tournaments. Tekken's battles takes place in close range, so the game is less about controlling space and more about attacking with safe strikes and mix ups. Tekken characters have over a hundred different attacks each, but players mostly stick with about ten moves that fit their playstyle. Tekken's also well-known for its juggle combos, and much revolves around launching an opponent into the air and then causing as much damage as possible before they hit the ground.
---
Tatsunoko Vs. Capcom: Ultimate All-Stars
Background: Capcom's latest tag-team fighter makes its EVO debut. TVC pits the figureheads of Capcom's franchises against Science Ninja Team Gatchaman, Tekkaman, and other icons from Japanese animation. The game hasn't reached the same level of popularity as other fighters due to the obsucre lineup and the fact it's a Nintendo Wii exclusive, but EVO could be the place to change that.
Playstyle: While TVC doesn't reach the screen-covering antics of Marvel Vs. Capcom 2, it is still a fast brawler with an emphasis on aggressive play. As in older Vs. games, a great team consists not only of fighters the player is good with, but also complement each other through asisst attacks and super combos.
Managing super meters is important as well – landing a flashy super combo isn't as important as having two bars to break out of a combo with a Mega Crash. Finally, there are Baroque cancels that cancel attacks and helps to extend combos. The Vs. series is known for unblananced rosters, but so far every TVC character has done well competitively, which means a lot of variety for stream watchers.
Super Street Fighter 2 Turbo: HD Remix
Background: Super Street Fighter 2 Turbo is another EVO favorite, and HD Remix is entering its second year as an EVO title.Lead Designer David Sirlin and Backbone Entertainment tuned HD Remix to stay true to the "Super Turbo" while making the roster slightly more balanced. Did they succeed? The effort to turn Akuma from an overpowered boss to a fair character ended up a bust, and some purists disagree with the changes. A longtime tournament player himself, Sirlin used Fei Long and Cammy in last year's tournaments to prove they're more competitive.
PlayStyle: While Street Fighter 4 was meant to target fans who left after the Street Fighter 2 series, HD Remix is closer to the hard hits and pace of the original games. HD Remix is Street Fighter distilled into its purest form where fundamentals rule instead of fancy subsystems or comeback mechanics. Those bored by Street Fighter 4's slower pace will enjoy HD Remix's quick matches where fights are decided in a few combos.
---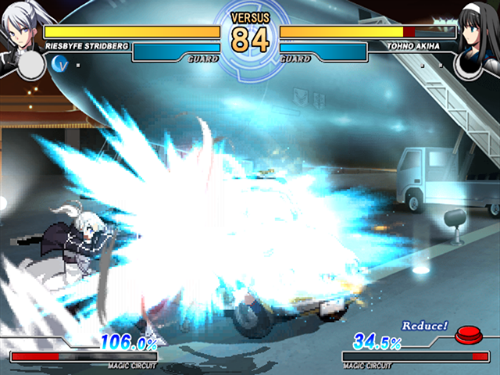 Background: Melty Blood actually started as an indie "dojin" game based off a visual novel called Tsukihime. The developers were onto something though, as Melty Blood went from a computer game to an official arcade release and several sequels, the latest being Actress Again. Melty Blood never got an American release, but that didn't stop the game from getting a dedicated scene in the States. The community's efforts paid off, as Acress Again won a "Player's Choice" poll to get into EVO, beating games like Street Fighter 3: Third Strike and Marvel Vs. Capcom 2.
Playstyle: Melty Blood characters can cover the screen in an instant with a multitude of air dashes, while the fighting system is friendly toward powerful combos and pressure strings. The mechanics also get quite complex with parries, multiple ways of canceling into attacks, and "Moon" styles that affects how characters fight and gain super meter. While it can be daunting to newcomers, Melty Blood trusts its engine enough to give players freedom without everything falling apart. For more information, check out iplaywinner's article on the game.
---
http://www.marvel.com All
rights reserved. ©CAPCOM CO., LTD. 2002, 2009, ©CAPCOM U.S.A., INC.
2002, 2009 ALL RIGHTS RESERVED. STRIDER: ©MOTO KIKAKU." src="http://venturebeat.files.wordpress.com/2010/07/storm_vs_bb_hood_bmp_jpgcopy.jpg" style="width: 500px; height: 281px;" />
Background: Originally BlazBlue: Calamity Trigger was the last tournament at EVO, but since many top players have already moved on to its sequel the community agreed to replace it Marvel Vs. Capcom 2. MVC2 has been in every EVO tournament, and after years on the Sega Dreamcast the battlefield moves on to the PlayStation Network version released last year. To complete the event for Verses fans, there will be a playable version of Marvel Vs. Capcom 3 at the show.
Playstyle: This 3-on-3 clash between Capcom stars and Marvel superheroes is not for the fussy. Yes, most teams will include some combination of Magneto, Storm, Sentinel, and Cable. Yes, high-level play uses infinite combos and other unintended techniques Joe Casual would ragequit over. But one person's mess is another person's masterpiece as a decade's worth of play has unearthed a well of tactics only limited by how fast your fingers are. And when comebacks do happen, it's a lot more miraculous than landing a lucky Ultra Combo.
---
Best of luck to Bitmobbers Daryl Bunao and Brian McAlister, who will be competing at this year's EVO. If you're planning to compete, watch online, or think I said something wrong, leave a comment below.