Why Aren't More People Pissed About Publishers Devaluing Used Games?
This post has been edited by the GamesBeat staff. Opinions by GamesBeat community writers do not necessarily reflect those of the staff.
Editor's note: Alexander writes an impassioned cry to apathetic gamers unconcerned over the industry's hostile stance toward used games. I'm in agreement that a problem exists with the way publishers devalue the secondhand market, and I think he's onto something when he says that journalists should consider resale value when reviewing a game. -Rob
---
I didn't have a lot of money growing up. I didn't own a new game — period — until I was in college. Not because I didn't want to support the game industry, but because I didn't have the cash.
I was always just one console generation behind…OK, two console generations behind. When I first started playing video games, I had an Atari 800 and everyone else had a Super Nintendo or Sega Genesis.
I also spent a lot of time in libraries and used-book stores, where I read a lot of titles that were — quite frankly — out of print.
Consequently, the concept of being able to buy used books, movies, music, and games is a big deal to me. The idea that when an author publishes a work that someone should be able to access to it — either through a library, a rental store, or a used-whatever store — is extremely important to me.
Recently, I read that Activision is just the latest major game publisher to take steps against used-game sales. COO Thomas Tippl (pictured right) wants to "'limit the supply' of content in pre-owned titles."
Yes, I know Activision is evil.
Yes, I know that GameStop rips you off with the price of their used options.
But all this anti-secondhand-games bullshit pisses me off to no fucking end.
When developers and publishers start taking a stand against used games, I get mad — by which I mean Hulk-smash-puny-game-executive-level mad; however, it feels like I'm the only one who cares and feels that something's very wrong about this.
Publishers like Acitivision actively try to steal our game history. We should be very mad about this. To be fair, some of the ranks of joe-average gamer are angry. But whenever I listen to podcasts or read an editorial, that's not what I hear.
I hear, "GameStop overcharges, so it's okay." I hear the equivalent of "forget it, Jack — it's Activision." I hear that petitions and boycotts never work, and they won't get you anywhere.
I hear nothing at all from the Electronic Consumers Association, an organization of which I am a member.
This isn't how it should be. The outcry against these anti-consumer practices should be loud and long. And it shouldn't just come from the people who post in the comments and those who sell used games.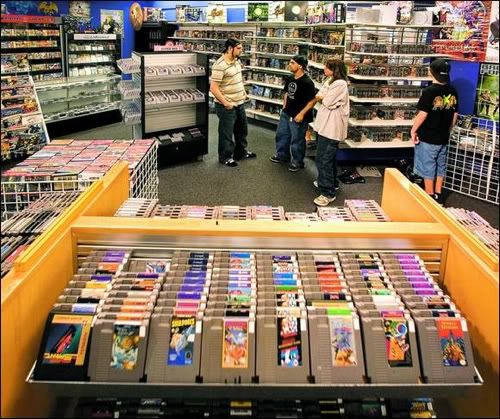 Game journalists have a fairly strong bully pulpit. In particular, writers who cover retro games, such as Hardcore Gamer 101 or 1up's Retronauts blog, should — by all rights — recognize what's at stake for future generations of gamers and take a stand.
Journalists should harshly criticize games designed with measues meant to penalize those who purchase used (such as EA Sports's Online Pass, which requires second-hand buyers to pony up $10 extra to play online) in reviews. I mean singling out executives who promomted these policies by name as well as awarding a lower score since the game would be essentially broken.
This seems to be the only way to make consumers' displeasure known, because the people we're fighting against interpret "voting with our dollars" as proving their point.
That said, if you have an alternate solution that you strongly think will work, please feel free to post it in the comments.