Download Lowdown: Lara Croft and the Guardian of Light
Crystal Dynamics takes a bold step with Lara Croft and the Guardian of Light, a $15 Xbox Live Arcade and PlayStation Network title. While functionally similar to Tomb Raider's puzzle/platformer roots, The Guardian of Light's isometric perspective, cooperative multiplayer, and amplified action drastically change what we know about Lara Croft.
This is the fresh start the ol' girl needed.
---
Game: Lara Croft and the Guardian of Light
System: Xbox 360, PlayStation 3 (Available in September)
Price: $15 (1200 Microsoft Points)
Conceptually, Guardian of Light boils down to "Tomb Raider, but it looks like Diablo." Actions such as running along walls, leaping between crumbling walkways, and shooting guns from an isometric perspective sound nightmarish. But Crystal Dynamics pulls it off expertly — better than the recent batch of decent Tomb Raider titles, even.
What really sells the game is its co-op. Lara teams up with an ancient warrior called Totec, who quickly shelves his spear in favor of an M-16. It's great using each other's abilities — like crossing chasms on your partner's tightrope or a leaping off Totec's shield to gain extra height — because they open new opportunities to get around each area.
It's a similarly interesting adventure if you're playing alone. Yes, you're down one partner, but Lara is perfectly capable of navigating the environments. She can wedge spears into walls to create a makeshift ladder, and her grappling hook lets her run along or climb up walls. I went in loathing the idea of running through solo. I adored it anyway.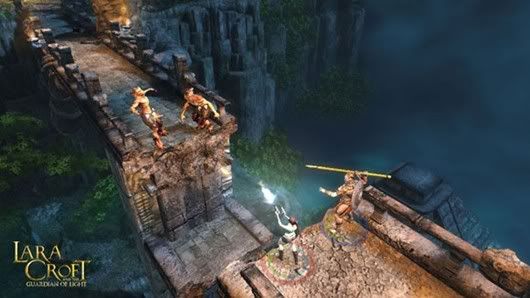 I'm not one to bother with lame secondary objectives, but the hidden items and level-based side-quests — like scoring a certain number of points or destroying objects around the massive maps — reward you handsomely. The myriad secret rooms scattered about also pose interesting new challenges that really pay off. The ability-enhancing relics are worth the leaps of faith and narrow escapes.
The twin-stick combat is far more exciting than previous Lara Croft titles, too. Combining remote mines, shotguns, and massive spears to fight a dozen lizards and their gigantic momma is a hoot. Special abilities, like increased damage or an Ikaruga-like spread shot, add extra oomph to it all.
It sucks that we won't see Xbox Live co-op integration until September, around the time Lara hits the PlayStation network. But the titular tomb-raider's new direction is an excellent change of pace. This is a damn fine action game, a cool platformer with clever puzzles, and my new favorite co-op title.
---
---
What Twitter says:
CmdrBenBen has high praise: "Wow, Lara Croft and the Guardian of Light is extremely fun, very unexpected."
Hendersonman digs the game despite its new direction: "Damn, Lara Croft and the Guardian of Light is as good as all the reviews say it is. Still would rather have a real tomb raider game."
Tankithoong flips out: "Holy mama! Lara Croft and the Guardian of Light is an amazingly great local co-op game!!! 10/10!!"