Games of the Year that would never win Games of the Year
This post has been edited by the GamesBeat staff. Opinions by GamesBeat community writers do not necessarily reflect those of the staff.
If Red Dead Redemption or God of War 3 is your game of the year, that's cool, man. But get that idea out of your head for one moment. I want to talk about your favorite title of 2010 that would never win an award from the average media outlet.
Maybe your top pick has a problem or two that others just can't get past. Or maybe it's a no-name game from a no-name developer and isn't causing a blip on GOTY radars. Or maybe other people are just plain stupid and can't see the same genius that you see.
This discussion first came up on last week's Mobcast, where Gamespot Vice President John Davison (and my former boss at 1UP/EGM) brought up Enslaved: Odyssey to the West as an off-the-beaten-path GOTY contender. That got us talking more about these longer-than-longshots who would never, ever best a Red Dead Redemption of God of War 3 for a "Best Game of 2010" trophy but are still worth mentioning in the same breath.
Here are my picks for 2010's Games of the Year That Would Never Win Games of the Year — one full-sized retail product and one pint-sized downloadable title. Give us your picks (one in each category, plus runners-up if you have any) in the comments below! Again, if you're thinking of listing Call of New Vegas: Reach for Assassin's Fable…of War, then you're missing the point. Stop, re-read my intro, and try again!
---
Majin and the Forsaken Kingdom
I'm not sure I would've even touched this game if it weren't for Bitmob editor James DeRosa. We got in two copies of Majin from Namco Bandai, and he wanted one because he "heard it was reminiscent of Shadow of the Colossus." I previously haven't been following this title at all, but that one statement certainly caught my attention.
At the same time, I was introducing my new girlfriend to the more hardcore end of the video-game spectrum, and I thought a fantasy adventure with a dopey, oversized-Muppet A.I. partner would be an easier sell than, say, watching me open every crate and hoard every loose item in New Vegas.
It didn't take long for both of us to be sucked in. It only mimics Colossus in that each sub-area of the greater world (aka, the "levels") looks like a grand, majestic creation of some long-forgotten civilization. Mysterious valleys and massive caverns house walkways, elevators, traps, gates, catapults, electrical generators, and more for you and Mr. Dopey (the Majin) to navigate through. It's more a puzzle game than anything else, where you must use your own limited human abilities with the magical powers of the Majin to figure out how to finish each stage — though it has plenty of RPG, platforming, and combat elements as well.
It's slow-paced with some awkward controls and even more awkward voice acting (do yourself a favor and avoid talking to all the animals — you'd get more enjoyment out of conversing with real-life critters). But the game and your lovable monster buddy (who is always so happy for you) are magical — perfect to hold you over until The Last Guardian comes out.
Runner up: none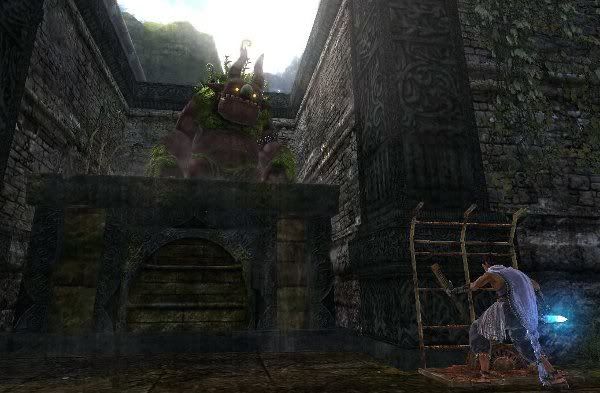 ---
Throughout my career as a games journalist, it's always the office arcade machines that have picked apart my day-to-day productivity the most: another attempt to beat my coworkers' high scores in Hydro Thunder, "just one more" match of NFL Blitz or NBA Showtime….
Now that I work from home and not in an office anymore, Tilt to Live on the iPhone (and the HD version on the iPad) has become my four-minute arcade distraction (OK, three minutes — I'm not that good).
The concept is simple: You have one fixed screen where different formations and waves of red dots home in on your ship, which you guide by tilting your iThing. Touch one enemy, and it's instant game over. No continues, no extra lives…you just have to start over to see if you can best your own high score. It's not just a game of running away, however. Powerups like nuclear bombs, ice blasts, and electricity help you make a temporary dent in the ever-growing and never-ending mass of red death.
Tilt to Live is quick-play addiction that all-too-easily provides a perfect break from work.
Runners up: The Misadventures of P. B. Winterbottom, Toy Soldiers, 180 (Tetris Attack fans, take note!)