20 minutes as a supercyborg in Deus Ex: Human Revolution
This post has been edited by the GamesBeat staff. Opinions by GamesBeat community writers do not necessarily reflect those of the staff.
Even in the bad part of Detroit, the armored mercs packing assault weaponry stand out. They've set up shop in a warehouse, gated it up, installed a fortune in security cameras, and smoked a few locals just to make it clear they're not chumps. Everybody got the message, but Adam Jensen's not from around here. His boss told him to break in. Didn't say how. So Jensen's playing it cool for now, slipping in quiet for a quick recon through the compound before he moves in on the building. Just to prove he's a serious operator, Jensen brought a stun gun with him. Spitballs have better range.

Geez, you headshot one guy, and everybody gets all upset about it.
"This is the part where I usually screw up and die," says Antoine Thisdale, game designer at Eidos Montreal. He's demoing a mission in Deus Ex: Human Revolution from roughly eight hours into the game, sans god-mode cheating.
Jensen's light on firepower for now, but he's still a fully loaded cyborg with a major catalog of augmentations at his metallic fingertips. That's important, because those superpowers might just make or break the game. Everything, and I mean absolutely everything — tactics, social interaction, hacking, combat, stealth — comes down to what you've got under the hood…and how intelligently you use it.
Thisdale promises around 50 augmentations in the finished game, though I only get to see a handful at this sitting. They come in two flavors: passive and active. The former are fire-and-forget abilities, operational at all times (or automatically when required). I see one when Thisdale drops Jensen over a railing; Icarus Landing activates, cocooning Jensen in an energy bubble that cushions his fall into a feathery touchdown. It occurs to me the mythical Icarus had a far rougher impact, but I let this pass for now. Jensen's just picked up a shotty.
But shotgun justice must wait. One pull of that trigger and a small army will descend on Jensen to make him apologize. So Thisdale goes to his active augments, four (and only four) abilities keyed to the D-pad. Active "augs" eat up energy, meaning you've got to pick your moments. The primary battery recharges and nutrient pick-ups can restore the rest, but once you've spent all your juice, Jensen becomes a lot more vulnerable.

The future is brown.
Thisdale hits the active camo, turning Jensen invisible; a battery on the HUD starts blinking. He's tagged the baddies wandering around with Mark and Track, similar to Splinter Cell: Conviction's Mark and Execute (minus the execute), so sneaking past should be a breeze. Except Jensen's got to pass close, and they can still hear him. Thisdale stacks a noise suppressor aug, turning his corporate spy into a cybernetic ghost, super-jumping past clueless guards and into the warehouse.
Using aug combos becomes increasingly vital as your situation evolves. Sucks a lot of energy, though. Thisdale cuts both augs the second he's indoors. The mercs have a combat robot, so Jensen spares some energy to use his X-ray vision, finding enemies through walls and marking them for later disposal. It's very close to Batman: Arkham Asylum's Detective mode, but given how much energy it sucks up, you won't leave it on for the entire game.
As is, it drains Jensen's reserves dry, so enough sneaking. Time to thin the herd. The fourth active aug, the Typhoon System (which turns you into a six-foot claymore mine) isn't available in this demo, but we've picked up a few other toys, and they've all got interchangeable parts to tune the combat to suit your personal handicaps. Thisdale opens the inventory — picture Resident Evil 4's "you fit it, you keep it" system — selects a whisper-quiet air rifle and adds a target-leading attachment we bought off the street earlier.
Yep. The guns have augs, too.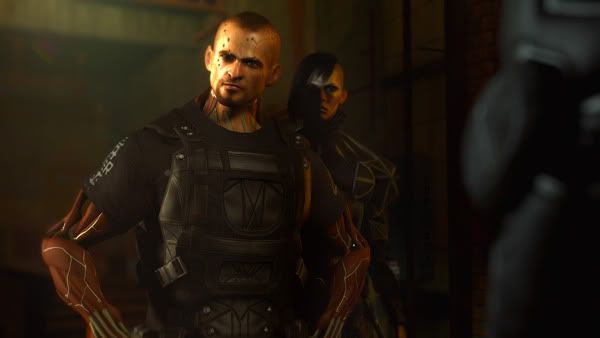 Cool lightning on the arms, unsightly cyber-acne on the face. Excellent choice, sir.
The rifle fires tranq darts. Headshots are instant downs, while anywhere else takes a few seconds for the drugs to kick in. Luckily, our attachment shows us exactly where to aim to nail a moving target perfectly. We run out of darts plunking away at patrols. Makes you wish other games had this.
And now we go loud. Thisdale attaches the Target Seeking aug to a submachine gun, finds somebody we want dead, and fires from cover. The bullet trajectories curve a la Wanted (the game and the movie) to rip up our auto-locked target. Until this second, nobody even knew we were here. Their first clue? Gunfire and a guy we killed from around the corner. Surprise.
By the time Thisdale drops down into a room to collect a rocket launcher and retire that missile-firing giant robot, he's a bit relieved. He made it through in one shot. A few close calls, but no alarms raised and no dying. Things could've played out a lot differently. Deus Ex gives you options on how you want to approach any given situation, but augments let you deliver on your intentions…so long as you use them right.