E3 2011: Battlefield 3 might put a bullet in Call of Duty
This post has been edited by the GamesBeat staff. Opinions by GamesBeat community writers do not necessarily reflect those of the staff.
Call of Duty should worry.
I've played a round of Rush in Battlefield 3, and I'm here to tell you that while Modern Warfare 3 will juice you up with back-to-back set pieces that take things over the top and then keep going, aficionados of the genre will turn to DICE's premiere shooter. It keeps the intensity at eye level…and right in your face.

I came here to snowboard. And shoot Shaun White in his black heart.

Full disclosure: I don't do a whole lot of shooting on a PC these days, but Battlefield 3 looks amazing, sounds great, and feels like butter. It could win me back to a keyboard/mouse game. Even better, DICE has tweaked their multiplayer classes yet again in ways that make perfect sense.
Maybe it's a sign of the times, but both games also let you shoot up Paris. Nothing wrong with that, I suppose. DICE General Manager Karl Magnus Troedsson queued up their Operation: Metro map and dropped us right in the middle of the city for a five-stage assault against a dug-in enemy. That's where we started to see some changes from past Battlefield games…and the really big difference between it and its competition.
My go-to Assault grunt now pulls double duty as the team medic right down to the shock paddles. No more hunting for medics…hell, no more total absence of medics because they're not terribly fun to play. That made assaults move faster and harder because half our team could heal and kick ass.
Engineers get an undermount flashlight that can temporarily blind the opposition while rebalancing takes Support heavies and Recon snipers down a notch. The big guns get incredibly unstable while you're on the move, but a bi-pod stays steady when set in cover or when you go prone (one of many returning features to the franchise). Snipers lose a lot of stability when zoomed in for the kill. Naturally, they can briefly hold their breath, but the aim swings badly when they breath in again.
The result? In the entire playthrough, I didn't once die by headshot from someone three miles away. That's the first time I can say that about Battlefield. Or most other multiplayer games, for that matter.
That made it much more enjoyable to push forward and take the enemy capture points. The environments and dynamic lighting continue to impress, but the sounds of war really put you in the moment.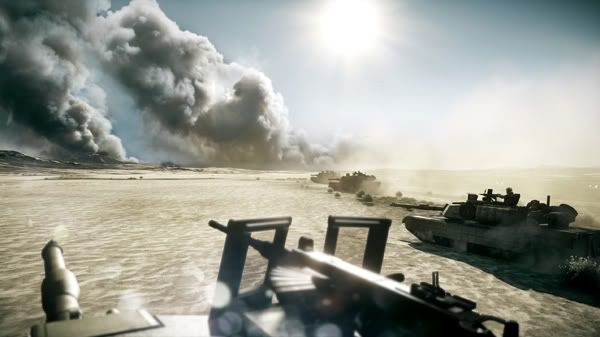 Rush hour in hell.

And those environments proved hazardous. I thought myself rather smart for bracing behind angled cover, with my back up against a convenient building…until debris from above fell and caved in my skull. Consider that a practical lesson in DICE's evolved environmental destruction. You don't have to blow away an entire building in order to bring the facade down.
So where Call of Duty puts you on a meticulously designed map to ice each other, Battlefield 3 creates a full environmental experience. When I respawned and sprinted to catch up to my squad, I knew exactly when I got close to the action from the tone of the gunfire. Where Call of Duty tends toward a static place to run around and shoot people, I felt present in Battlefield's world.
That makes all the difference.