E3 2011: Rhythm Heaven for Wii sounds fantastic
This post has been edited by the GamesBeat staff. Opinions by GamesBeat community writers do not necessarily reflect those of the staff.
The musical masochist in me was pleasantly surprised to discover a new Rhythm Heaven game for the Wii tucked away in Nintendo's booth. The title currently lacks a proper name or release date but already looks — or, more importantly, sounds — pretty sharp.
While playing, I quickly learned that my ears work much better than my eyes do when it comes to stabbing flying peas with a fork or playing badminton between two soaring airplanes. Thankfully, Rhythm Heaven delivers the audio goods to make that experience enjoyable and intuitive.
Experiencing Rhythm Heaven on a large TV was nice as the minimal, cartoon-esque graphics filled the screen. When the game would obscure the action by having the airplanes fly into a thick patch of clouds in the badminton stage, it was best to play by ear. By listening to and focusing on the musical cues during moments like this, I was able to keep up with the levels as long as I didn't contradict my rhythmic impulses with what I was looking at. Combining this with the simple A- and/or B-button controls gave the game a very natural feel.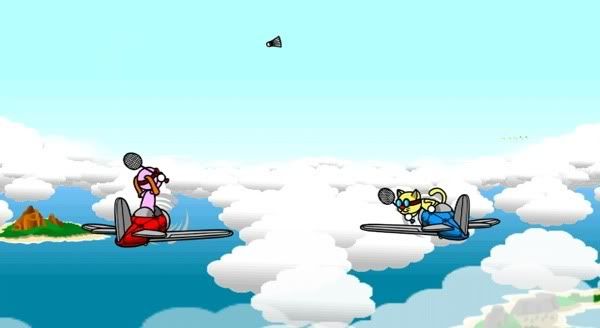 Part of what fed into that sense of comfort was the music provided by Japanese producer Tsunku. The soundtrack (now 100 percent less tinny than the DS version's) is more of what you would expect from a Rhythm Heaven title: simple pop songs of various genre styles with a toe-tapping catchiness to them. Although I wouldn't normally relax with these songs for some casual listening, hearing them — along with the sound effects — through the headphones that Nintendo provided for the demo was certainly nice.
Overall, I'm definitely excited to see what new stages, characters, and silliness Nintendo decides to add to this latest installment in their melodic series. So far, it definitely looks like they're (wait for it) in tune with Rhythm Heaven fans.