Cameos and guest appearances in video games
This post has been edited by the GamesBeat staff. Opinions by GamesBeat community writers do not necessarily reflect those of the staff.
We all loved watching Steven Spielberg drive around in that little go-kart thing in Gremlins or Stan Lee in every Marvel super hero movie, but it's not just movies and TV shows that have cameos and guest appearances. Since the early days of gaming, game companies have crossed characters from one game series with another as gags or marketing strategies. Here are some of my favorites.
---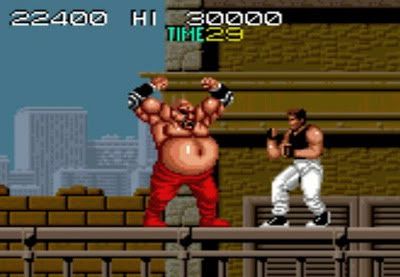 Karnov in Bad Dudes
While Nintendo had Mario and Sega had Sonic as mascots, Data East had Karnov, a fire-breathing bald guy with a beer belly. He was the first level boss in Bad Dudes, and he also made appearances in games like Joe & Mac Returns, Fighter's History, and Street Hoop, among others. You ask why? I ask, why not?
---
Falcon and Leona in Capcom vs. SNK 2
The Nairobi stage in Capcom vs. SNK 2: Mark of the Millennium features Power Stone's Edward Falcon — known as Fokker in Japan. Standing next to him is The King of Fighters' Leona Heidern. They seem more interested in some sort of desert rally race in the back than the martial arts tournament.
---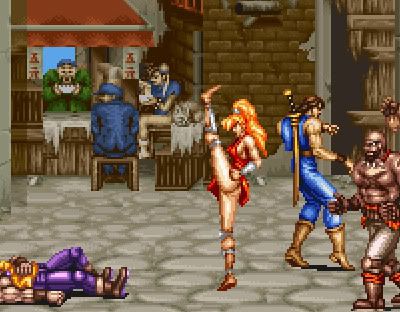 Chun-Li in Final Fight 2
Capcom really loves mixing characters from their franchises. In the first stage of Final Fight 2, Street Fighter 2's Chun-Li can be seen eating some delicious ramen in a café. Stage 2 has an army base, and one of the guys enjoying the fight has Guile's trademark haircut.
---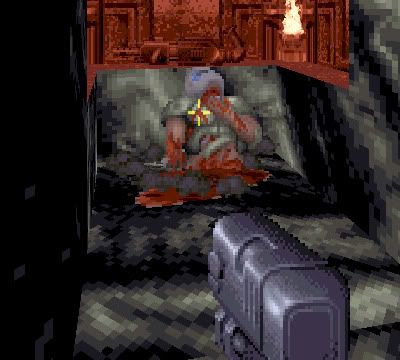 DOOM Space Marine in Duke Nukem 3D
The father of first person shooters, DOOM, was parodied in Duke Nukem 3D, so I guess it sort of counts as a cameo. There's a hidden room in a church where you can find the soldier's bloody remains, apparently being eaten by rats. Duke even says "That's one 'doomed' space marine." Oh, Duke…
---
Mario in The Legend of Zelda: A Link to the Past
It seems that Hyrule and the Mushroom Kingdom are not too far away from each other. In some houses throughout The Legend of Zelda: A Link to the Past, you can spot paintings with Mario's face on them. This was repeated in Ocarina of Time where you can see Mario (as he appeared in Super Mario 64), Peach, Luigi, Yoshi, and Bowser from a window inside Zelda's castle.
---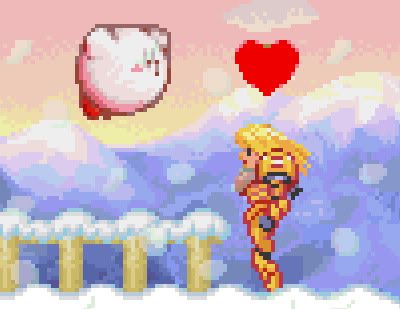 Samus in Kirby's Dreamland 3
Nintendo loves cameos as much as Capcom — maybe even more. There's a level in Kirby's Dreamland 3 where you'll find some metroids flying around. Samus Aran is also there, waiting at the end of the level. If you defeat all of the metroids, she'll remove her helmet and give you a hidden star.
---
Kratos in Mortal Kombat
Sony's anti-hero from God of War is no stranger to cameos: He appeared in Soulcalibur: Broken Destiny, ModNation Racers and Hot Shots Golf: Out of Bounds. His latest was in the PlayStation 3 version of 2011's Mortal Kombat, complete with his own stage and unique fatalities. Even after being turned into a baby, he's still a complete badass.
---
Billy and Jimmy Lee in River City Ransom
While technically not Billy and Jimmy, two expert ass-kicking bullies show up in River City Ransom claiming to be the "Dragon Twins". They are called Randy and Andy, and the classic Double Dragon theme plays during the fight. Since both games were developed by Technos Japan, I'm counting it!
---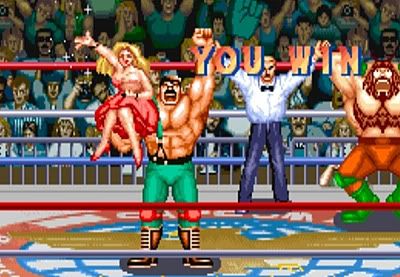 Haggar in Saturday Night Slam Masters
Metro City's toughest mayor from Final Fight was a playable character in Capcom's 1993 wrestling arcade game, Saturday Night Slam Masters. He was known as Mike "Macho" Haggar, and finally had more than one special move. His daughter, Jessica, climbed on the ring during his winning pose to celebrate. Haggar came back for Ring of Destruction: Slam Masters 2.
---
Link, Heihachi, Spawn, Yoda, and Darth Vader in Soul Calibur
Fighting game fans could not wait for home versions of the fantastic Soul Calibur 2, but Namco made us even more excited when they announced that each console would get an exclusive special guest. PlayStation 2 got Tekken's Heihachi Mishima, Xbox got Todd McFarlane's Spawn, and GameCube got Link from The Legend of Zelda. Five years later, Namco surprised us again by adding "The Apprentice" from Star Wars: The Force Unleashed as well as Yoda (Xbox 360) and Darth Vader (PS3) to Soul Calibur 4.
---
I can't end this article without explaining the image at the very top. That's Resident Evil's Albert Wesker and Gears of War's Marcus Fenix in Capcom's Lost Planet 2. They appeared as multiplayer skins along with Dominic Santiago. The first Lost Planet had Frank West from Dead Rising, and you could dress him in Mega Man X's armor. Insanity!