Getting in shape with Fruit Ninja Kinect
This post has been edited by the GamesBeat staff. Opinions by GamesBeat community writers do not necessarily reflect those of the staff.
Parents always say fruit is good for us, and after playing Fruit Ninja Kinect, I can confirm that statement is 100 percent accurate. Beating your own high scores in Halfbrick's XBLA title by slicing apples and watermelons with your hands will help tone your body and keep you entertained throughout the process.
I have put together a series of exercise moves that will sculpt your physique into a Greek god and take you to the top of the game's leaderboard.
---

Hammer of Thor
Make a fist with one hand, grab your wrist with the other, and perform a vertical chop motion. You'll get a chain-combo bonus if you yell "I'm Thor!" while you're at it.
---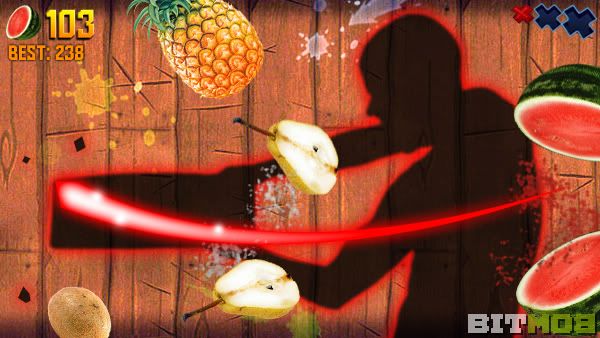 Rage quit
Throw your arms up in utter frustration, and then slam your keyboard against the wall as hard as possible. Cussing in German will refill your super bar quicker!
---

The Thriller
Walk from one side of the room to the other with your arms and hands as stiff as possible; get as close to full rigor mortis as you can. Don't worry about accidentally blowing up a bomb in the process because zombies don't feel pain.
---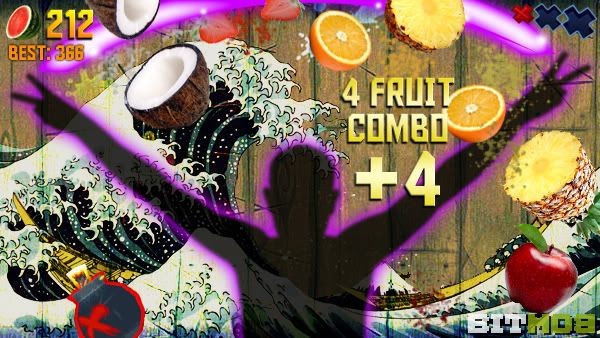 The Nixon
Raise your arms to the sides, and make a "victory" sign with your fingers. You'll steal so many points from your opponents that they might start calling you a crook.
---

The Roddy Piper
This maneuver is only effective in Party Mode with two players. Place your arms around your foe's neck from behind, and put him in a sleeper hold. Once your adversary is unconscious, shake him around and use his limp, flailing arms to decimate as much fruit as possible. The Kinect sensor is designed to award points only to the player with a heartbeat.
---

Van Damme split kick
Warning: The level of difficulty for this technique is set to "impossible." To master this art, you need to be a real-life ninja or a Time Cop. Turn your back to the screen, do a 180 degree spin jump, and open your legs as wide as possible. One wrong move and everything around you will be dead.
---

The Scanner
In order to be completely fit and healthy, one must also develop the mind. First, tell everyone to get the hell away from you. Then close your eyes, and imagine you're taking the most awesome shit ever. Concentrate on the produce around you and…boom, instant fruit cocktail!