A Galaga rivalry down at the gallery
This post has been edited by the GamesBeat staff. Opinions by GamesBeat community writers do not necessarily reflect those of the staff.
The opening night of the Super Iam8bit exhibit is winding down. The majority of the Southern California video-game enthusiasts have gone home for the night, leaving behind the gallery of 100 or so works of 1980s digital icons and images re-imagined into physical art pieces.
Adjacent to a hand-painted vintage arcade cabinet (placed there for competition), hung a painting of red-shell Koopas from Super Mario Bros. The piece depicted them suffering a horrific, fiery death, presumably at the hands everyone's favorite Italian plumber. On the other side of the room, a custom program for a Kinect camera hooked up to a mounted HDTV changes the people and objects it sees into retro, vector-based, Rez-style toast creatures and at other times Geometry Wars claw shapes. Swirling between all of these installments are custom Roombas, dressed up as plush, classic Nintendo enemies: red and green shells, a Goomba, and an Octorok.
Perhaps the centerpiece of the Super Iam8bit opening was the two-story-tall Galaga projection and accompanying wall and floor graphics that gave the illusion of a game fit for a god. Earlier, attendees waited in a Disneyland-sized line for a chance to play the human-sized, custom Galaga cabinet (set to free play) that actually controlled the display. They all wanted a shot at the high score, which, in addition to bragging rights, would nab them the chance to take the machine home. By this hour, though, the unsuccessful masses have departed. The bulk of them were only able to climb up to around 30,000 points, and they'd need over five times that amount to get close to today's high score…and a little bit more than that to beat yesterday's (from the V.I.P. opening).
Of the people who were still at the gallery — well past the stated 11 p.m. closing time — a steady flow of players still stepped up to the challenge. One such man, Hector, had been lingering around the machine all night, waiting to make his move. He's a big, middle-aged guy with a long graying goatee and a T-shirt that suggested he was a heavy-metal-loving dad. Sergio, a friend of mine who coincidently bears a similar, albeit younger, description, brags to me that this guy could not only easily take the highest honors, but he could flip the score past one million.
Hector just stood there quietly and watched. I asked him if the rumors Sergio was spreading were true, and he humbly suggested that he might be able to pull off such a feat tonight. He tells me his best score was somewhere around a mind-boggling two million, "but that was 20 years ago." He says he hasn't touched the game in two decades, which I found a little hard to believe coming from such a supposed hardcore player. But then again, considering his age and family, perhaps life gets in the way of battling alien bugs, sometimes.
It's his turn, and boy, is he good. He sends his ship left when I would have gone right. He plays chicken with the falling aliens and then takes them out just pixels before they collide. Once he recovered one of his captured vessels and doubled his firepower, he began to just massacre the waves of enemy fighters. Sure enough, the sparse attendees who were still present gathered around the spectacle. Their oohs and ahhs were a fraction of the sound from the earlier crowd, but they were still just as passionate. Hector blazes through the levels and faces off against variations of enemies I had never even seen before. Sure enough, he soars past the high score by some 40,000 points for a total of 192,250. His wife looks happy but tired.
He fell far short of flipping the counter, but he now had his handle "FLY" sitting next to the number-one spot. The crowd is pumped. So now, the gallery owners should give him the machine, and we can all go home…right? Well, not so fast.
Another goateed middle-aged man, Tony, had been watching from the background this whole time, sizing up the competition. "This is what it was like, back in the day," he tells me. "For someone to get the high score right before you play…that's intimidating." Now, Tony assumes his position at the cabinet and begins what initially looks like a less impressive run. I ask the observant Hector if this guy can beat him, and he thinks, "He'll get close, but he has to go two or three levels higher" based off of his current score. Sure enough, Tony, who last played Galaga 12 years ago, keeps at it.
Once he made it to level 14, the one where the enemies don't shoot back, the machine was pretty much his. Tony coasted past Hector's score and landed at an impressive 268,400. He marked the feat with the initials "ACE," and the crowd applauded and cheered with what voice they had left from the night. Hector then concedes, "I survived on good luck. This guy has skill."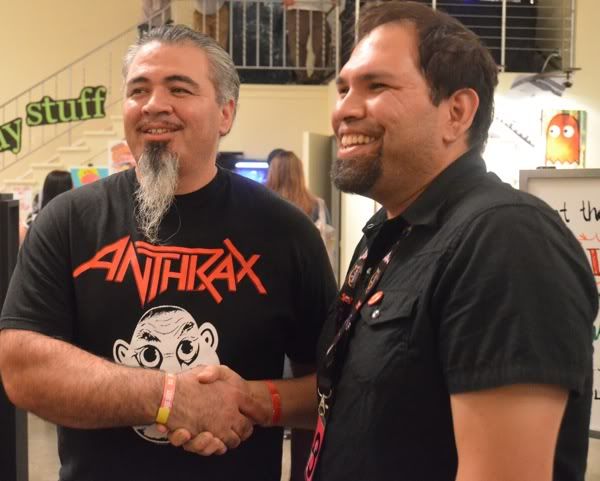 Afterward, the two guys shook hands, smiled, and talked shop about the nuances of the game. Jon Gibson, the Iam8bit founder, was thrilled to have this go down during opening night. "This is what arcades are all about," he says — a message that might be a little lost on today's younger gamers who are more familiar with online leader boards and remote, anonymous trash-talking. But then again, this art exhibit is a celebration of video-game titles from the 1980s — a time before the teenagers of today were even born.
With that in mind, the gallery did what its curators wanted it to do: Take attendees back to a time before HD, 3D, and online multiplayer were integral parts of gaming — or at least in a way that the artists remember and depict it — complete with a little old-fashioned arcade rivalry. Two Galaga demons had a chance to relive their '80s youth, only to come back home to the 21st century at the end of the night.
As Tony headed out and the time approached 1 a.m., he looked a little nervous. "I'm dead," he tells us with a grin, and it's no mystery why. I definitely would not want to be in his shoes when he has to explain to the Mrs. that he was out late on a work night getting the Galaga high score…in 2011.
---
Check out page 2 for a collection of photos from the event, the majority of which were contributed by Evan Campbell.