Digital distribution is the new console war
This post has been edited by the GamesBeat staff. Opinions by GamesBeat community writers do not necessarily reflect those of the staff.
A storm's brewing up in the cloud.
Down in the real world, exclusive titles always served as the big guns in every console war. The list of games limited to one platform or another factored into most gamers' purchasing decisions…and often shaped loyalties that stuck hard for years to come. That is, until watching a former Sony stalwart walk out onto Microsoft's trade show stage (and occasionally vice versa) became a major spectator sport for several years running. Rising budgets and narrow install bases made exclusivity way too expensive for most developers to chance.

Never break the seal on my box, GameStop employee!
Now it's affordable again. Digital delivery services are the new consoles, and competition among top dog Steam and all their challengers recently took a turn for the cutthroat. I'm seeing new players pulling out all the old, familiar dirty tricks, plus a few new ones unique to the venue. And I like that, because eventually it'll translate to good things for you and me.
Right now, we're still at the stage where everyone who isn't Steam is jockeying for position, and just to throw a little gasoline on the fire, Electronic Arts owns one prominent upstart service, Origin. They aren't making their entire catalog exclusive to Origin, though they could and might somewhere down the road. Instead, they're sweetening the deal with special versions — Mass Effect 3's Digital Deluxe Edition is Origin-only — while cutting certain top-tier titles from Steam. Battlefield 3, for example. EA's carried a bit of a grudge against Steam for not allowing direct customer contact (for patches, say, or in-game microtransactions). Pulling Battlefield from Steam's roster gives them greater control of their product. It also puts Origin on the map and gives EA 100 percent of the proceeds from each copy sold there.
Of course, the EA connection also makes Origin the mortal enemy of other publishers. No sooner did the Battlefield announcement break than Activision confirmed that every PC version of Call of Duty: Modern Warfare 3, retail or download, will carry Steamworks integration.

Third-class travel in the submarine service.
Which opens up interesting questions. GameStop recently opened sealed copies of Deus Ex: Human Revolution's PC port to remove a free coupon for an OnLive download of the game. Why? Because OnLive competes with GameStop's own digital service, Impulse. Does that mean they won't stock PC versions of Modern Warfare 3 because of those Steamworks ties? It seems unthinkable, but they pulled Deus Ex from the shelves for a similar infraction. That coupon drove customers to OnLive…and away from Impulse.
Don't cry for OnLive, though. They just cut a deal with GameSpot to feature streaming demos right on the game's review page. Don't doubt for an instant that others are moving to add similar content to other sites.
It's a smart move from GameSpot's perspective. As an indication of the stakes in digital distribution, I've read estimates that put Steam's worth around the $500 million range, and it's still early days yet. We're living in an age where the console-taxing, open-world games of the past are now $15 downloadables. In five years' time or less, everything will download. A big chunk of the $60 you spend on a game goes towards paying for shipping, boxes, discs, and inserts; Publishers understandably want to keep that money as profit. Small wonder we've already seen various corporations using different digital services as proxies for their own rivalries. That's where the entire fight will happen before too long.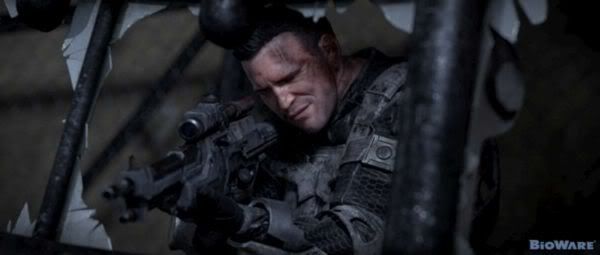 If I squint just right, I can see right through Bobby Kotick's shirt.
If it seems like a silent war, that's because the traditional combatants — Microsoft, Sony, Nintendo — aren't on the front lines. That won't happen until their hardware goes medialess. By that time, they might be too late.
Consider: A traditional console war centers on the idea of deprivation. If you pick one, even two consoles, you're still missing out on some great games, possibly to the point where you might never even get a chance to see how good they are. Digital distribution, however, breaks those borders down. It doesn't matter if a game's exclusive to Steam, OnLive, or Origin, because all those services are free. So long as you own a PC, you can sample everything off every menu and buy the games you want from any source. The PC becomes the universal console. I suspect Microsoft's ready for that. Sony and especially online-weak Nintendo should worry.
The result? Those services compete for your dollars not simply by having something different, but by offering something intrinsically better. Maybe that's providing spectacular back-end support, or special bonus content, or Steam's habit of unlocking pre-purchased content a little early. And yes, exclusive games will figure into the mix, but for once, gamers won't be left out just because they backed the wrong horse.
That's the way it should be. We don't need distractions like which console totally dominates another in sales or quality. That's a discussion we should have about games, where everyone has a common frame of reference. Wouldn't that be nice for a change?