Bitmob Wants You: The Gears of War 3 collection
This post has been edited by the GamesBeat staff. Opinions by GamesBeat community writers do not necessarily reflect those of the staff.
If the Locusts emerge, we're in good hands.
That's because our stalwart Bitmob community rose to the challenge of our Bitmob Wants You callout. We asked you for articles about the third chapter in Marcus Fenix's saga: Gears of War 3. And you guys were all over it.
We've already featured a couple of your stories on the Bitmob front page. For the rest, read on.
---
Slaughtering Locusts ain't never been more fun: Gears of War 3 storyline commentary
By Jeff Heilig
The Gears series has always been about over-the-top action, but Jeff points to a couple moments in the campaign where emotion comes to the fore. He calls one scene "almost poetic, landscape and all, and it poses certain questions many of us refuse to acknowledge." What do you think — does Gears pack an emotional punch?
Themes of Gears of War
By Timothy Pecoraro
Timothy breaks down the main topics that Gears' story addresses — things like freedom, brotherhood, the destruction of beauty, and survival. He says it's a testament to the series' quality that these games can evoke such feelings.
Gears of War 3 embraces the horror
By Matt Polen
You might not think of Gears as a horror series, but Matt contends that the latest Horde mode qualifies. "What's really exciting about Horde 2.0 is just how quickly the difficulty – and consequently, the terror – escalates," he writes.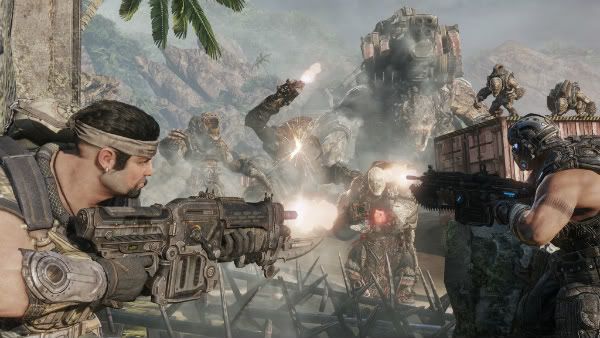 What's wrong with Gears of War 3
By Alexander Spruch
Alexander digs Gears, but he argues that a few key factors — weapon balance, inferior multiplayer maps, and campaign difficulty levels — hold it back from greatness. Have these factors affected your enjoyment of the game?
The Gears are in motion
By Eriq Ortiz
Eriq's review points out a few key aspects of Gears, including the game's graphical quality. His comparison to the 2001 computer-animated film Final Fantasy: The Spirits Within is interesting — what was jaw-dropping then is now standard in-game visual fare.
---
Want more? Here are a couple Gears-related articles we've already promoted to the front page:
We all start somewhere: Six basic Gears of War 3 multiplayer tips by John Michael
Why I love the Gears of War 3 campaign by Adam Dorsey