Limb-tearing trumps linearity in The Darkness 2
The brothel's hallway is straight as an arrow.
I know it's coming. I've seen plenty of hallways like this before. An inconspicuous jaunt through a den of iniquity as one of the most hunted men in the criminal underworld doesn't transpire without notice. Luckily, protagonist Jackie Estacado is on the offensive. He's hunting the hunters, and a mannequin-factory-turned-whorehouse becomes the perfect backdrop to get physical. And I don't mean the sexy kind.
I'm watching a playthrough of The Darkness 2's single-player content. Pursued by members of a mysterious "brotherhood" bent on capturing the dark powers roiling within him, Jackie seeks the identity of his attackers while grappling for dominance against the entropic Darkness itself. The visit to the brothel occurs roughly 25 percent into the story — by then, Jackie's survived a restaurant massacre and a not-so-gentle love tap with a 45-ton train.
As we're guided through the brothel by Jackie's foxy informant Venus, an instantly familiar scenario begins unfolding. The hallway teems with look-but-don't-touch scripted events: the expletive-tastic rantings of an unsatisfied customer, a coked up prostitute collapsing onto a bed in a delirious haze, and many other sideshows. All while trailing behind Venus's obviously slow walk.
At this point, warning bells went off in my head. I wondered: Would an abundance of scripted events diminish D2's appeal, damning it to bouts of passivity interspersed with shooting sequences?
Developer Digital Extremes isn't new to carefully timed theatrics. Its previous works — such as 2008's Dark Sector – embraced scripted events wholeheartedly. And while D2 features some pretty spectacular firefights, it's also carrying the markings of a dangerously linear game.
See, linearity exists as an overarching game design trend. If it's happened before, it'll happen again. It's OK to be concerned, but finding a solution ultimately falls to each game's efforts of presenting a genuinely interesting world. In the case of D2, salvation lies with a pair of slavering, demonic eel tentacles.
D2's touted "quad-wielding" system pushes the idea of personal expression to the forefront of the game's design. Using an elegantly simple control scheme involving the trigger and bumper buttons, players fill both of Jackie's hands with guns in addition to using his two Demon Arms at the same time. Like most games with a zany arsenal, points accrue for stylish kills — why opt for a boring headshot when you can tip your hat to the Alien films with a blood spattered chest-burst?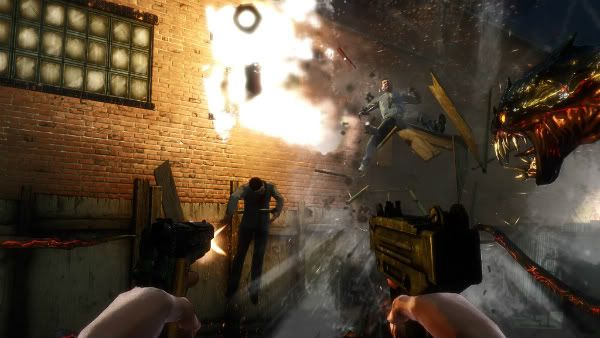 It's how you spend points that eliminates the mediocrity. The game's four talent trees — Demon Arm Upgrades, Darkness Powers, Hitman Upgrades, and Executions — provide four different skillsets for a custom-tailored experience. Throwing points into the Demon Arm tree beefs up Jackie's heart-hungry friends with further vicious takedowns like a body slam and a mid-air juggle –useful boons for melee connoisseurs.
Boosting Darkness Powers practically turns Jackie into a gunslinging wizard, infusing his weapons with pure Darkness bullets (providing a huge increase in damage and unlimited ammo for a short time) and granting him the ability to summon swarms of insects. Hitman Upgrades hone Jackie's gunplay with utilitarian bonuses like an increased ammo count. Finally, the Executions tree melds well with completionists by improving existing moves (such as bestowing ammo for every successful Execution) and adding new ones for maximal point return.
Predictably, Jackie's impromptu tour of the brothel ends in a bloodbath. But thanks to an incredibly impressive ability upgrade system, I'm hopeful that players will see the allure of turning up their powers to the "crazy" setting when The Darkness 2 comes out next February. Linearity won't go down easily — but it'll definitely have to face off against the power-hungry Darkness.