Oh, those kids and their video games
When I find myself playing the newest bleeding-edge game with a friend, sooner or later I'll feel moved to ask, "Can you imagine if we'd gotten our hands on this game when we were 10 years old?"
At this point we turn to each other and simultaneously say, word for word, "We would pee our pants, die, languish for three days before being resurrected by the glorious light of God (of War 3), and then crap our pants and die again." It never fails.
As romantic as that scenario sounds, I'm learning that it might not be based in modern reality. Over a year ago, I moved to the suburbs for the first time in my life. Some of the neighborhood kids like to come over and play games. But despite my best intentions, none of them have soiled themselves or died yet.
I mean, the Battletoads victory screen is the most impressive thing my generation could imagine seeing in 1991. It required the patience of a saint and the precision of an assassin to reach it. Such was the price of briefly inconveniencing evil, and my generation gladly paid it.
The very first part of Uncharted 2: Among Thieves looks and plays like a fully interactive Indiana Jones movie. A child of the early '90s would explode upon contact with this game. My 13-year-old neighbor got annoyed at not being able to intuitively turn around the first corner on the GIANT, INTERACTIVE COLLAPSING TRAIN and then decided the shooting was boring.
And that was the 13-year-old. The 11-year-old and the eight-year-old are even harder to please. If they're not immediately kicking ass and taking names, they're not interested. Each kid seems to buzz through my collection at about 20 minutes per game, and on each subsequent visit they ask me if I have anything new.
As it turns out, a certain kind of game actually captures their attention, and I'm relieved to say it's usually the kind of game that can also capture their imagination. I witnessed the damnedest thing when two brothers came over to play Halo: Reach. They could barely tolerate the campaign and hated playing online, but they'd spend hours in Forge, the level-editing mode, spawning weapons and vehicles for each other and testing implausible scenarios. For example, what happens when you drop a scorpion tank from a great height onto a plasma turret? According to our research, it causes your brother to hit you.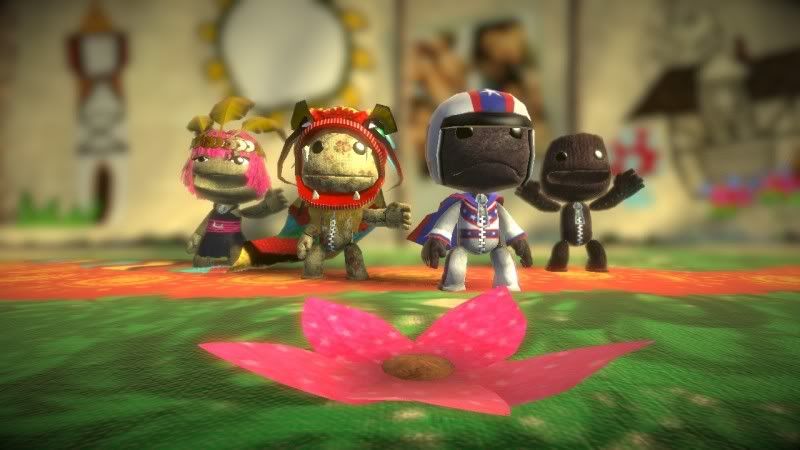 And every one of these kids had more curiosity and patience with all the great level-building tools in Little Big Planet. I'd lend them the disc for a few days, and they'd come back knowing more about the title than I did. They even figured out how to arrange the pre-recorded sound effects to best emulate swear words.
It's nice to know that flashy graphics and bloody gameplay aren't the only things that draw young minds to gaming. They saw the classic appeal of being able to create and be what they wanted to be without the burden of rules that tend to have a discouraging way of saying bang, bang, you're dead.
On the other hand, these kids also think that flamin' hot Cheetos are God's gift to mouths, so they still have a lot of growing up to do.
---