The unspeakable horrors of Splatterhouse's West Mansion
This post has been edited by the GamesBeat staff. Opinions by GamesBeat community writers do not necessarily reflect those of the staff.
The second creepiest holiday of the year (the first being Saint Valentine's Day) is just around the corner. I wanted to make something special for this year's Horror Week, so I did the unthinkable…I played the arcade version of Namco's Splatterhouse from start to finish and brought a few souvenirs with me.
Instead of telling you about my horrific experience inside the house of doom, I'm going to show you through a series of gruesome images taken with my camera obscura. If you're wondering, camera obscura is what I call my keyboard's "print screen" key.
Warning: wicked spoilers and heinous illustrations ahead.

It was a dark and stormy night…well, it was.
Rick and Jennifer, two innocent college students, are on a date in an eerie forest when a storm breaks out. Innocent…forest…whatever, let's just move on.
The only place to take shelter from the rain is West Mansion, the abandoned home of an insane parapsychologist who recently went missing. The word around town is that Dr. West performed atrocious experiments with humans…mixing science with black magic.

The stage previews give you a taste of what to expect from the game. It can all be summed up in two words: "sheer" and "terror."
As soon as they enter the mansion, Rick is savagely attacked by demons and Jennifer is kidnapped. As Rick draws his last breaths, a mysterious artifact — that looks nothing like Jason Voorhees' hockey mask — attaches to Rick's face. Not only does the mask save Rick, but it also gives him inhuman strength and stamina. Luckily, the magical relic does not alter the green garbage bag-like rags Rick is wearing for his "date."
With his newfound powers, Rick must venture deep into the heart of West Mansion to find Jennifer and get the f**k out of there.

It's not clear what types of experiments Dr. West conducted in his house, but man is this place twisted. Check out this poor soul chained to the wall. He tries to ask Rick for help, but instead pukes all over himself and then disintegrates into borscht soup.


Some of the bodies lying around in dungeons could be other students. They twitch and beg for death. Look at that gross human centipede in the middle. Wait, is that someone's butthole?
Ugh…leeches. Why did it have to be leeches?

Rick plays "hangman." Get it? OK.…

One way to tell if your house is haunted is by checking for flying furniture. I easily defeated a hovering chair, but the eye painting totally sucker-punched me.

Field test #19: Green monsters react to boomstick shots the same way as humans do, or so I'm told….
What the…someone left a baby alone in the forest. Come here you adorab…KILL IT!

A wild Biggy Man appeared!
The terror continues on page two.

An inverted cross in a video game? This is blasphemy! This is madness!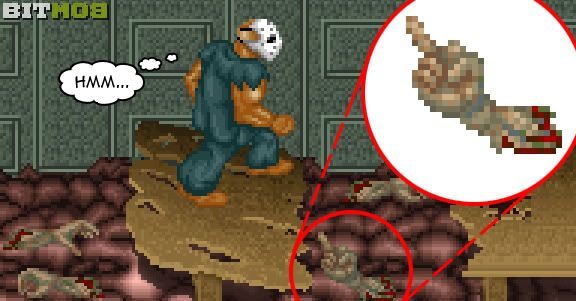 Watch your step on these slippery slopes or you'll fall on…no way…is that what I think it is? That's exactly what it looks like. Namco just gave gamers the finger.

"Go to hell, zombie Rick. The pink dress is mine!"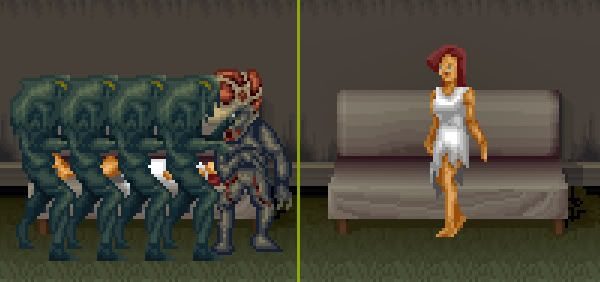 Our "hero" finally reaches Jennifer, but finds her being gangbanged by a bunch of…things that rape. Oh look, she's fine.
"Let's go babe, I don't want to spend anoth…babe? Oh my God, Jennifer, what have they done to you! Hmm…I'd still hit it…."
"Good, you turned back into a hottie after I punched you 12 times in the ovaries. Jennifer? Shit."

Rick failed to save Jennifer. While searching for an exit, he discovers that the West Mansion is actually alive…beating heart and all. I beat the crap out of this giant ticker. Just ignore this screenshot.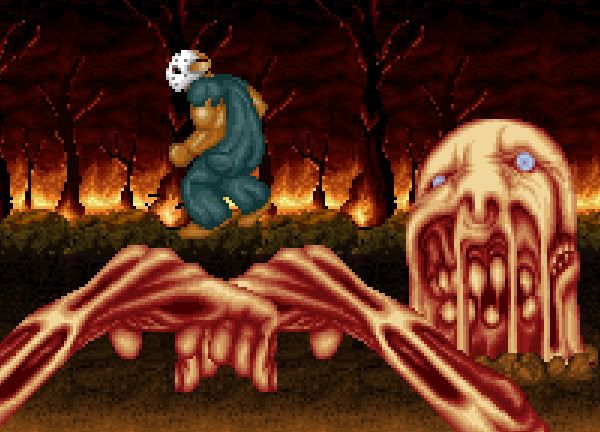 Only one more creature stands in the way of freedom, and it's an ugly mofo. Who or what is it? Why is the forest on fire? If the house is dead, why isn't the game over? All will be revealed in a few seconds.
The boss with the giant hands turned into a ghost. Sure, why not? The screen goes apeshit. The journey is now complete. What the f**k did I just play?
That's it. The end. Game over. The Hell Mask shattered into ten thousand pieces — or maybe eight. Rick doesn't get the girl, or answers, and doesn't even get to keep the powers of the mask. And speaking of the Hell Mask…where did it come from? The world may never know….
If you dare to watch the whole credits roll, you'll see the mask reassemble itself and laugh at you for playing such a horrible game. Who could be the next asshole to step freely into a haunted mansion in the middle of a forest?