7 games and series with fantastic worlds
How many games have settings that we've seen before? Plenty settle for typical archetypes: science fiction, fantasy, and modern times. This isn't to say that there aren't releases that render those examples extremely well. The Witcher is a fantasy game with dwarves, elves, and magic, but it puts an excellent spin on them not often seen in other fantasy media. At the end of the day, it's still derived from Tolkien-style fantasy.
One of the reasons I love games is because they have the potential to show us new worlds and places with the kind of imaginative prowess seen in films such as Star Wars and The Nightmare Before Christmas. Here are a few offerings that I believe have worlds without equal.
1) Brutal Legend
This title is set in a dimension where everything is defined by heavy metal. The spiders spin webs made from bass strings, and hot rods jut from the ground. It's crazy how creative the setting is and how much attention has been put into every detail. Tim Schafer has absurd amounts of imagination.
2) Epic Mickey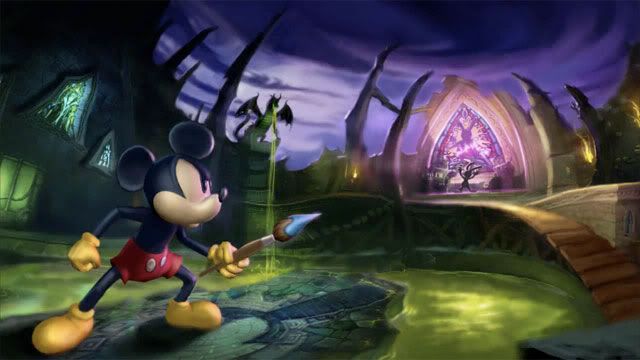 Epic Mickey takes forgotten Disney characters and puts them in a world reflecting how they've been left by the wayside. It's a shadow of the Disney we're all familiar with, and it's wonderfully inventive in that aspect.
3) BioShock Series
A Randian dystopia set at the bottom of the ocean with one of the best twists in gaming? That's all that needs to be said about BioShock, and if previews are anything to go by, BioShock Infinite looks to be following in its big brother's footsteps.
4) Pikmin Series
You're an astronaut who crashed onto a planet covered in plant people. You need to control these creatures en masse in order to repair your spaceship. I can't think of anything that comes remotely close to Pikmin in any medium, let alone gaming.
5) Bastion
In Bastion, the world has ended and all that's left are floating islands with a few scattered monsters and other inhabitants. Post-apocalyptic settings have been presented before and will continue appear in gaming, but this title's colorful world and fiction stands alone.
6) Final Fantasy Series
Say what you will of the franchise's plots, but Final Fantasy manages to consistently create visually rich worlds with interesting fictional backgrounds.
7) Mario & Luigi Series
The world is usually relegated to the background in most Mario Bros. games, but it comes to the forefront in the Mario & Luigi RPGs for the Nintendo DS. Their whimsical take on fantasy reminds me of Alice In Wonderland and The Wizard of Oz. That's a great thing.
These are some of my favorites, but this is by no means a comprehensive list. Have I slighted any of you by not mentioning one of your favorite gaming worlds? Let me know in the comments.