Fallout: New Vegas is gaming's Lawrence of Arabia
The headline of this piece might be a bit misleading. I don't mean to say that Fallout: New Vegas is as important to video games as Lawrence of Arabia is to film. That would be a blasphemous and indefensible claim. Lawrence of Arabia is a landmark that influences movies to this day while New Vegas' lasting impact remains to be seen. The true comparison arises from the similar plots, settings, and themes of the game and film.
I re-watched Lawrence of Arabia a few days back because it had been a long time since I'd seen it, long enough that I couldn't properly appreciate it on my last go-through. Nowadays, I consider it to be one of best films I've ever seen, and this got me wondering if any games evoke the same sense of scope and adventure.
The game I kept returning to was Fallout: New Vegas. Both titles share a desert setting. In terms of harsh and unforgiving backdrops, the two titles are arguably unmatched. A deadliness lies beneath the natural beauty of the locales. The exotic and fatal hold hands while skipping down the street. Water and guns are essential for survival. And you're just as likely to be shot as greeted with open arms.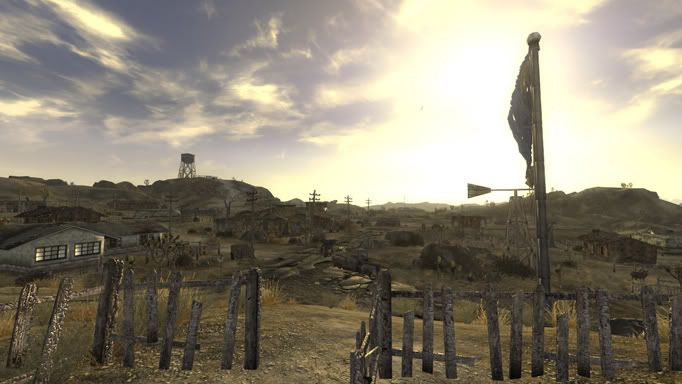 When it comes to plot, the game and film also walk similar paths. An outsider comes into the picture, uniting the various and disparate tribes in order to drive a common enemy (or enemies) from the lands. In Lawrence of Arabia, we find T.E. Lawrence uniting the various Arab tribes to drive out the Turks while in New Vegas the main character must choose to get rid of Caesar's Legion, the New California Republic, or both.
Lawrence had to choose as well, deciding whether or not he wanted to help his British superiors or the native Arabs. In the end, he chose to help the Arabs form their own state, believing they had the right to be free. The player has the same power in New Vegas, deciding what is best for the people or even what is best for himself. Will the NCR be the best fit, or is the player the one who should be ruling?
The epics heavily deal in the morality of their respective protagonists. Lawrence learns what it means to kill and the human cost of what he is doing in his guerrilla war. He finds that he enjoys killing, and it disturbs him. He finds things out about himself that he wishes he never knew.
Similar moral lessons crop up throughout New Vegas. The Courier is forced into dealing with the various occupants of the Mojave, be it through peaceful negotiations or violent eradication. The question of how best to rule a people also comes into play. Is Caesar's violence justifiable or is the NCR's bureaucratic nonsense worth dealing with? Is Mr. House looking out for for himself or the people? Should the Courier wear the crown?
By the end of both their journeys, the hero of New Vegas and Lawrence became great. They did what no one else could. Against all odds, they set out on great quests and succeeded beyond all expectations. Could Doc Mitchell have known that the Courier would have accomplished what he did after fishing that bullet from his skull? Did Lawrence's superiors have any idea how successful he would be when they first sent him to Arabia?
I'd hazard a guess of no in both cases.
The two heroes ventured out into the desert with greatness hanging in front of them, waiting to be taken, and take it they did.