Unfair deaths in video games
This post has been edited by the GamesBeat staff. Opinions by GamesBeat community writers do not necessarily reflect those of the staff.
One of the reasons we play video games is for the thrill of overcoming challenges. But some games trade fun for frustration, cheating us by being cheap instead of testing our skills.
Let's take a look at five infuriating situations responsible for countless broken controllers.
---

Being left behind by your teammate in Contra.

You're fighting alien invaders with your trusted friend. Your comrade takes the high road while you decimate any foe dumb enough to cross the lower ledges. Your greedy buddy decides to jump to a higher platform to grab some power-ups. The screen scrolls up, making the ground beneath your feet disappear. You die a pathetic death.
---

One-hit kills by "hunters" in Resident Evil.

The hunters from Resident Evil are everything zombies aren't: They run, jump, and can take a beating. On top of that, the mutant reptiles occasionally decapitate you with a single leaping slash. At least Jill and Chris won't have to worry about zombies infecting them with the T-virus since they don't have freaking heads anymore.
---

Your partner "accidentally" knocking you down a pit in Streets of Rage.

The easiest way to complete brawlers is by playing Co-op with friends. For reasons unknown to me, many beat-em-ups offer the option to hurt your teammates. The first time you knock me off a ledge is an honest mistake. But by the fourth time…someone's getting a real-life, bare-knuckle sandwich.
---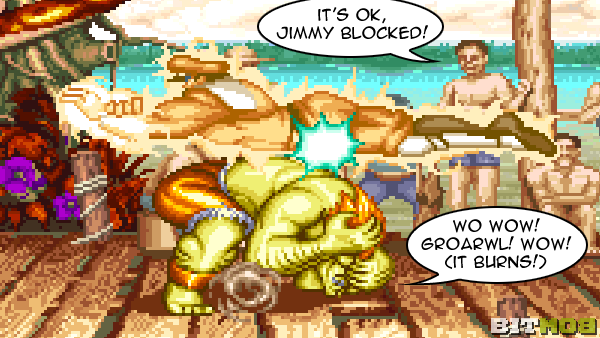 M. Bison's Psycho Crusher chip damage in Street Fighter 2: Champion Edition.

You can imagine how painful it would be if a fireball hit you…even if you blocked it. M. Bison's Psycho Crusher goes overboard, though, inflicting an insane amount of harm when checked. The bigger your character is (Zangief, Honda, etc.), the more chip abuse you must endure. If I had a quarter for every round I lost to Bison's cheapness at the arcade, then "free play" mode would be unnecessary.
---

Sephiroth's Super Nova attack in Final Fantasy 7.

Enemies in Final Fantasy 7 cast plenty of annoying spells like Doom and Death, but Safer-Sephiroth's Super Nova has to be the worst. While the attack itself won't kill you, it will reduce your party's health to a critical level as well as inflict status ailments like Slow, Confuse, and Silence. Also, the spell's animation takes about 2 minutes to end.
The first time I ate a Super Nova, it left me with two muted party members and a confused Cloud Strife. I tried desperately to use items to lift the status effects, but Cloud murdered his colleagues with a single strike from his Ultima Weapon and then committed suicide. Somewhere in Japan, Yoshinori Kitase (FF7's director) smiled.