Skyward Sword brings meaningful combat to the Zelda series
This post has been edited by the GamesBeat staff. Opinions by GamesBeat community writers do not necessarily reflect those of the staff.
If you think back on the 25 years we've been playing The Legend of Zelda series, something has always been constant. No, I'm not talking about the franchise's much-criticized formula and its refusal to change. I'm talking about combat. Until The Legend of Zelda: Skyward Sword came about, the series' battle mechanics have been on the bland side, amounting to nothing more than waiting for a chance to pound on the attack button. Nintendo's latest entry in its long-running saga fixes that by making you a part of the action — literally.


The key lies in Skyward Sword's one-to-one motion controls. You're given full command of Link's sword and are able to dictate every movement. At first, it seems like a recipe for disaster, considering the Wii's shaky track record with anything demanding even a modicum of precision. But it works here. Splendidly.


It works because the title adds much-needed invigoration to traditional Zelda gameplay. Up until now, battling has been very passive. You've never had to actually pay close attention to your enemy's movements. All you had to do to succeed was bring up your shield, wait for an opening to appear, and then mash away on the B button until you won. Simple stuff. Combat has been that way since Ocarina of Time changed the paradigm and introduced these mechanics. Sure The Wind Waker and Twilight Princess tried spicing things up by granting additional attack maneuvers, like a shield bash, overhead strike, and a backwards attack, but their use was limited at best and only served to make an already-simple combat system even easier instead of adding depth.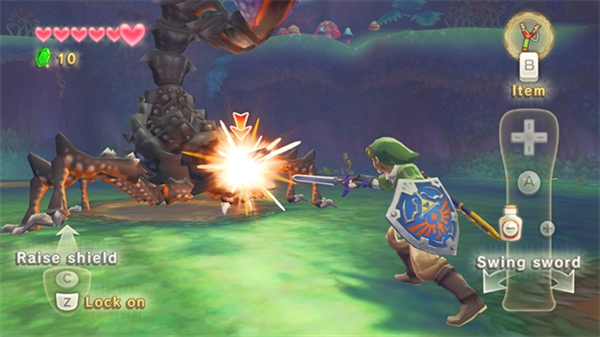 Skyward Sword's combat excels by placing more of a tactical focus on swordplay. All the safeguards that were previously present are now gone. You can't just hold up your shield forever. It only lasts so long, encouraging you to use it only when absolutely necessary. Enemies won't just charge relentlessly. They wait as much as you do for a good chance to strike. You can't just attack them wildly and expect to win. You need to watch their behavior and learn their patterns to become more efficient at slaying them. Granted, your foes are still a bunch of pushovers, but the act of fighting is now more compelling, which is what's most important.


Fighting off pedestrian monsters can be achieved without employing much skill, given how easily they drop their guard. The combat's brilliance begins to show when engaging bigger foes that demand more-methodical means of attack. Some enemies require creative techniques to break their defenses, like flipping a spider onto its back by doing an uppercut. I can't remember any instances in previous Zelda games where you needed to perform a skill in such a manner.


For all the complaints about the series not evolving enough, you gotta give Nintendo credit for at least trying to expand on one of its weaker points. Sure, it's not perfect. In standard motion-control tradition, the gameplay does have its occasional bouts of weirdness. But Skyward Sword is definitely one of the better cases to be made for how motion control can be used well.