FIFA Street is more than just soccer
This post has been edited by the GamesBeat staff. Opinions by GamesBeat community writers do not necessarily reflect those of the staff.
Hanging out with my cousins in Peru over 10 years ago provided me with some amazing memories. Back then, we would put on our old clothes, walk down to a friend's house, and call out to him until he came to his window.
"What's going on?"
"We're going downtown to play some soccer!"
"Alright, let me grab my shoes!"
And just like that, we would hail down a taxi, meet up with another group of friends, and play soccer on the dirt field near an industrial zone. Later that night, we would gather around the TV at home and play some FIFA 2002 on the PlayStation 2. One would think that, with all the soccer in our daily routine, we were dreaming of joining the national team one day. That stuff didn't matter to us; the sport was simply a part of our lives.
FIFA Street, a game based on street soccer and its variations, makes me reminisce about my younger days in Peru. I had a chance to play the title during a preview event in San Francisco, CA, and its presentation greatly represents the culture of the sport.
I didn't have to go beyond the menu for the memories of my soccer days to come rushing back. Throughout the interface are photos of people playing the sport. They weren't wearing anything glamorous — just a good pair of shoes with the skills to match. Some looked very young like my cousins and me while growing up in Peru. When we would go out to play, we'd never wear shin guards or expensive jerseys. We just grabbed what we needed: some shorts, worn-out shoes, and a ball. People notice you for your ability on the field, not your gear.
The game types themselves show the variety and choices you normally wouldn't have in regular soccer. You can do elimination rounds where a player has to leave the match whenever he scores a goal. "Futsal" is also available, where you're indoors with a smaller ball and no boundary lines. If you really want to test your skill against an opponent, you can choose a one-on-one round called "panna." In real life, it's difficult to find enough people to play soccer, so game types like these are quite common and a nice break from the norm.
Once I selected the type of match, I had a choice of various locales to play on. Some were much more grandiose than others (I would love to play on a skyscraper in Hong Kong), but my favorites were the more humble fields. Arenas such as the streets of Amsterdam and the beaches of Rio de Janeiro seemed so similar to that dirt field in Peru all those years ago. If you love soccer, then you don't care about finding a place with goals, grass, or even boundary lines. You're just looking for a large enough spot to start a match.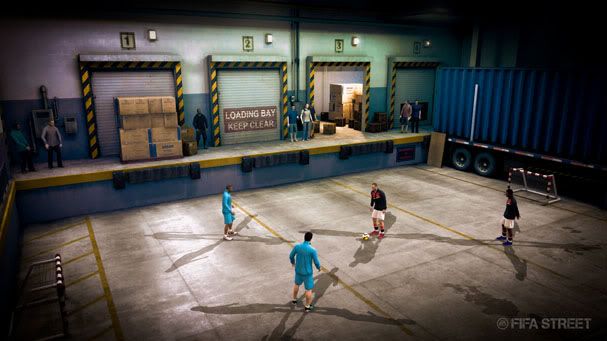 Street's main selling point is complete ball control and doing amazing tricks at the embarrassment of your opponent. To me, that's what street soccer is all about. Whenever I would play with my cousins, we would always randomize the teams, so winning never really mattered much in the long run. What was important was getting better and showing off your skills. Catching the ball on your neck, balancing it on your chest…anything is allowed out there.
While FIFA 2012 is about the teams we root for, our favorite professional stars, and tournament brackets, Street is about the cultural roots of the sport. Its players don't make a dime for competing. They won't get to play in monstrous stadiums or hear a crowd road when they score. But that's what real soccer is to me, and I wouldn't have it any other way.