Know your video-game enemy: Alien invaders
This post has been edited by the GamesBeat staff. Opinions by GamesBeat community writers do not necessarily reflect those of the staff.
Science-fiction novels and movies have taught us that extraterrestrial life is not only possible but almost certainly hostile and plotting against mankind this very second.
Some otherworldly threats are more memorable than others. Let's examine gaming's most bizarre entities from beyond the stars.
---
Metal Slug (series)
After Marco and Tarma defeated General Morden in the original Metal Slug, the evil dictator made an alliance with Martians to conquer Earth. The Mars people eventually betrayed the tyrant, and a full-on invasion ensued.

In Metal Slug 6, two enemies, brain parasites and cyclopic fish heads, sort of remind me of Half-Life's headcrabs and Portal's turrets. What do you think?

One of the baddies from Metal Slug 3, the monoeye, kinda looks like Half-Life's vortigaunts from the Xen dimension. This is getting weird.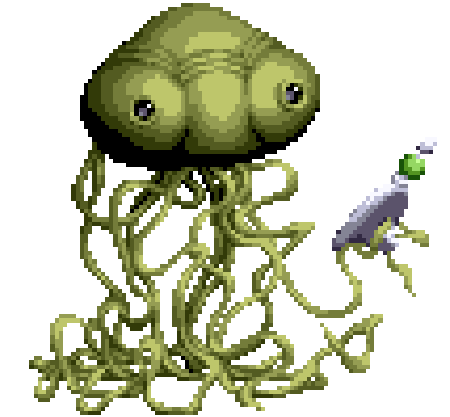 Here's an original species not found in Half-Life: the Mars People. These green, octopus-like beings carry guns and are ace UFO pilots. SVC Chaos: SNK vs. Capcom and Neo Geo Battle Coliseum featured one of the Mars People as a playable fighter.
---
King of the Monsters 2
Aliens are attacking Earth for no apparent reason. People shit their pants in the streets. Military forces are useless. Total chaos. When the dust settles and every major city in the world has been devastated, the monsters start fighting each other out of sheer boredom. We're doomed.

What kind of sick world do these freaks come from? Clawhead (left) reminds me of Delia's sculpture from Beetlejuice. Famardy (right) looks like a giant Krite from the movie Critters with Total Recall's Kuato fused to its tongue. Lavicus (center) is just stupid.


Beetle Master (center) is actually female. Good luck getting her pregnant.



The bosses in King of the Monsters 2 are shit. Lesser fiends include Phlegm McSnotfest, Thyroid Eye Disease, and Handjob Mike.
---
Ninja Crusaders
Horrible creatures from another galaxy crash into our planet and begin killing earthlings simply because they can. Just when all hope is lost, two brave ninja warriors emerge to make a stand. How come Justin Bieber gets his own movie but not the Ninja Crusaders?


I told myself I would not bring attention to the brownish guy on the far right with the huge erection. Now that I did, describing the rest of these crappy creatures is pointless.


Ninjas are awesome, but you need special abilities to rid the world from intergalactic foes. Talon and Blade can transform into four impossible animals: stoned dragon, menstrual falcon, hepatitis tiger, and vacuum cleaner.
---
Contra (series)
In the late 1950s, an unknown object fell from the sky into the Amazon jungle. Scientists could not figure out what it was. 30 years later, people are reporting sightings of strange beings where the artifact fell. The Red Falcon, an extraterrestrial military force, has declared war on humans. Only two soldiers have the guts to grab spreader guns and kick E.T.'s ass.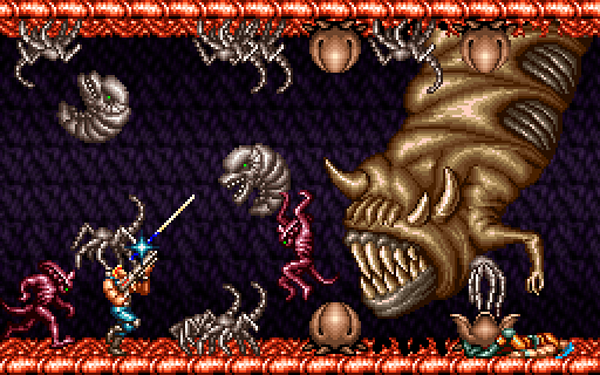 Contra has more Hollywood movie references than the whole Simpsons series. Bill and Lance are clearly inspired by Schwarzenegger and Stallone, and every enemy in the Contra 3: The Alien Wars image above came straight out of James Cameron's Aliens: Xenomorphs, facehuggers (complete with eggs), and a giant chestburster.



A cute little puppy survived Red Falcon's initial wave of attacks. Whatcha got there, boy? Oh, fuck!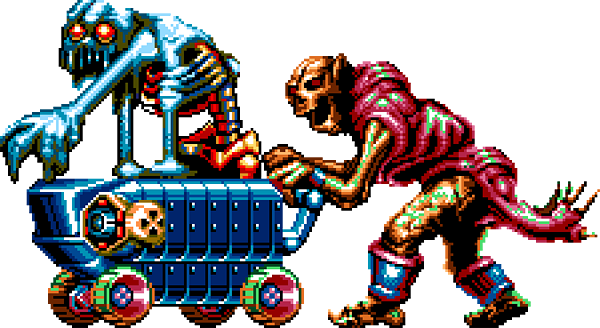 The extinction of humankind is a serious subject, but it gets ridiculous when monsters start mocking Walmart shoppers in Contra: Hard Corps.
---
Space Invaders (series)
I don't really know the plot of this title, but how could I write about games with little green men from outer space without mentioning the granddaddy of them all, Space Invaders? I assume that slick life-forms from across the galaxy regarded our planet with envious eyes and slowly but surely drew their plans against us. OK, I stole that line from War of the Worlds. Let's just move on….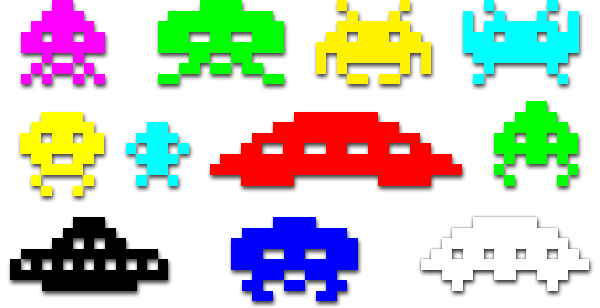 Space Invaders from 1978. Simple, elegant, and addictive. Every gamer in the world could probably recognize these blocky sprites, but did you know Taito released a parody/sequel in 1995 with far better (and disturbing) visuals and audio?


Behold the glory that is Space Invaders '95. The game replaced every classic enemy with funny, deformed aberrations of an unholy cosmic comedian. These aliens seem to have an oral fixation…especially the big-cheeked one that's about to su…oh my God!


You can now choose from 10 different characters to defend planet Earth. Teke-Teke resembles the ship/thing you controlled in the original. On the right, we have a pink turd coming out of a flying toilet. Why the hell not?



Dogs in trash cans, blue shit, sentient torii gates…the aliens don't stand a chance against Japan.