10 games with weird-ass titles (that you might want to check out)
This post has been edited by the GamesBeat staff. Opinions by GamesBeat community writers do not necessarily reflect those of the staff.
Sometimes, you see a title that's so weird you stop long enough to ask, "What the hell?" but not long enough to actually play the game to which it is attached. This fall has unleashed many of these strange monikers upon an unsuspecting public, and I have collected some of the craziest ones here. For fun, I tried to guess what these releases were about based solely on their names, and then I researched to see how close I was.
Spoiler alert: I was wrong a lot.
---
1.) 1950s Lawn Mower Kids (DSiWare)
I thought it was…
I was torn between two possibilities. It was either about kids mowing lawns in the 1950s or the bone-chilling tale of an unholy byproduct of the Atomic Age: a gang of terrifying lawnmower-human hybrids who, I don't know, fight commies.
But it's actually…
Yeah, it's about kids in the 1950s mowing lawns. You simultaneously guide three hardworking whippersnappers with mowers through a variety of lands in dire need of 'scaping. I haven't played it, but the videos I've seen remind me of why I could never really get into the real-time-strategy genre: Multitasking at that level gives me panic attacks.
You might want to check it out…
…if you can pat your head, rub your tummy, and touch your nose at the same time.
---
2.) MercuryHg (XBLA, PSN)
I thought it was…
I kept reading the title as "Mercury Hug," and that just seemed like a really bad idea. You know, unless you're into paresthesia.
But it's actually…
It's the fourth game in the Mercury series, in which you guide a ball of liquid metal through a series of puzzles by tilting the environment. Sometimes, you have to split your blob to hit two switches simultaneously. Other times, you have to change its hue to access a color-coded door. Later on, you have to do both: dividing, changing the colors of each globule, and then recombining them to blend the colors together. You just can't do these things with marbles, people.
You might want to check it out…
…if you liked Marble Madness but thought it would be more fun if you played as a T-1000.
---
3.) Catball Eats It All (iOS)
I thought it was…
Honestly, my first thought was a Pac-Man knockoff for furries.
But it's actually…
It's closer to Katamari Damacy. You guide the eponymous sphere through a series of street-mural-inspired worlds (with hand-drawn art by Philadelphia artist NoseGo), gobbling up rows of objects and trying to find the perfect line to build up the highest combo you can and making Catball as big as possible. The smaller bits are just an appetizer, though: Once he's finished Pac-ing down, Catball eats the level. If you don't finish your dinner fast enough, the eater becomes the eatee when a giant "Dogwall" emerges from the background to enforce the time limit. It's bananas.
You might want to check it out…
…if you think your eating-based games could use a little more style (and impossibly round animals).
---
4.) Stealth Bastard (PC)
I thought it was…
I couldn't think of anything because I was laughing so hard.
But it's actually…
Subtitled "Tactical Espionage Arsehole," Stealth Bastard is aimed at people who like sneaking games but wish they would move a little faster. This free PC download cranks up the pace with "dynamic" (read: moving) hiding spots, precision platforming, and big-ass laser beams.
You might want to check it out…
…if you've ever spent 15 minutes hiding under a truck in Metal Gear Solid 3 and wondered if you were squandering your precious gaming time.
---
5.) Corpse Party (PSP)
I thought it was…
The least disturbing possibility I could come up with was a Halloween-themed minigame collection. My guesses only got grosser from there.
But it's actually…
Corpse Party is the first North American port of a 1996 Japanese PC adventure-horror title about teenagers trying to escape a hellish dimension filled with the ghosts of murdered elementary-school students. A lot of people in my Twitter feed have been talking about how unsettling and creepy it is, but I scoffed a little when I saw the RPG Maker graphics. Then I saw this video and realized that Corpse Party is not messing around.
You might want to check it out…
…if all that pesky sleeping is robbing you of productivity.
---
We're halfway there! Five more oddities await on the next page.
6.) DaGeDar (DS)
I thought it was…
What can I do with that? It's gibberish.
But it's actually…
I don't have any kids, and my nephews only like cool things like Star Wars and Batman, so before I stumbled upon this game I had no idea what "DaGeDar" meant. I still don't, actually, but research tells me that DaGeDar are animals that turn into orbs and compete in races. That's the lore, anyway; the upshot is that this is a toy line with a collection angle and a whole lot of tracks and racing balls to accumulate. What I've seen of the DS title reminds me a lot of the Nintendo 64's underrated Uniracers; it's also the second game on this list that contains spherical animals, so it has that going for it, too.
You might want to check it out…
…if you're tired of tripping over the plastic tracks and giant marbles strewn all over the floor of your living room.
---
7.) Where Is My Heart? (PSN)
I thought it was…
Despite the fact that I'm getting a little tired of zombies, I was kind of hoping this was an undead love story. The runner-up: an adaptation of Jason Statham's tour de force, Crank 2: High Voltage.
But it's actually…
Where Is My Heart? is a super-cute puzzle platformer about a family of monsters lost in the woods. In each level, you must collect hearts to open up the exit and progress. The catch is that each 2D stage is broken up into blocks and shuffled around, so jumping "up" from one block might put you into a lower block halfway across the screen. Does that make sense? No? Good thing this is the Internet.
You might want to check it out…
…if you thought the time mechanic in World 5 of Braid was too easy to comprehend.
---
8.) Bugs'N'Balls (DSiWare)
I thought it was…
It depends on whether that "N" is short for "and" or "in." If it's the former, I'd guess it's some kind of insect-based sports game. If it's the latter…on second thought, I should probably save the vivid descriptions of my nightmares for my therapist.
But it's actually…
It's a sports game, thank goodness. Bugs'N'Balls is a bizarro version of dodgeball in which a cadre of creepy crawlies hurl projectiles at each other. What are they throwing, anyway? Rocks? Seeds? Let us not allow detail to fritter our lives away. The player with the fewest balls on his side of the "court" when time expires wins. Basically, it looks like the kind of game you would find in the DSi Store.
You might want to check it out…
…if it's worth $1.99 to you to control a ladybug chucking rocks at a centipede.
---
9.) Battle Stuff (Xbox 360)
I thought it was…
You can't have a battle without a bunch of stuff, and maybe this is the story of that stuff.
But it's actually…
The real premise of Battle Stuff is even weirder than its name: It's a Fun Labs title in which you scan household items with your Kinect, and then they fight in a boxing ring. All of the promotional material claims that you can "coach" your battle stuff, but none of the dozens of 16-second YouTube videos people are uploading show where exactly the interaction is. It wasn't a complete wash, though; at least I learned once and for all which Star Wars movie is the best.
You might want to check it out…
…if you're tired of arguing about who would win in a fight between your ping-pong paddle and your toaster.
---
10.) Pee & Poo Save the World (iOS)
I thought it was…
That title is way more ridiculous than any joke I could make. I'm just gonna let it mellow.
But it's actually…
Aliens are snatching up the world's cutest animals. Sonic is busy with his own game, so it falls upon a puddle of urine and a pile of poop to come to the rescue. Why? Because fart noises, that's why. Pee and Poo battle the alien hordes with an assortment of unsanitary weapons, including fiery bags and "water" balloons. It's lowbrow, sure, but I'm probably the last one to judge. In all honesty, it looks kind of fun.
You might want to check it out…
…if you've been looking for a way to combine your love of toilet humor with your adoration of baby platypi.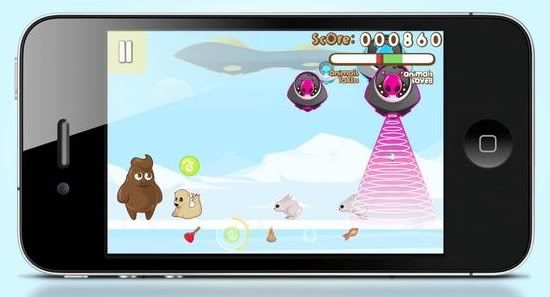 ---
What are your favorite ridiculous game titles? Let me know in the comments.