The Humble Indie Bundle is a sign of the times
This post has been edited by the GamesBeat staff. Opinions by GamesBeat community writers do not necessarily reflect those of the staff.
Earlier this week, I bought Humble Indie Bundle #4. I'm usually in on these specials regardless of content: For instance, I bought the Humble Introversion Bundle, but I've yet to play anything from it. This iteration, however, features a particularly strong stable of games that I've lusted over but haven't purchased, including Cave Story+, Gratuitous Space Battles, and Super Meat Boy.
While I bought a whole lot of game for a very small price, it dawns on me that this has less to do with the generosity of the developers (which they have in spades) and more to do with much larger social forces.
For the uninitiated, Humble Bundles work as follows: A bunch of developers (or, in some instances, a single developer) will put up half-a-dozen games in a package that can be purchased for whatever price you choose. You can further customize your purchase price by splitting the sum between the developers, charity, or the Humble Bundle site. I usually spend no more than 5 dollars, give most, if not all, to the developers, which allows for a small portion to go to the site. As the saying goes: "Always tip your bartender."
I would argue that the Humble Bundle initiative has been a success. In the first few days, 260,000 people purchased Humble Indie Bundle #4, totalling almost 1.4 million dollars. That may be small potatoes for the Activisions of the world — World of Warcraft makes that every few hours in subscriber fees alone — but three days ago, that was a lot of money that the participating Humble Bundle developers, Child's Play, and the American Red Cross didn't have previously to split amongst themselves.
The success of the Humble Bundles is the result of a variety of phenomena we have witnessed in video games of late. In particular: the rise of indie video game development, the adoption of digital distribution services, and gamers' newly found sense of charity spurred by Penny Arcade's Child's Play project.
The Humble Bundle's success is also fueled, in part, by the social and political forces that are currently shaping the world. Time Magazine just named "The Protester" their
Person of the Year
, a culmination of worldwide protests seemingly about everything: Arab dictatorships, economic unbalance, and police injustice.
If you wanted a theme to all these activities, it would be: "We are sick of being told what to do and tired of being taken advantage of." That's not to be facetious. Whether a person is struggling for democracy itself or for the rights within a democracy that have been stripped through artifice and manipulation, the entire world is just exhaustedof being told what to do, particularly when it holds little benefit for the public and immense benefit for a select few.
I can't help but think that this thought is — if not created — abetted by the Internet. I'm 30 years old, a digital-age elder, and I have been told for most of my life that I can do what I want, that I can contribute how I see fit, and that I am equal to those around me. Tell that to millions of people for dozens of years, then empower them by giving them the greatest communication and collaboration tool the world has ever seen?
Yes, things will change.
Ultimately, these higher-minded protests are the most important expressions of this movement, but that same ethos is permeating everything we touch, particularly in entertainment. Television audiences are abandoning conventional cable and satellite providers in favor of Internet-based subscription and a la carte content. Louis C.K. scored success with the release of a self-produced, self-distributed comedy special. Music has long been freed of the tyranny of physical media and copyright protection and dissected into its smallest parts.
Enter the Humble Indie Bundle. Ultimately, we are allowed to dictate not only our actions but who will benefit from those actions — very powerful tools that audiences have chosen to exploit.
One could point to a negative element in this payment model. Usually the average take is about 5 dollars per sale, which is less than a dollar per game. But these games have already seen release (with the exception of Voxatron, which debuted as part of its own bundle promotion) and have, one hopes, already made a little bit of money for their creators.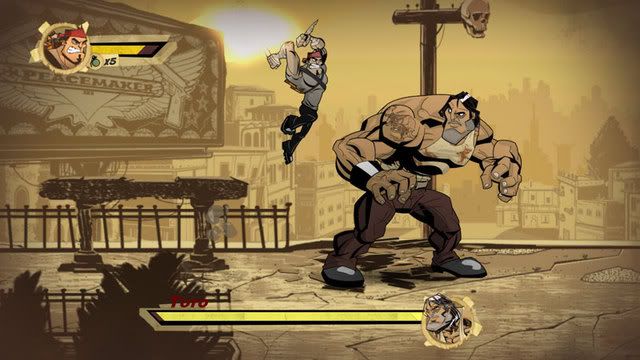 The bundles have other advantages for their developers. It may be recouping some money from pirates; although, I expect fewer than one would hope. Also, most will purchase a bundle for a game or two (or maybe none at all) but will assuredly discover new developers and franchises.
Of course, the Call of Duties will always exist, demanding billion-dollar release sales and then convincing players to spend even more money after the fact. But for every Call of Duty subscription service; massively multiplayer-online monthly fee; or triple-A, assembly-line downloadable content, there are dozens of indie games whose creators don't want to take advantage of their audience.
They would rather use their games as part of a greater global discussion about who we are and what we are going to do with ourselves…and who makes those decisions in the first place.
And that's a discussion I want to be a part of. Seven amazing games are just a great perk of participating.