Bitmob's Big 10: The top 10 most-read community stories of 2011
This post has been edited by the GamesBeat staff. Opinions by GamesBeat community writers do not necessarily reflect those of the staff.
Here they are: The hottest, most popular community articles from 2011, as written by you, the Bitmob community. If you didn't see the first half of this list, check it out right here. If you have…well, let's get to it!
We asked a Bitmob staff member to write a few sentences about each article, telling what it's about and why he liked it. The responses are below. Congratulations to all…and enjoy!
10. 5 video-game terrors you should be very afraid of by Chris Skinner
Sam Alegria, intern: "Chris' article is a good list of frightening situations in video games. While zombies and gore are usually associated with 'scary' titles, this post brings up some classic examples that humans truly find terrifying: overwhelming strength, fear of what's behind you, an inability to control your fate, and of course…damn sharks."
9. Confession: I accidentally turned off the PlayStation Network by John Michael
Alex Cronk-Young, moderator: "This article represents one of my favorite parts about the Bitmob community. When I first came across it, it took me by surprise. The PSN outage had prompted plenty of articles on Bitmob at that time — hell, the Internet was flooded with articles about it — but Bitmob isn't just home to serious game analysis and editorials. At a time when gaming sites were drowning in articles about how the situation was handled, what caused it, or just updating readers with recent developments, John Michael decided to try something unique. To me, that's what Bitmob is about."
8. The manly man's men's magazines of Double Fine's Trenched (Iron Brigade), for men by Brad Muir
Dan "Shoe" Hsu, co-founder: "Four reasons why I love this article: 1.) It makes me happy to see industry professionals coming here to Bitmob to post stories alongside our community members and staff, 2.) I love seeing the thought processes behind even the smallest of design decisions for a game, 3.) Brad is a big-time fan of Michigan football (disclosure: We've been watching games together for years now), so I know he has excellent taste in everything, and 4.) Just look at that ridiculous picture of Tim Schafer, the boss of Trenched/Iron Brigade developer Double Fine!"
7. The hypersexualization of women damages in-game storytelling by Patrick Stafford
Jason Lomberg, editor: "Gaming's maturity level hasn't quite surpassed puberty. Case in point: its laughable portrayal of women, which caters to prepubescent male fantasies. The medium's storytelling techniques are still evolving, and oversexed female characters make the suspension of disbelief that much harder. Patrick's article is a terrific survey of this disturbing phenomenon."
6. 10 reasons why PC gaming is in the gutter by Rick Knight
James DeRosa, editor-at-large: "In my original editor's note, I wrote that I thought Rick's list was pretty spot on, and a year later, it still is. I'm not a big conspiracy nut, but the difference now is that I think a lot of the problems the PC platform has are intentional attempts to shrink a market that big companies like Ubisoft, EA, and Microsoft wish didn't exist."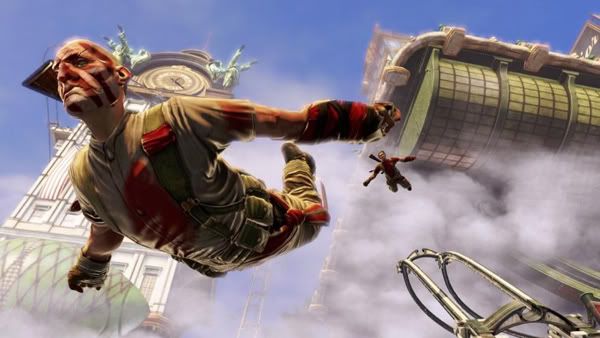 5. 5 reasons BioShock Infinite should excite you by Jack Wilde
Mike Minotti, writer: "You really shouldn't need any convincing to be excited for BioShock Infinite. I mean…just look at it! What, you want an actual argument instead of my enthusiastic grunts? Well, luckily we have Jack Wilde's list of the five biggest reasons you should be looking forward to this upcoming shooter. I think I'll go ahead and add a sixth reason: The E3 trailer made me pee myself."
4. Stumping in the wasteland: On the politics of Fallout by Matt Polen
Chris Hoadley, moderator: "Not even atomic Armageddon will end the divisive politics in our country, according to the Fallout series. Aside from the usual factions that fight to protect their own, post-nuclear-war America plays host to fearmongers promising a return to a glorified past, prosperous enclaves funded by big business, and altruistic groups trying to help everyone. Matt analyzes each of these themes just as art critics would do with any other medium. Clearly, people want to read more about the messages behind their games."
3. The bad sequel: How the Civilization series and I grew apart by Michael Soracoe
Rob Savillo, senior editor: "Years ago, I stumbled upon Michael's website devoted to playthroughs of Civilization games. Beginning with Civilization 3, I would secretly read up on his tales of diplomacy and conquest while I was supposed to be working a desk job. His after action reports (AAR) were not only entertaining but insightful — I gained a significant understanding of the underlying mechanics that drove gameplay in the Civilization series. So when developer Firaxis finally released a proper sequel to Civilization 4, I sought out Michael's corner of the Internet to look for analysis. What I found was a growing disillusionment running parallel with my own, and I requested that Michael bring his observations about bad sequels and the imploding gaming communities that latch on to them. This is that editorial."
2. Detective work reveals PSN servers up to date by Brad Grenz
Evan Killham, intern: "After the massive hacking attack on PSN earlier this year, hatred and doubt of Sony became a new Internet sport like finding new things for Hitler to be angry about. (Was Hitler angry about the PSN outage? You bet your ass he was.) In the midst of all of that, Brad reported on an investigation showing that, contrary to what the media had reported, Sony was not quite as incompetent as outraged fanboys had wanted to believe. His article serves as a reminder of the importance of due diligence and fact-checking; it also has the tech-nerdiest comment thread I've seen outside of AVS Forum."
1. Choose your own adventure: The video-game store by Andrew Hiscock
Jay Henningsen, managing editor: "Even though I did the 'choose your own adventure' concept on Bitmob first, Andrew expertly captured the real-life experience of purchasing a video game. In addition to multiple endings, he even buried a humorous Easter egg in this article for enterprising readers to find. The only thing that came close to the scope and ambition of this post was the amount of time it took to edit. I salute you, Mr. Hiscock."
---
To all the authors on this list, and to everyone who has published an article, left a comment, or viewed a page on Bitmob in 2011: Thank you!