2011: Year of the video-game story
This post has been edited by the GamesBeat staff. Opinions by GamesBeat community writers do not necessarily reflect those of the staff.
I've done a lot in the last 12 months.
Determined the course of human evolution. Survived another zombie apocalypse. Traversed a hostile afterlife looking for answers. Skirted with the nightmarish consequences of infidelity with a hell-born succubus. Grew a little as a person even if I remain a treasure-thieving soldier of fortune. Got closure on two, three, four, five adventures I'd followed for years and watched the plot thicken in another three. Saved myself from insane computers and their insane traps. Saved the world. For another day.

Damn youse, Salvador Dali! Damn youse ta hell!!!
That's a lot of stories and a lot of different takes on this world (and several others). If 2010 gave us more than our fair share of unforgettable moments, the last year nailed it home. Video-game narratives stopped being the thing that interrupted your gaming and became the thing you gamed for.
So I'm calling it. 2011 officially made story as integral to a game as running, jumping, or shooting. And we're better off for it.
Fact is, for a very long time now, any game that didn't keep score marked advancement by pulling the curtain back on another scene. The story became your reward for success. Now we're gaming the story itself and, in the best examples, living it as well.
Play through the desert sequence in Uncharted 3: Drake's Deception for a quick lesson. On a purely technical level, one cut-scene could've handily covered that entire level…and missed the entire point. You felt Drake's plight more by pushing him onward, even when he couldn't go any further. Similarly, Catherine asked you direct questions — "Does life begin or end at marriage?" — and characters suffered or prospered based on your answer. Hell, that entire game served as a surrealist metaphor for commitmentphobes. Point me to a previous title that can say the same.

So…I saw this. Your turn. Enjoy!
Sure, plenty of games committed to their themes and narratives (BioShock and Heavy Rain spring to mind), but this last year they arrived in bulk. You didn't play L.A. Noire to shoot criminals but to interrogate them. Limbo told its tale through stark imagery that stuck in the brain far longer than its puzzles did. Try playing Bastion – arguably the year's best-scripted game — with the sound off. You lose a lot. I'd argue you lose everything.
Hey, I'm not going to begrudge a mindless, twin-analog shoot-em-up or an engrossing puzzle game with a plot best described as "many blocks fall fast." Sometimes you want Shakespeare. Sometimes you want comic strips. Both can entertain in equal measure. But a great story elevates a game by providing something special: motivation.
I'm not just mowing down nameless thugs because they were stupid enough to spawn in my general vicinity. I'm not just pushing buttons. Real, solid reasons exist for my actions. Drake doesn't plunge into the desert for the hell of it; he's off to save his best friend. Resistance 3 boiled humanity's impending extinction down to one man's struggle to save his family. And when you think about it, all the initial fanfare surrounding Dead Island centered on one family's last stand against the undead hordes…something that didn't actually happen in the game, though you can find its aftermath.
If that story takes me a step further and gets me to invest in a character's plight, the game suddenly becomes far more immersive. I don't just sit there, hoping they succeed…I'm in it to win it. They will prevail, because I'm going to make damn sure they do.
I might even start forming opinions and making value judgments. The time came when I — not the character, but me personally — decided Bastion's ever-present narrator was unreliable. That made me question his reasons, his instructions, everything…adding layers to everything I saw, heard, and did. It changed my decisions. I set myself to thwart his expectations, resulting in a very different outcome.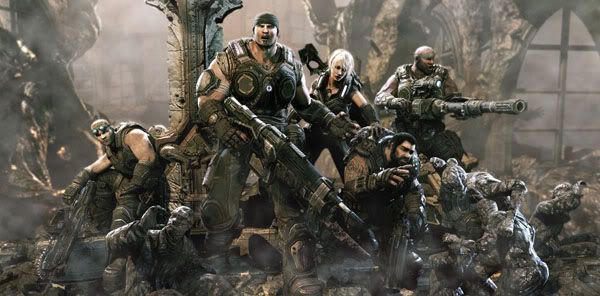 The Last Supper, as served in the WWE commissary.
It also didn't hurt that so many games arrived as concluding chapters that closed the book on old friends. Helping Marcus Fenix end his war (Gears of War 3), Ezio Auditore da Firenze find some peace (Assassin's Creed: Revelations), Chell and GLaDOS come to an understanding (Portal 2), and Captain Price complete his mission (Call of Duty: Modern Warfare 3) made for satisfying codas to years-long relationships. The sense that these might be our last goodbyes added a bit of poignancy regardless of whether or not the ending worked. You won't ever get that feeling while playing Asteroids or Angry Birds.
That's how a good story deepens the experience. It tells me why I'm playing the game. A great story compels me to confound my enemies, destroy their plans, escape their traps, rescue the innocent, and save the world. They give me something to discover and meaningful things to accomplish. Just look at the list of games released in 2011 and, sports and fighting games excepted, note how few don't include a plot of some kind. You might not even need both hands to count them.
Now go back and see how many told an amazing story. Odds are those were your favorite games of the last year, and now you know why. The story stuck with you. It became your story. Above all else, that's what we remember.