5 perplexing video-game mysteries
This post has been edited by the GamesBeat staff. Opinions by GamesBeat community writers do not necessarily reflect those of the staff.
In the early days of electronic entertainment, video games didn't rely on plot to engage the player. Hell, most titles didn't even have endings. Did you ever question why aliens abducted humans in Defender or why Pac-Man was on every ghost's shit list? I sure didn't.
I'd like to share five gaming oddities from the late '80s and '90s…weird crap that has haunted me for years…even decades. My research led me to some possible theories, but I want to hear the opinion of Bitmob's community, and finally solve the following abnormalities.
---
Super Metroid: Dachoras and etecoons.
During her journey to rescue the metroid hatchling from Mother Brain, Samus encounters two non-violent species on planet Zebes: Dachoras and etecoons. Not only are these Zebesian animals docile, but they even teach Samus useful abilities like the wall jump and shinespark.
Zebes is infested with Space Pirates and dangerous wildlife. How do cute monkeys and green ostriches survive in such an environment? Do they wall jump out of harm's way every time a predator attacks them?
Too bad Metroid: Other M did not feature dachoras or etecoons.

Even more bizarre is the fact that Samus can save the little guys during her escape from the soon-to-explode world. As Samus' gunship leaves Zebes' orbit, a white dot exits the surface just before the planet disintegrates. That means dachoras and etecoons own a spaceship and know how to maneuver it. Madness!
Years later, Samus finds her green and blueish friends in Metroid Fusion's Biologic Space Laboratories research station. When the blonde bounty hunter sees them, she says: "I've met these intelligent beings before. They seemed to recognize me, as well. How unusual to meet again here." I guess it's a small universe after all.
---
Mortal Kombat 2: Burning man in The Pit II.
I am aware that Mortal Kombat's plot is ridiculous, but at least the developers tried to explain characters' pasts, their mythology, and the culture of each realm. However, the stage called The Pit II from Mortal Kombat 2 holds a hot, little mystery…a freaking guy on fire in the background.
Who the hell is that? The fighter standing in front of him looks like Liu Kang, which makes no sense since earthrealm's champion is a playable character. My friends and I debated about the burning dude's identity and whether a code would ever let us control him.
Yep…he took his clothes off.

Nine years later, the developers at Midway finally revealed the crispy kombatant's identity in Mortal Kombat: Deadly Alliance. His name is Blaze, and he is a fire elemental. Blaze went on to become Mortal Kombat: Armageddon's final boss. The scorching fiend looks over the realms, monitoring every single fighter's strength. He also protects the Dragon King Onaga's egg. OK….
Mortal Kombat's (2011) Challenge Tower #57 goes by the title of "The Burning Man." I expected to fight Blaze's MK2 incarnation, but instead I battled a lame tarkatan engulfed in flames.
---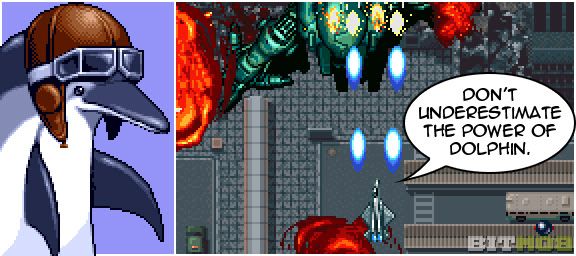 Aero Fighters 2: Spanky, the fighter-pilot dolphin.
If I ask you how many times extraterrestrials have invaded Earth in video games you might be able to name dozens of titles, but how many times has a hot-dogging dolphin saved the world?
Meet Aero Fighter 2's Spanky. I would really, really like to know how this marine mammal got a pilot's license and certification. Not only is Spanky a f***ing dolphin, but he also speaks fluent Engrish. Enjoy some inspirational quotes from the bottle-nosed hero:
In his spare time, Spanky trades his World War I pilot helmet for a chef's hat.

Gracias, señor Spanky. ¡Eres nuestro delfín favorito, y el más guapo!
Alien invaders will be so confused when they see a goddamn earth-fish ramming a jet up their otherworldly asses.
---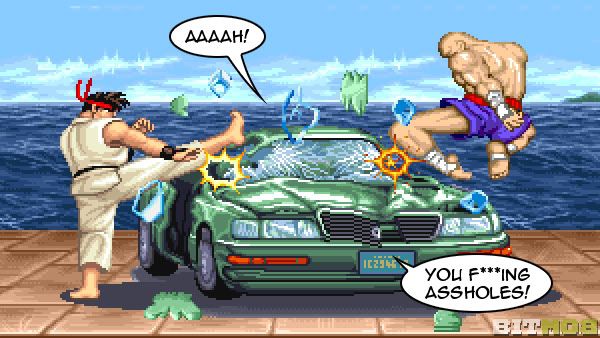 Street Fighter 2: Car-busting bonus stage.
Daniel-san washed a shitload of vintage cars as part of his martial-arts training in the movie The Karate Kid. The world warriors also train with cars, but instead of waxing the vehicles they demolish them…while barefoot. Badass.
Wouldn't you like to know who owns that car? And why does it magically appear in Ken's stage even when your fighter is no longer in the U.S.A.? Now that I think about it, Capcom has been destroying cars since Final Fight.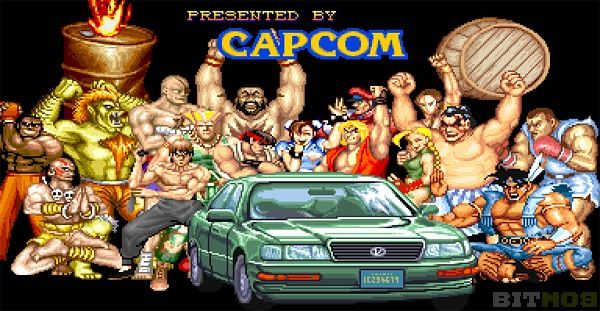 Beat the game without losing any rounds to play as the brick wall from the 16-bit console versions.

I dream of the day the car from the bonus stage becomes a playable character. The Street Fighter series has a bendy teleporter, an electric beast, and a demon. Would it really be so absurd to play as a sedan? Alternate downloadable skins could include a convertible, a jeep, or a windowless van.
---
Super Mario Bros. 3: Goomba's Shoe.
The Goomba's Shoe, known as Kuribo's Shoe in Japan, is an exceptionally rare item found only in Super Mario Bros. 3's world 5-3. The green boot is cool and very puzzling. Goombas don't wear shoes, so where does the bouncy footwear come from?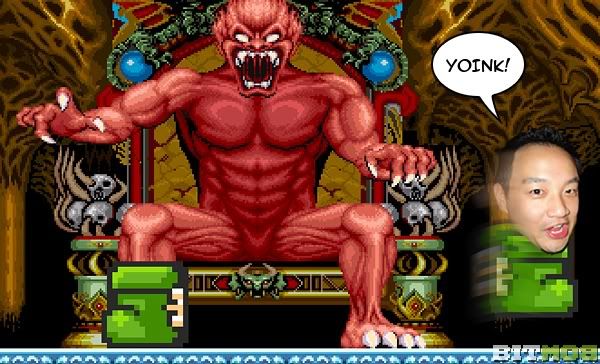 Kuribo's Hsu. *rimshot*

My make-believe sources say that Goomba's Shoe once belonged to the evil Loki, the freakishly big demon from Ghouls n' Ghosts. A magical imp snuck inside Loki's castle and snagged the boot while the red devil slept. Legends say that the mischievous gremlin bounced his way into the Mushroom Kingdom, where the very first Goomba from world 1-1 defeated him.
I may be talking out of my ass here, but you have to wonder why Bitmob's main color is "kuribo green."