5 underdog games of 2012 to put on your radar
This post has been edited by the GamesBeat staff. Opinions by GamesBeat community writers do not necessarily reflect those of the staff.
You know it's going to be a good year when something like Far Cry 3 gets swallowed whole by the hype surrounding other games.

I am very, very, very, very, very, very sane. Why do you ask?
Friends, I've seen Far Cry 3, and I know the modus operandi of the people behind it ("Make it effin' awesome," if you're curious), and that game shouldn't take a back seat to anything. Yet, it's just not showing up on a lot of 2012 wish lists. That's nobody's fault…hey, I experience a Pavlovian response when Mass Effect 3 or BioShock Infinite enter the conversation. I've sold a few children to ensure I get my copies in a timely fashion. But those aren't the only games coming out in the next 12 months, now are they?
Far Cry 3 will get its big marketing push, but some other highly promising titles might vanish in the giants' shadows without a little help. So here's five underdog games I'm keeping on my radar…just in case they spin their potential into solid gold.
Journey
Any game from Jenova Chen (Flower, Flow) and his thatgamecompany team merits attention just to see how they push basic gameplay tropes into new, interesting directions. Journey marks their take on two pillars of Miyamotian game design: exploration and discovery.
It's also more accessible than some of his more abstract efforts…not so much literal as it is a very lucid dream. Plot? Not really. You're a traveler in the desert heading for a far, far, FAR distant mountain and getting sidetracked by ruins along the way. In the 20 minutes I spent with Journey, I completely forgot about the goal and dug into my playful, beautiful, fascinating surroundings. Like a typical Shigeru Miyamoto game, you'll get your fill of platforming and puzzles, but Journey's shaping up to have a uniquely Jenovan design pillar of its own: magic.
---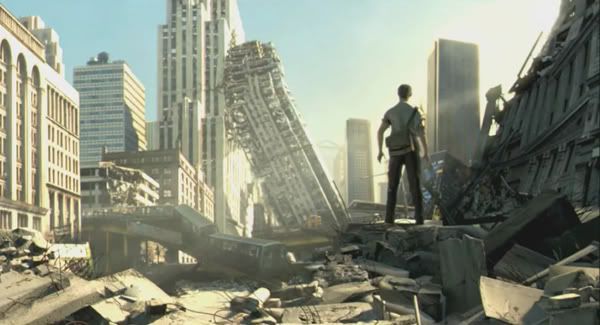 I Am Alive
How about a survival/horror game without ghosts, zombies, genetic experiments, or super mutants? Yes, please. We all assumed I Am Alive quietly died in development hell, but Ubisoft Shanghai's surprise recently resurfaced with a few major changes in focus. Once planned as a retail release, it's now a downloadable title with a few pages taken out of Uncharted's playbook.
Set a year after "the Event" leveled humanity, you navigate what's left of America in the vain hope your family's still breathing on a toxic Earth with dwindling resources. Even more interesting than a promised harsh difficulty curve (platforming is restricted by a stamina bar) to reflect the harsh conditions, your interactions with other survivors sound more contextual than anything we're used to. Threaten someone with an empty gun, and they might back down. Its more grounded setting might limit appeal, but considering all the twists in its four-year development, I Am Alive is nothing if not a survivor.
---
Yesterday
I left point-and-click adventure games back in the early '90s whence they came, but if anything can drag me back to that genre of yesteryear, it's Yesterday. Spanish developer Pendulo Studios (best known for the Runaway series) has built an intriguing conspiracy plot around murdered vagrants, Y-shaped stigmata, a mysterious amnesiac named John Yesterday, and a phenomenal art style. It's not Myst, but I'm more than a little tempted to frame a few of the preview images and hang them proudly in my man cave.
Adventures like this live or die on the story and the puzzles, but Pendulo can point to a string of Euro-hits as proof it's got chops in the genre. And it's got me curious enough to take Yesterday's trip to the past seriously.
---
Prey 2
At last summer's Electronic Entertainment Expo, various Bitmob staffers nearly satisfied honor with dueling pistols as they systematically went behind closed doors at Bethesda Softworks only to return with an intolerable claim: Prey 2 looked better than The Elder Scrolls 5: Skyrim. Seriously. Blood was nearly spilled. Until the vote grudgingly became unanimous.
As it stands, the name ranks as its only major determent. First-person shooting aside, Prey 2 offers an experience completely divorced from its stomach-churning predecessor. Instead of playing the victim of alien abduction trying to escape the mother ship, you're a former abductee making a living as a bounty hero on an (open) alien city. Oh, and it's got a parkour system that actually seems to work and be fun at the same time. Name me two other shooters that can make that claim. Put it all together, and out of all the games on this list, it's easy to single out Prey 2 as the likely sleeper AAA-hit of 2012.
---
Dishonored
Say the words "first-person stealth-assassination game," and it brings up warm, fuzzy memories of Thief: The Dark Project. Let it go the full steampunk, and I'm in, baby. Dishonored centers on former bodyguard Corvo, now unemployed due to the sudden, violent death of his previous charge…the Empress of a fantasy-Victorian-era empire. Oops. Guess who catches the blame? Double oops. Well, of course he's going to kill his way to the truth. Wouldn't you?
And not only does he bring a collection of blades and muskets to the party, but magic powers that allow him to freeze time or possess rodents of unusual size…and lead packs of mega-rats to gnaw enemies to death. Not salivating yet? I'll note its pedigree: Developer Arkane Studios did some design work on BioShock 2, and controversial game designer Harvey Smith (who's resume includes Thief: Deadly Shadows) is on the team. So yes, I'm ready to get my flintlock on.
---
Hey, I didn't mention Fez! What other under-the-radar games need a shout-out?