Publishers must stop pass-locking multiplayer modes
This post has been edited by the GamesBeat staff. Opinions by GamesBeat community writers do not necessarily reflect those of the staff.
Occasionally, you get an absolutely hysterical press release in this business, or an article entirely based on one. Case in point; Publisher/developer Electronic Arts tried to make some hay last week for not online pass-locking any content in its upcoming Syndicate reboot. That became news-worthy because such things now qualify as unusual.

Might I suggest next time you just use the door?
If you're unaware, the online pass partitions off a certain portion of the on-disk content for first-time users only. Input the one-time-only code that comes with a brand-new game, and you get the full works. Otherwise, you have to pay extra to get it as downloadable content. Publishers call it an anti-piracy device, but that's a lie. If they wanted to discourage piracy, the code would unlock the entire game, not just one corner of it. No, they want the online pass to kneecap the used-game business, pure and simple.
Personally, I count the online pass as a fairly ingenious device when used correctly. But no sooner did I list out my rules for a good online pass than I threw in Resistance 3 and Battlefield 3, both of which broke my guidelines by locking the multiplayer modes. Twisted Metal and Mass Effect 3 will follow suit.
That's unacceptable, reprehensible, and detrimental to the industry all at once.
A lot of this goes right back to the debate World of Warcraft provoked years ago: Do you own the game you legally bought? According to Warcraft developer Blizzard, the answer is no, you don't. They own all the content you interact with in-game, and you cannot sell or trade it outside of their strict control. An online pass presumes the same thing, allowing a publisher to control access to content stored on a disc in your legal possession and enforcing your compliance with a licensing agreement you tacitly accept merely by loading the game.
But I can sell or trade a used book, a used CD, or a used DVD from right off my shelf without asking permission, completely intact, and nobody can stop me.
As far as I know, nobody's mounted a legal challenge to a game publisher's licensing agreement quite yet, but I have to wonder how well it would stand up in a court of law given how packaging doesn't spell out all the details at the point of purchase. Throw that out, and pass-locking on-disc content becomes a class-action lawsuit waiting to happen.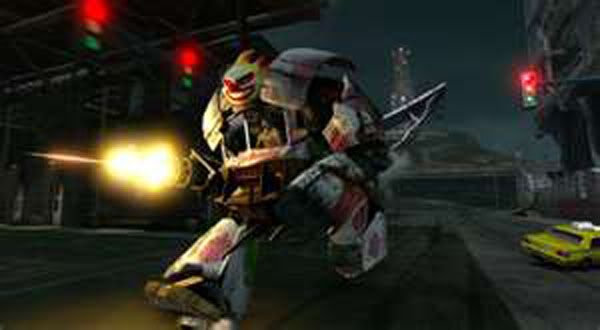 Smog this, DMV!
And while I'm here, allow me to challenge the notion that publishers pass-lock content for anything other than commercial gain, as opposed to guarding against financial loss. EA now typically online pass-protects multiplayer modes in projected hits (Battlefield 3, Mass Effect 3), so don't think they opened up Syndicate in an altruistic display of heroism. No, they're re-launching a dormant franchise from the '90s, and they don't want to hobble its chances by selling half a game. Same goes for SSX…its online pass doesn't block an entire mode, but will affect how fast you unlock gear.
Sony feels Twisted Metal can ride its reputation all the way to the bank. Syndicate doesn't earn that level of confidence from EA. Mass Effect 3 does. Demand determines accessability. They lock their content accordingly, without regard to the game itself or the people who might want to play it.
These decisions look great on a balance sheet, I'm sure, but those are disastrous moves and here's why: Mode locking keeps people from playing the game, and any plan requiring used-game buyers to pay extra for something they bought on the cheap qualifies as advanced dementia.

Whoa, wait, is that a jet pack? Does that mean I can armor lock?
So let's run the slow-motion apocalypse scenario for a moment. Online passes start locking multiplayer modes in most games. Safe to say that Microsoft gets the first pinch as Xbox Live subscriptions dip, since used-game buyers can't use premium memberships anymore. Those losses get passed right back to the publisher when it comes time to negotiate console license fee…the price every game pays to play on their platform of choice. Long-term profits take a hit as multiplayer populations drop faster than usual — no used-gamers to pick up the slack for retiring players.
Then maybe GameStop decides to renegotiate its margins with the offending companies as a survival move. Not a position any publisher wants to be in with a major retail channel, particularly if Best Buy eats it in the next few years, which seems increasingly possible.
Plenty of things could interupt that decent. The nosedive might never progress so far. But simply put, mode locking doesn't produce any winners. Online passes can work and work well, but when you block half the game, you're treating customers like criminals. Good luck finding a business model where that turned out well.