20 romantic moments in classic video games
This post has been edited by the GamesBeat staff. Opinions by GamesBeat community writers do not necessarily reflect those of the staff.
Video-game heroes may seem like savage, heartless killers, but they're driven by the purest of emotions: love. Let's explore 20 of the most passionate moments in retro gaming that tingle the cockles of your heart.
---

Final Fight: Cody shares a special moment with Jessica just minutes after he threw a man on a wheelchair out of a window of the tallest building in Metro City.

---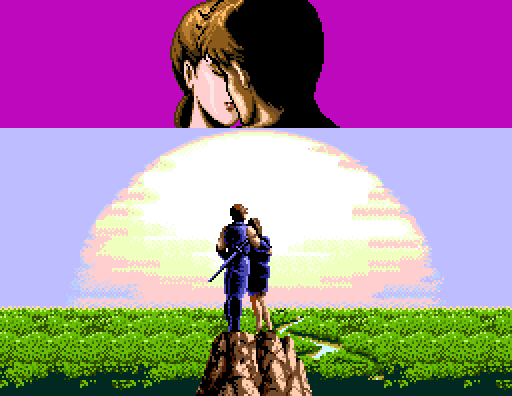 Ninja Gaiden: Ryu Hayabusa is about to find out why Irene Lew goes by the codename "Sea Swallow."

---

The Addams Family: Love can be scary sometimes but not as much as Gomez and Morticia Addams.

---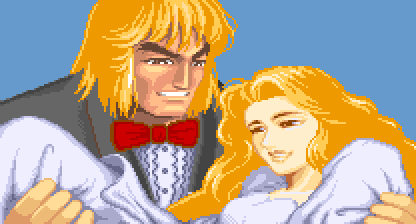 Street Fighter 2: Eliza's affection for Ken knows no bounds…literally. The blonde beauty follows her man to Thailand because she misses him so much. How she got there remains a mystery.

---

Adventures of Lolo 2: Lala kisses Lolo. Lolo is a hairy egg. Lala is kissing a hairy egg.

---

Double Dragon 2: The Revenge: The Lee brothers love Marian so much they fight each other to the death for her. She'll stay with whoever wins. Slut….

---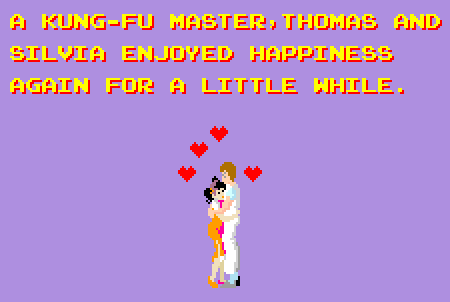 Kung-Fu Master: Thomas went through a conga line of leg-humpers to save Silvia only to enjoy happiness for a little while? I wonder what the "bad" ending is like.

---

The Revenge of Shinobi: Joe Musashi saves his bride, Naoko, from "the Boss" (best villain name ever) just in time to contemplate the sunset.

---

Altered Beast: Athena gets sandwiched between Zeus and a centurion wolfman. Bestiality and incest in a single screenshot.

---

Super Adventure Island 2: At first glance it looks like Tina is insulting Master Higgins but she isn't. Notice that her hands are not visible. Now, read her quote again….

---
The quest for poontang continues on page two.

Donkey Kong: Mario jumps over flaming barrels and battles a 600-pound gorilla to save Pauline, the only woman in his life.

---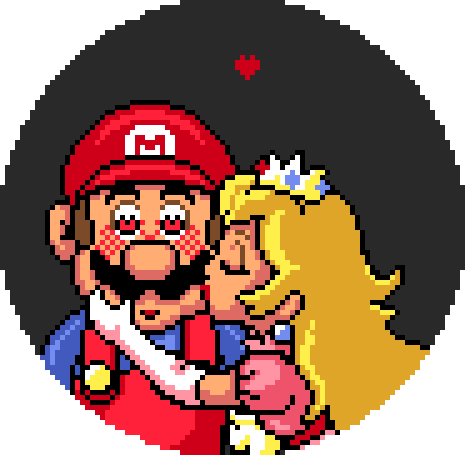 Super Mario All-Stars: Princess Peach sucks on the mustachioed plumber's face after he defeats King Koopa. What ever happened to Pauline? Mario is such a player.

---

Aladdin: Jasmine and Aladdin reach a whole new world of ecstasy when they make sweet love 10,000 feet above Agrabah. Did they forget that the magic carpet is alive?

---

The Adventures of Bayou Billy: Billy slips another shrimp on the barbie (Annabelle) for you.

---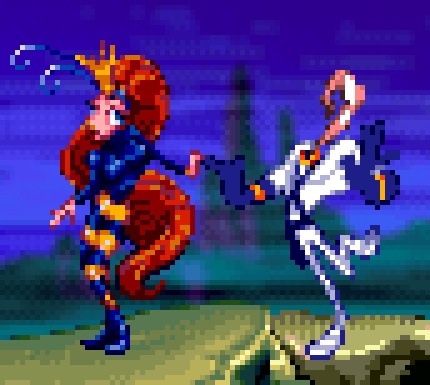 Earthworm Jim 2: Princess What's-Her-Name has a birth defect that makes her look human, but Jim sees past the ugliness and falls in love with the insect lady. Kind of gross when you think about it.

---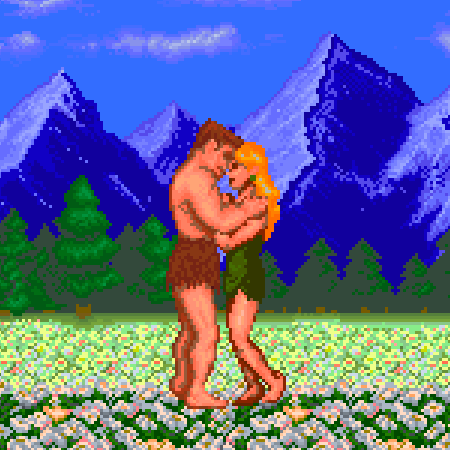 Toki: The human-turned-ape-turned-human headbutts Princess Miho in a sign of both affection and ownership.

---

Real Bout Fatal Fury 2: The Newcomers: Mai Shiranui's dream of becoming Andy Bogard's wife finally comes true. Should we tell her it actually is a dream?

---

Ghouls 'n Ghosts: Arthur embraces Princess Prin Prin while wearing a fully-soaked pair of boxer shorts. Let's hope it's just sweat.

---

Prince of Persia: The prince discovers that the rumors floating around the kingdom are true: The Sultan's daughter doesn't wear panties.

---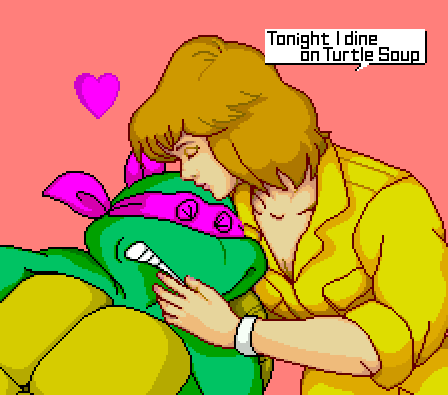 Teenage Mutant Ninja Turtles: Aww…April gives Donatello a big smooch on the noggin for rescuing her from the evil Shredder. Wait…what?