The upcoming craziness — bacon guns? — that is LeetUp, the nerd variety show (interview with Kevin Pereira)
This post has been edited by the GamesBeat staff. Opinions by GamesBeat community writers do not necessarily reflect those of the staff.
Attack of the Show creator and host Kevin Pereira is kind of nuts. Thankfully, he's working on channeling his zany personality into a live spectacle called LeetUp for his and everyone else's entertainment. Pereira is teaming up with video game culture-event specialists Iam8bit to put on this party-meets-variety-show mashup on March 1 at Club Nokia in downtown Los Angeles, Calif. Check out the website for ticket info and a list of confirmed talent (comedians, musicians, movie director Kevin Smith, etc.).
To learn more about LeetUp, I talked with Pereira over the phone recently. He told me about how they want the audience to play a big role during the night, what kind of influence Internet culture plays, the logistical hassle of trying to fire bacon out of a T-shirt cannon, and more.
Bitmob: What was the inspiration behind LeetUp? To start this…what would call it? A party or a show?
Kevin Pereira: Clusterfuck? Does that work? I have wanted to tour Attack of the Show for ages. I've always wanted to do a sort of live variety stage show and integrate elements of everything that I love. And it just, for a myriad of reasons, has never worked out.
I put that idea on the back burner, and for the past 10 years or so, I've been attending everything from CES [the Consumer Electronics Show] to E3 [Electronic Entertainment Expo] to Comic-Con. I'm a huge music fan, so I go to every concert that I feasibly can go to. And I kept seeing similar faces at all of these. I just thought, "You know what? Let's see if we can take elements of those events, throw them under one roof, and have a big giant nerd carnival or really just a big party." And that's what we did.
The event could totally suck. I've always laughed and said this could be my Daikatana. This is the one where we go, "This is gonna be an awesome night!" Then we show up, and it's a metal garbage can with flames. Everyone is going to have to huddle around it like hobos.
Bitmob: Who would you say the event is for?
KP: To be completely candid, the event is for me. It's incredibly selfish [laughs]. To be completely honest, when I pitched this initially to Golden Voice and AEG and even to Iam8bit, I created a private Tumblr blog. It initially was just an HTML table laid out with a couple of images and a schedule of events. It said: This musician is going to play. And after that these people are going to come on stage, and I'm going to chat with them in a panel. Then another musician is going to go on. Then we're going to chat with these guys. And while that is going on, this will, too — and I just put images of arcades and people in cosplay outfits. If you don't really care about this panel, go play some games or go have a drink; it's going to be a giant party.
Everyone sort of looked at me, and they either loved the entire thing or loved certain aspects of it…enough to go, "Yeah, this is totally it." Then, they all kind of blinked and said, "This is the show you can do?" And I lied right out of my asshole. I was like, "Yeah, of course I can do this event. Of course we'll get Kevin Smith, Doug Hardwick, Felicia Day, and Doug Benson."
This has really been like, "If you build it, they will come." So far I've been incredibly lucky. It's happening.
This event is for me. I really sat down at that computer and said, "If I could do this, what would it be?" And I said well, I love VJs, I love podcasts, and I love cosplay. Let's mash them up. And through AOTS and the response from some of the press we've done for it, people seem to be excited. So it's also for like-minded individuals.
Bitmob: How will the podcasting segment work?
KP: It's kind of like a roundtable. We'll sit around and have a chat about various things, and then each segment will have some sort of on-stage stunt or element that gets the crowd involved. Sure, you can get "oohs" and "ahhs" or laughter, and that makes it feel like you're at an event. But I want this to be the experience you have to see to get, in many ways. I want it to be a destination.
As we tour LeetUp, I don't want someone to say, "Oh that's cool, I'll just watch the podcast later." I'm happy to release it later, that's fine, but I really want it to be a "you had to be there" kind of thing.
It may involve bacon being thrown out on the crowd. I can't say. There's one great stunt that I'm really looking forward to, that's really going to change someone's life for at least several hours of the evening.
I don't want to be boisterous about it, but we were all rolling and just laughing at the notion of one of the things that's going to happen on stage to a couple members of the audience — particularly those who Tweet the fastest. Whoever Tweets a certain phrase the quickest will get a chance to come out on stage. And what will happen will be very visceral, visual, and hilarious…and potentially detrimental to their face and clothing.
I can promise on the other end of that, they're going to get a ton of prizes. And that's one thing that we're very keen on. Thankfully, myself and Iam8bit, we've both got great relationships with a bunch of companies, so I'm going be chumming the waters all night long with everything from video games to Roombas.
Bitmob: Do you care about people recording the event?
KP: No. Have a fucking good time. If you want to snap a photo, you want to blog it, you want to remix or mash it up while you're there, Instagram your Tweets! Whatever. I don't care. Just try not to let the social aspects become too distracting — because there will be things where we encourage people to Tweet out during the night to win prizes.
But I've been to so many events — and I'm guilty of this as well — where so many times people are so busy capturing a moment instead of living it. So we'll never say there's a rule, "Hey, don't snap photos, or don't shoot video," because we want you to have a good time, and we don't care. We're putting on a show for you, and if you want to snap a photo of it, great.
But I would also advise to make sure you're experiencing the moment. You can always Facebook or Tweet about it later.
Bitmob: Any cool, funny, or interesting things you wanted to do but just couldn't for logistical reasons?
KP: We realized we couldn't have someone come out with a T-shirt cannon filled with bacon. Don't worry; we're still going to destroy the place. But we weren't allowed to do it for a bunch of different reasons. They were worried about compression issues and if somebody could get harmed by bacon. We had multiple discussions as to whether we should use turkey bacon, because regular bacon might be offensive to some. What if we put a T-shirt behind the bacon to sort of absorb the force, so it could maybe loosely float out over the crowd?
Believe me: We had many long winded discussions and Google Doc revisions on what we could do specifically with bacon. And it made us laugh because that was really a 12-second chunk of a four-hour event, yet it required phone calls and letters and permission slips, essentially.
I like knowing that someone had to call their legal department and get the team together in a room to figure out what we could or couldn't do with bacon. That makes me happy.
Bitmob: How are you keeping the cost down? Club Nokia is pretty swanky….
KP: To be completely candid, we're really not going to make much money off of the ticket sales. That's just not how live events make their money anymore. It's off of sponsorships and merchandise. We will be offering some limited-edition merchandise. We certainly have sponsors that are helping to cover a lot of the large costs of the event. But it's also a delicate balance, because you don't want to have logos tattooed on peoples' faces when they walk in the door.
We've been very careful with who we will allow to sponsor and how they will be integrated. That has been such a blessing, that everybody involved from the get go said, "Even if we have to lose a lot of money on the first event, or on the first few to build the brand and figure out what they are and how we can make it super enjoyable, we're willing to take that loss to make sure that it's cheap. We want this to be affordable."
We want people to feel like they got four times what they paid for it. And we're willing to do that to make sure that they don't feel like they're being overly marketed to. That's one place that I feel like we somehow, miraculously achieved. We have kept our ticket price as low as we possibly could, and we picked amazing sponsors that completely understood right away: Don't hit people over the head. There are enough events that do that already; we don't want to be another one that does it.
Bitmob: You keep talking about additional Leet Ups. Where do you plan to have them?
KP: The idea from the start was to never have it in L.A. I love L.A., I live here, and logistically, with all the talent and everybody being local, it just made sense to have the first one here. The goal is to bring this to cities and states and internationally, if even, that don't normally have access to events like this. I don't care if it's in Chicago, Peoria, or Wichita Falls, Texas. We're coming.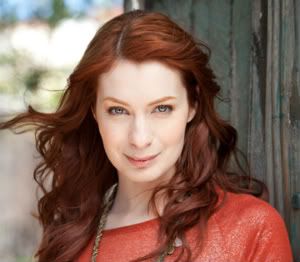 Bitmob: Are any actual women, besides Felicia Day, confirmed to attend?
KP: My mom is coming, I know that. But my dad is going be there, so don't you try anything funky. My girlfriend is going be there. I know Felicia is going be on stage. Past that? [Laughs]
I'm willing to bet the audience is going to be primarily male, but I do know that a couple of different cosplay troops, locally, have organized, and they're all going. I probably know, anecdotally, 30-40 girls who are going, who are friends of mine, randomly. I can only imagine they'll bring some of their friends as well. I don't think it's going be a one-to-one ratio by any stretch, but I also don't think it'll be the quintessential sausagefest.
Bitmob: You mentioned cosplaying. Are you going to dress up, and if not, who would you dress up as?
KP: Well, I am dressing up as the one person I would want to dress up in this capacity for Leet Up.
Bitmob: Your number two?
KP: My number two…I'd probably come out as Dude Manrod. He's one of my favorite characters on Attack of the Show. He's a mustachioed, gun-toting meat eater. He likes talking to people who are afraid to throw the first punch.
Bitmob: Kind of like the Insanity Wolf meme?
KP: Totally. He's Insanity Wolf with a mustache. I actually debated for a long while whether to include the AOTS-type characters on stage for Leet Up, and that was the one that I was going to do. I will say, it's a bit of a spoiler, but in 1994, on March 1 — and this was not planned in advance — it happens to be the day of birth of our lord and savior, Justin Bieber. I was not aware of this when we confirmed the date, but someone Tweeted it at me randomly, asking if I realized that Leet Up was going to be the same night as Justin Bieber's 18th birthday. So I'll tell you what, we're going make that part of the damn show!
Bitmob: Did you really take a bong rip in the middle of filming that promo video, or was that at the beginning?
KP: …Yeah, I don't know what a bong is. I was off-camera blowing bubbles at one point, and I think some of that audio got picked up. But uhh, yeah, it was really weird. I probably should have edited it out. I didn't realize that was happening. I made that whole thing in three hours, start to finish, so I didn't really have a ton of time to make editing decisions like that.
I will say, that might be an element that comes into play when [comedian and Super High Me star] Doug Benson comes out. There might be some fun stuff happening there as well, which we're going to ask for forgiveness for, not permission.