PAX East 2012: The photo-bombening
This post has been edited by the GamesBeat staff. Opinions by GamesBeat community writers do not necessarily reflect those of the staff.
So far, I've managed to escape one of the most hallowed of all PAX traditions: the flu-induced vision quest of horrors. I've probably jinxed it now, so I expect to be gravely ill by the time I finish writing this.
Check out these pictures and honor me by finding a pig and punching it in its stupid death-dealing snout.
---

This was the view of the Boston Convention and Exhibition Center from my hotel room. Behind it is, you know, Boston and stuff.
---

These life-sized dudes from Tribes Ascend were there to greet you when you entered the BCEC. They were also there to make you wonder if you would survive if one fell on you.
---

By the time Sunday rolled around, this sign's purpose was to remind us that we were at PAX East and not, say, a body odor and halitosis convention.
---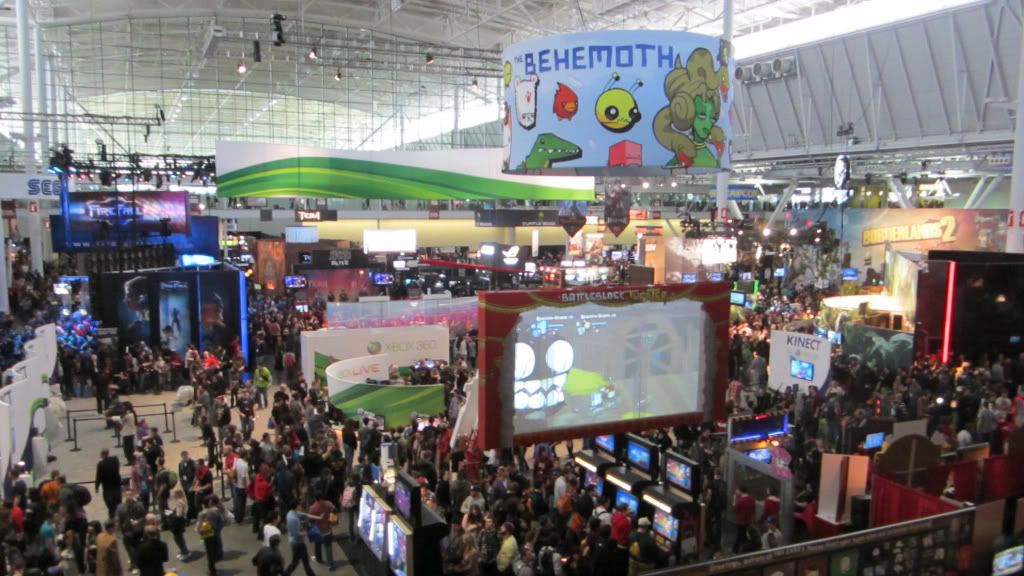 It was about the moment you saw this that you realized you were going to miss some things, no matter how hard you tried to see it all.
---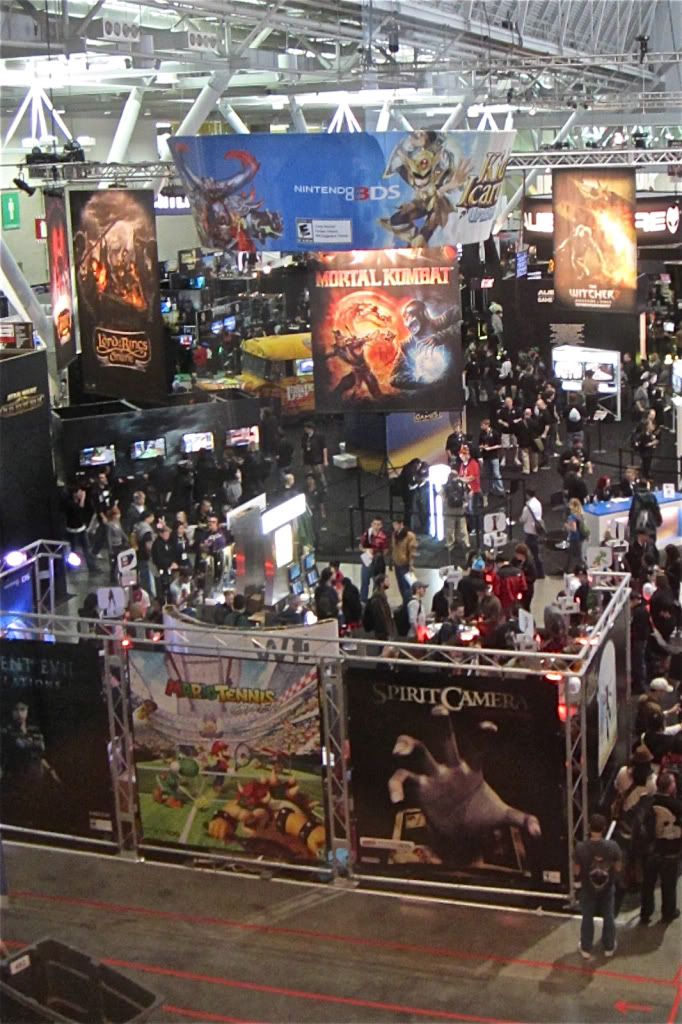 For example, I didn't go into the Nintendo booth at all. I think it was mostly because it looked like you had to wait in line to go get into several other lines, and that was maybe too many lines, even for PAX.
---

This was the slightly terrifying PC room. I'm sure everyone down there was having fun, but from above, it looked like people were re-enacting the factory scene from Fritz Lang's Metropolis.
---
Continue to Page Two to brave the crowds and look at some booths.

The Chevrolet booth (yeah, I have no idea, either) had a flying car. I don't know why they had a flying car any more than I understand why the car was apparently programmed to rise into the air and then head straight for me.
---

Meet the heroes of Gearbox's Borderlands 2, captured here as badass sculptures. It apparently takes more than guns to survive Pandora…it also takes giant balls (and, apparently, a shirt so tight that people can clearly discern your navel).
---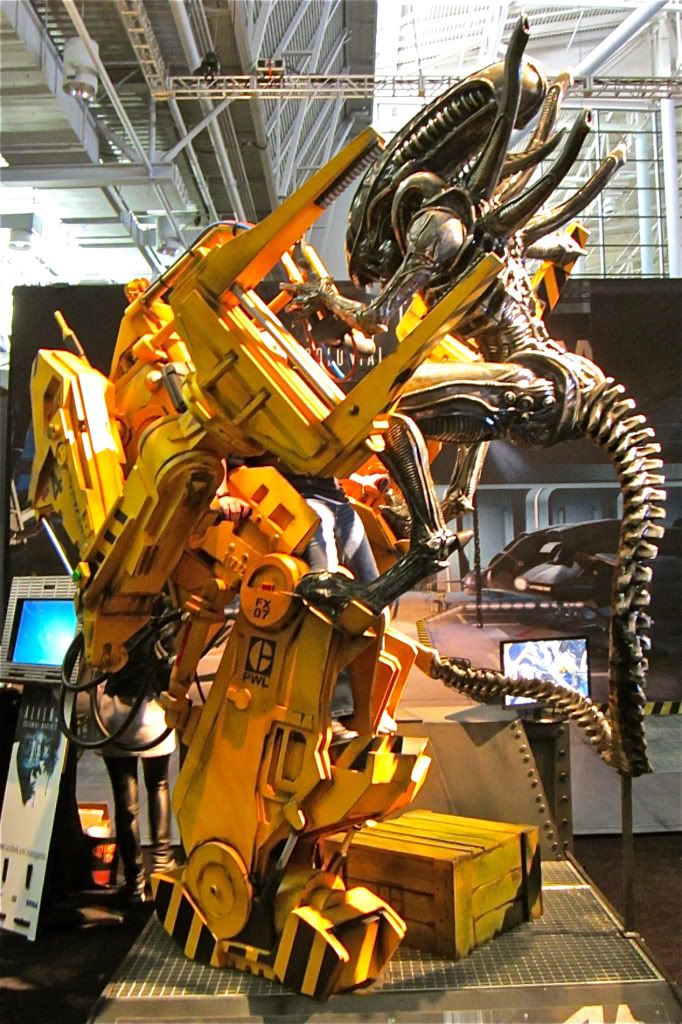 At the Aliens: Colonial Marines booth, people could hop up into this cargo loader and play out the famous scene from Aliens in which Ripley just gives a Xenomorph a big 'ol hug.
---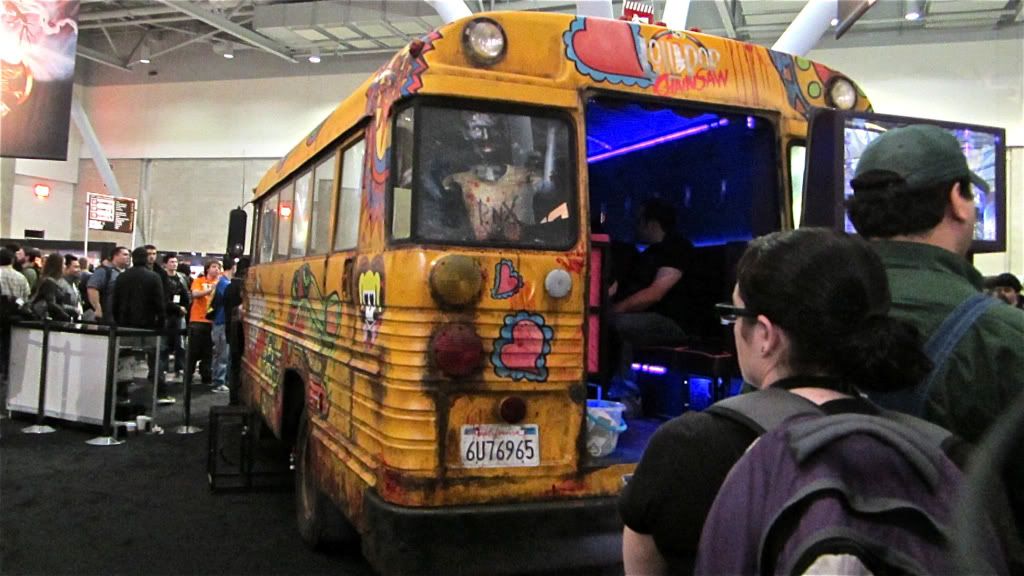 The demo units for Lollipop Chainsaw were on this bus. This was one of the longest lines in the show, and it had a special spot near the front for journalists to stand and draw ire from the people they were cutting in front of.
---
What, the booths aren't enough for you? Would some cosplayers be more to your liking? Fine! Go to Page Three, you picky jerk.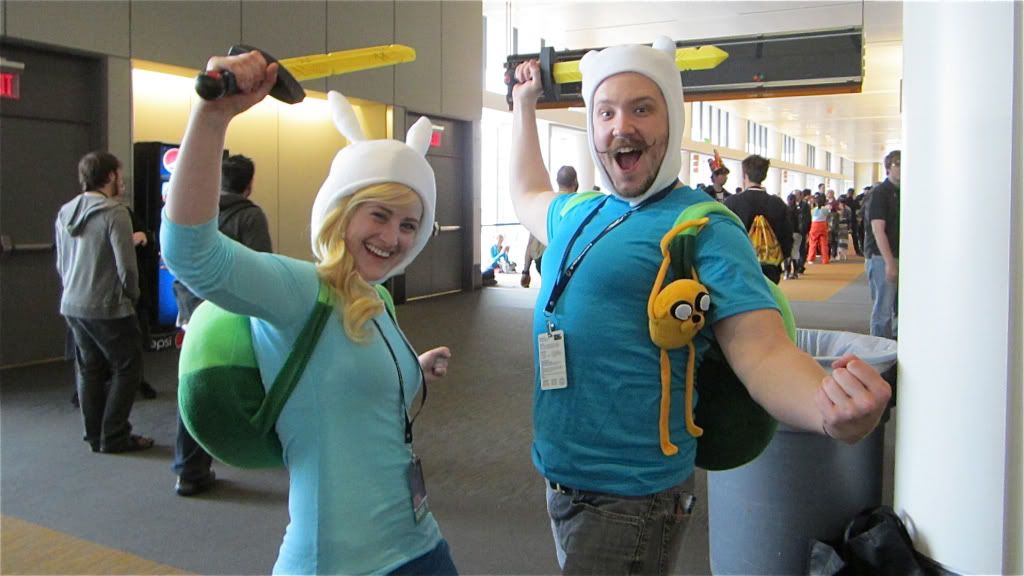 Adventure Time got a lot of PAX love, but this guy was the only Finn with a Jake. His mustache was also too righteous to be believed.
---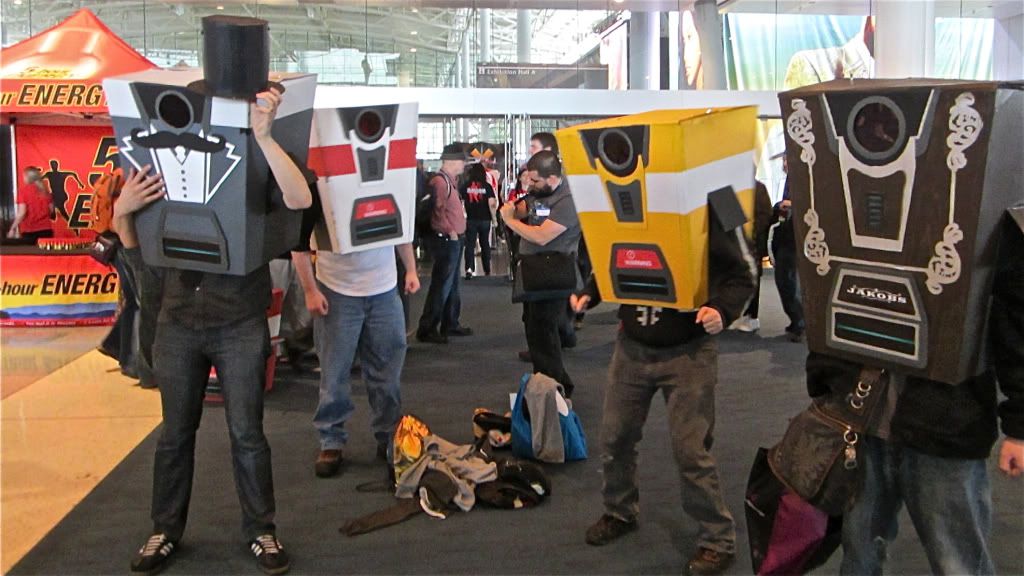 Hey, check 'em out! They're…well…they're not quite dancing. I actually don't know what they're doing.
---

The PAX Easter Bunny understands that you have a choice in how to rock, but he doesn't care. He's going to hop up on stage and steal all of your attention.
---

If that Asari on the left seems extra-super authentic, that's because it is actually Rana McAnear, the actress who provided the likeness for Samara in Mass Effect 2.
---

One of the Omeganauts played the second round dressed up as the main character from Journey. She eventually made it to the finals. Coincidence? Probably. But it's still a cool costume.
---

The Prince from Katamari Damacy greets people in the queue line. Or maybe he's mocking people who haven't made it into the show yet. The Prince is a jerk.
---
Remember that face up there because it will return on Page Four: The Attack of the Random Shit.

As promised, Ubisoft was doing tattoos at their booth on Friday…because if PAX is one thing, it is germ-free, so go ahead and let someone put a needle in you.
---

When I look at this picture, I like to imagine that R2-D2 is hiding from that angry Max Payne in the background.
---

The Prince returns! Saturday night, the woman in that costume hung out by the Rock Band 3 freeplay and danced along. It was mostly cute, but the stuff she did when someone put on Electric Six's "Gay Bar" was scandalous. By the way, those three people on stage are sharing a mic to sing "Total Eclipse of the Heart." I mention that so you realize how much of everything this picture has, by which I mean that it has all of it.
---

The Prince collapses in exhaustion as uncaring bystanders callously continue to play a Linkin Park song.
---

The Omegathon final was Crokinole, which I don't have time to explain here. Click that link and join me in wondering how that game had any right to be as suspenseful as it was.