The $99 Xbox 360 is not for you
This post has been edited by the GamesBeat staff. Opinions by GamesBeat community writers do not necessarily reflect those of the staff.
Now that Duke Nukem Forever finally released, one major urban myth remains in the industry: the $100 gaming console. People dream of it. It's a nice dream to have, like Star Trek transporters that beam you from Cleveland to Monaco for the weekend (or forever) and inkjet printers that don't die within two years. But outside of a last-generation PlayStation 2, nobody ever nailed that formula.
And they still haven't.
When we first got whispers of a severely discounted Xbox, I considered picking one up just to put a second box in the bonus room, where my PS3 lives. Then Microsoft finally conceded to the rumors and formally announced the $99 4GB Xbox 360 with Kinect…and a slight caveat — a mandatory 2-year Live Gold subscription at three times the normal rate. Let's just say my plans changed.
Don't think Microsoft regrets losing that sale. I'll be blunt. This subsidized 360 is a scam not unlike a professional magician's card trick and about as malevolent. But to fully understand what's going on here, first divorce yourself from the idea that this faux-cheap Xbox is in any way intended for gamers.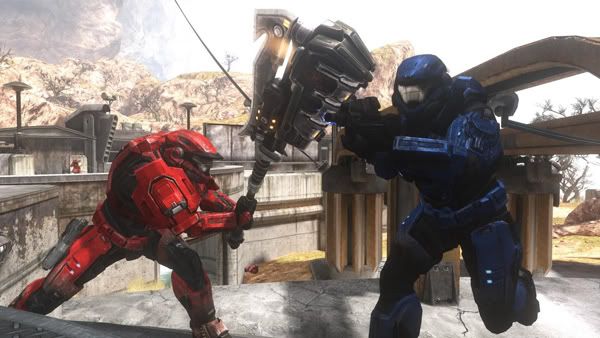 So this is your first time playing Halo? Let me show you how this thing works.
Oh, Microsoft won't mind at all if you get one, but you're not the target audience. Note how nobody explained how a $180.00/year subscription might fold into an existing (and automatically renewing) Gold account running at only $60/year. I promise you, those nice Microsoft fellows considered the possibility. They just aren't interested in existing customers. They're out hunting for new customers, and they're doing it in a fairly sneaky manner.
For starters, they've practically eliminated the major barrier to entry…namely the price. The $250 Nintendo Wii snuck under that pain point back in 2006, so it's unlikely anyone will say no to a something that doesn't even go into triple digits. Yes, they'll eventually pony up another $360, but the sticker on the box says $99, and a lot of people just won't factor the long-term cost in. If you don't believe me, ask yourself why nearly every product in existence is marked just five cents below a rounded dollar amount. Anyway, parsing that cost out to monthly increments also cuts the perceived cost down into something entirely manageable.

Announcing Hokey Pokey: Evolution.
So let's play it out. You're interested in a $99 Xbox because, hey, that's too cheap to pass up. To get one, you've got to go to a brick-and-mortar Microsoft Store — it's not available online — where trained Microsoft employees cheerfully talk you through all the cool things this device can do. They bring you into the fold. And they only ever mention video games in passing.
The Xbox 360 isn't a gaming device. It's a media center where you get your television, movies, sports, music, everything. Xfinity and HBO on demand. Stream Netflix and Hulu. Rent from Amazon. Get the game on ESPN. With Kinect bundled in, it's also your exercise center and party-game platform, just like the Wii. Only better.
Watch. Microsoft will push the $99 price-point in mainstream channels…Newsweek, Time, TV Guide. They'll aim at people who want all the things an Xbox can do except play games. Though that will happen, just as it did for the Wii…minus the Wii's content mistakes. I expect to hear about a lot of new media partnerships and see a dramatic upswing in downloadable Kinect games. These new customers won't go looking for Limbo, but they might give something a try it it's right there on the dashboard with the words FREE DEMO lit up. If not for themselves, then maybe for the kids who notice Elmo and Cookie Monster waving at them to try Sesame Street: Once Upon a Monster. People will buy them with a wave of their hand.
Down the road, don't be shocked if the Netflix interface suddenly allows you to set up a new account directly from your 360 (using Kinect's voice commands, naturally), with a small kickback going to Microsoft.

His solos last three weeks and cure the blind..
So no, flagging sales aren't a factor here. The Xbox 360 outsold all its competition pretty much every month for over a year now. Sony's third-place PlayStation 3 closed the gap between its total units sold in the last two years– quite an impressive feat — but I doubt there's much advantage or financial gain to claiming #2 bragging rights behind the Wii. Yes, Microsoft will make a boatload of cash off those subscriptions but think past those two years. New customers will become old customers. In the meantime, they'll learn to casually order things, watch what they want, when they want, and maybe even play a few casual Kinect games together.
And when that two-year contract ends, they'll sign up for another two on the spot.
That's the plan. Possibly it's been the plan for a very long time. The idea of convergence always ran deep in Microsoft's philosophy, going way back to Bill Gates' heyday. One indispensable device in every living room that does everything. And now it only costs $99.
Microsoft might try to scoop up Sony loyalists for the hell of it, and they're definitely looking to undercut the Wii U just as it finally sees daylight, but that's gravy. The steak is everyone who put the Wii on top. It's those who thought the Wii cost too much for too little. It's people who had no idea what they were missing and now wouldn't miss it for the world.
That's not you. If you're a gamer, you're already inside the tent regardless of which platform you favor. Now you get to watch everyone else graduate from VCR to DVD player to gaming console. Welcome to the mainstream. Here's where things start to get interesting.