Sony can't get the experience right
If you've read my editorials for a while, you might've noticed a recurring theme around the topic of experience. Sure, framerates and features make nice bullet points, but seriously, don't waste my time with that crap. What's it like when you put it all together in one (hopefully) cohesive whole? How do I feel before, during, and after I play the game?
Yeah, I'm a big believer in the experience. A good experience equals a good game. A bad experience equals a bad game. At least, that's how things used to play out.
I threw Starhawk into my PlayStation 3 the other night, and it took a good 30-45 minutes of downloading mandatory updates and installing mandatory updates and inputting codes before I could actually play the damn game. At a certain point, I started wondering if this thing could possibly be worth all the hassle.
The really sad part? None if this is actually Starhawk's fault. It catches the blame for Sony's blindness to the customer experience…something that's become fairly standard these days.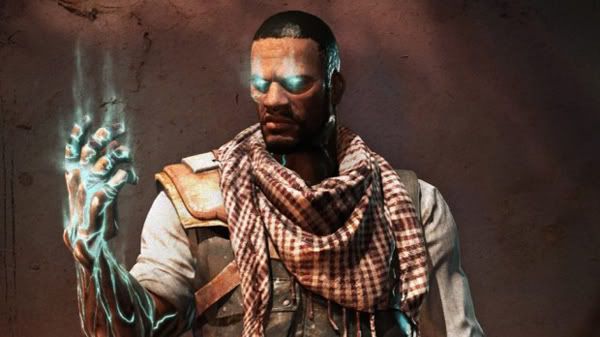 And I thought herpes was bad….
Think of it in terms of a bunch of morons on their phones at the movie theater, or commercials breaking into your favorite television show every 5-7 minutes. The interruption can sour whatever you're trying to enjoy. Sony's now-ubiquitous mandatory installs take this a step further, preventing you from enjoying your new game at the exact moment when anticipation is at its highest point. You sit down to play something for the very first time, and surprise…you get a cold shower instead. Check back in half an hour.
Now Sony might have a lot of good reasons for those mandatory installs. Possibly they speed up in-game load times to a level comparable to the Xbox 360's — they definitely don't make them notably faster — because the Blu-ray reader's slow, or because PS3 games supposedly run on huge, uncompressed files. Or both. Or neither. I don't sit around caring about the reasons during a marathon install session. I spend my time glaring at the TV, willing it to burst into flames.

And once I've got that hatred in my heart, it doesn't switch off just because the installs finish.

I drink your space milkshake! I drink it up!
I should enjoy a game like Starhawk despite its flaws, but I guarantee all those flaws annoyed me more because of the hoops Starhawk made me jump through just to get in the door. All the on-foot stuff felt plodding. I enjoyed flying a starhawk until I realized you're super-glued to an unforgiving 2D plane, even in outer space, so forget pulling a loop to chase enemy aircraft. The instructions say you've got to simultaneously use the right thumbstick and the X button to pull evasive maneuvers. I wouldn't know, because I don't have enough thumbs to do that without taking my left hand entirely off the controller.
The ability to instantly call in installations to provide equipment, support or vehicles turns the game into a nicely aggressive tower defense game. Starhawk essentially casts everybody as the Engineer from Team Fortress 2 (one of my favorite classes from that game), minus upgrading and babysitting duties. But that interface feels clunky, the learning curve to use that stuff looks like a seismograph on a bad day, the balance is screwy at best, and I wonder if I'd be so nitpicky if the game had started up the second I put the disc in.
Mandatory installs used to be infrequent. Now we've got to put up with it for practically every game. And lest we forget, each install eats up a chunk of your hard drive space.
But let's not lay the bad customer experience completely at that door. If you buy a downloadable game off the PlayStation Store, or even just want a free demo, it's a multi-step process. Purchase, download, back out, find, install. Over on the 360, you're done in one purchase/confirm. You also didn't have to install anything to play Rage, Bioshock, or Batman: Arkham City on the 360. Jump in and start kicking ass while the Sony fans clip their toenails or something.

That's right! Maintain that good posture!
Sure, it's easy to dismiss these as whiny first-world problems, but they're also one reason so many people abandoned PC gaming until services like Steam took the pain away. Steam makes it ridiculously easy to play, organize, and add to your entire catalog without crushing your hard drive. That's a formula Microsoft sure didn't crack with Games for Windows, an early attempt to streamline the process…and a colossal flop. It didn't fully understand or address what people wanted.
Similarly, that's why PlayStation Home — which, according to its own logo, is still in beta five years later — failed to capture the success of its main inspiration, Second Life. Nobody knows what it's for. Not even Sony, apparently. And does my PS3 really have to nag me every time I want to shut it down? Am I sure I want to turn off the system? Yes, I'm sure. I'm always sure.
Don't get me wrong…I'm absolutely not saying PlayStation games are inherently inferior, or that it's impossible to enjoy them, or that the PSN will follow Games for Windows into a richly deserved grave. I am saying that Sony isn't thinking like their own patrons do, and that costs them equity when it comes to customer satisfaction. If a game drops on both consoles, it's just easier to buy on Xbox. Sony pointlessly makes using their system more onerous, in the same way Nintendo friend codes and Microsoft points throw up barriers to entry. But unlike the others, Sony creates pain points around playing the games themselves.
I'm also saying Sony must completely fix this, if not through a major update now, then without fail for their next console. We live in times where easy, intuitive solutions and convenience always win. Dozens of websites sell books and music, but Amazon and iTunes still overwhelmingly dominate their markets. Sony amazingly dug out of a third place hole in this hardware generation; going forward, they must provide a superior, seamless, start-to-finish experience the competition can't match.
No waiting. No unnecessary steps. Just push a button…and go beyond.