Mario Tennis Open can trick casual players into becoming competitors
This post has been edited by the GamesBeat staff. Opinions by GamesBeat community writers do not necessarily reflect those of the staff.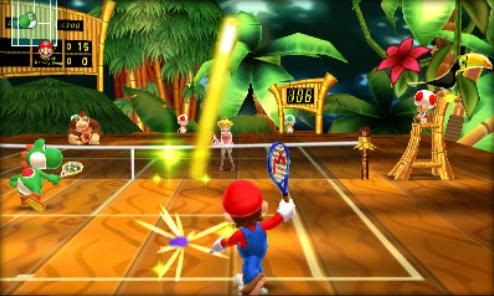 Mario Tennis Open is definitely a product of the current trends in gaming. At its core, the Nintendo 3DS title is a solid, light-hearted sports sim. Studying the flow of the experience, however, reveals how developer Camelot cleverly blended that base with mechanics from popular casual games. In this way, unassuming novices can easily find themselves tricked into becoming strong digital athletes.
First up is the basic tutorial, which is really just there to introduce the special 3DS controls. From the over-the-shoulder camera angle, physically moving the device changes the player's view and aim (thanks to the built-in gyroscope). In this perspective, the computer will automatically position the character as well, so the user just has to tap the different colored panels on the touch screen to rally, essentially creating a match-the-color kind of game.
Obviously, you can use the circle pad and face buttons instead for more control (which I recommend). But the point is, these Nintendo-proclaimed "intuitive" controls make the sport, at least initially, easier for beginners. With this setup, it's not terribly difficult to win a couple of rounds in the Mushroom Cup, and this is where the genius of the Mario Tennis Open's flow takes off.
Knocking Luigi out of the running, for example, might unlock the Wario-mustache racket or a pair of red-with-gold-stars Diddy Kong shoes. Basically, Camelot took the aesthetics of familiar characters from the Mario and Donkey Kong universes and translated them into awesome performance-enhancing uniforms, shoes, rackets, and wristbands that players can use to dress up their Mii characters.
Of course, in order to afford a decent look, they'll need plenty of coins, which they earn through the Special Games. These are essentially practice exercises dressed up as minigames. A competitor's performance earns a certain amount of coins, and each additional successful rally, higher score, or extra second left on the clock nets more dough. This direct correlation between effort and reward is what makes many iOS and Facebook games so addicting.
You don't have to actually win the minigames to get the money. Simply attempting them will get you something, and the better you do, the more handsome the profit. If only high-school gym class was so generous….
Anyhow, you can naturally use your newfound capital to go pick up those sweet rainbow wristbands, unless you haven't unlocked them yet. If that's the case, another tournament is in order and, lo and behold, thanks to all the grinding in the Special Games, you're suddenly a lot better at tennis.
The Super Mario Tennis minigame secretly teaches players how to aim the ball at different heights and play at a quick pace. Galaxy Rally, with its disappearing floor, instills discipline and shows how to vary shots short and deep. Ink Showdown is a good way to learn how to hit away from the opponent. It's like the Karate Kid when Daniel-San finally realizes that waxing the floor every day was one of the key ingredients needed to kick ass (…in self defense).
And there you have it. Casual players might initially be driven by unlocking stylish clothes from tournament mode or earning money to buy them from playing minigames. How many addictive iOS or Facebook games stop there? But then, all of a sudden, they are actually able to compete in Mario Tennis Open's tournament mode and are well on their way to becoming actual, skilled video game players.
---
Disclaimer: Nintendo provided me with a copy of Mario Tennis Open, and it hits stores May 20.