PlayStation All-Stars Battle Royale is good for gamers
This post has been edited by the GamesBeat staff. Opinions by GamesBeat community writers do not necessarily reflect those of the staff.
PlayStation All-Stars Battle Royale is a blatant rip off of the Super Smash Bros. style.
But really, who gives a s**t?
First off, Nintendo doesn't own that particular type of gameplay, so nobody should get all fussy about a similar game coming out. In fact, this isn't even the first game to copy SSB's style. Onimusha Blade Warriors was a PlayStation 2 game that played very similarly to the Nintendo brawler. While not nearly as popular, it clearly spawned from Smash Bros.
Blade Warriors was a fun game. It wasn't as deep and didn't have the expansive, competitive community that Super Smash Bros. Melee commanded. It did, however, have a number of features that Melee didn't have, which kept the game fresh. Disarming opponents and collecting souls were cool features, but its story mode was what really stood out.
Super Smash Bros. Melee didn't really offer a story. While not great, Blade Warriors at least had some plot and dialogue for gamers to enjoy instead of just fighting. In fact, the story mode in Onimusha BW is very similar to the Subspace Emissary featured in Super Smash Bros. Brawl. It might not be very likely, but it's possible that Blade Warriors served as inspiration for that mode.
This brings up another reason why we should stop fuming about PlayStation All-Stars. Competition drives quality.
Mario Kart is a great example of a franchise without competition. Mario Kart Wii sold more than 30 million copies, and Mario Kart 7 is the second-best-selling Nintendo 3DS game to date. While the franchise is still a sales juggernaut, we haven't seen much innovation between the games in the series.
Mario Kart sells well because no other kart experience matches its quality. Yes, we've seen similar racers here and there, but it's like comparing apples to oranges — except in this case, the oranges really suck. Thankfully, a new kart racer is coming out to give us hope for the genre.
LittleBigPlanet Karting is heavily inspired by Mario Kart and shares a number of similarities. This isn't a rip-off, though, since it deviates in terms of style and adds enough mechanics to be original. LBPK will hopefully do well, very well — well enough to catch Nintendo's eye and perhaps drive it to improve the next edition of its Mario-starring driving behemoth.
PlayStation All-Stars Battle Royale will hopefully accomplish the same thing. In essence, more games that play like Smash Bros. will only lead to a better quality Smash Bros. or perhaps even a clone that surpasses it.
In 2007 a little game called Call of Duty 4: Modern Warfare popularized a first-person-shooter mode so much that it's now a mainstay of the genre. Earning rewards for your killstreaks has spread through games like crazy since Modern Warfare hit shelves. Crysis 2, Homefront, and Medal of Honor have all borrowed from Call of Duty's innovation, but they also managed to alter the idea to fit their needs.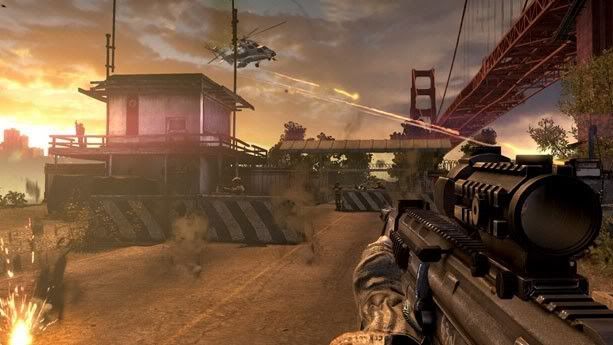 This has even caused Call of Duty's developers (whether it be Infinity Ward of Treyarch) to make updates to their system. Killstreaks have changed a lot since Call of Duty 4. The feature has evolved to keep gamers wanting to come back. This is exactly what we should hope for with Super Smash Bros. Without competition dictating evolution, we might end up with another useless mechanic, like tripping.
Finally, fans have wanted more Sonic characters third-party characters in their Smash Bros. experience. Whether it's Cloud Strife from Final Fantasy beating up Metroid's Samus or Mega Man bombarding Mario with blaster fire, gamers yearn for these scenarios.
That's where PlayStation All-Stars Battle Royale comes in. Characters like Ezio from Assassin's Creed have no chance of ever showing up in Nintendo's fighter, but it is likely he will make an appearance in Battle Royale.
And this is exactly what we want. Assassin's Creed, Mass Effect, Batman: Arkham City, Final Fantasy, and Resident Evil all employ a number of characters who would be great for Battle Royale but bad for Smash Bros.
Battle Royale is finally our chance to kick Sly Cooper's ass with Batman.