3 weapons that might as well be in Primal Carnage
This post has been edited by the GamesBeat staff. Opinions by GamesBeat community writers do not necessarily reflect those of the staff.
Today, developer Lukewarm Media announced two new characters for Primal Carnage, its upcoming mercenary-vs-dinosaur multiplayer shooter. The less interesting of them was the Carnatosaurus, a dinosaur that's not quite as big as a Tyrannosaurus but which I assume can still bite and stomp on things just fine.
The other character is the Pyromaniac (above), who wields a flamethrower with a chainsaw attached to it. You can see both of the new fighters in action in the below trailer.
So, that is definitely a flamethrower with a chainsaw attached to it. I asked Bitmob writer Mike Minotti why the chainsaw wouldn't just melt from all the fire, and he said, "Stop asking completely logical questions."
He's right, though (please don't tell him I said that). What was I expecting from a game about teams of humans fighting teams of dinosaurs to the death? I accept you, Flamesaw (real name of the item), and I hope that Lukewarm fills Primal Carnage with the most ridiculous weaponized shit we've ever seen. I spent about five minutes thinking and two minutes drawing, and I've come up with three more ideas that are free for use if Lukewarm really wants to go whole-hog.
1. The Sting-flinger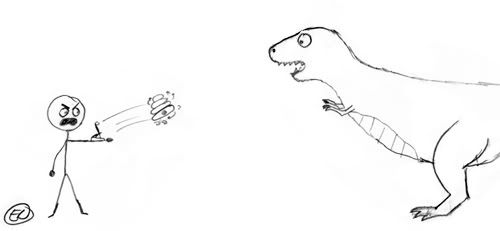 I have absolutely no research to back this up, but I have a feeling that dinosaurs and bees wouldn't get along. Bees like to buzz around, pollinate flowers, and make honey, and dinosaurs are lizards. Have you ever seen a bee and a lizard on a date? There you go.
The Sting-flinger is a handheld catapult that lobs beehives through the air. When a hive hits a thunder lizard (or anything, really), bees come out of it. I think you can see where this is going.
If you can't see where this is going, that's when the bees sting the dinosaur. I'm pretty sure the dinosaur will hate that.
---
2. The Chairgun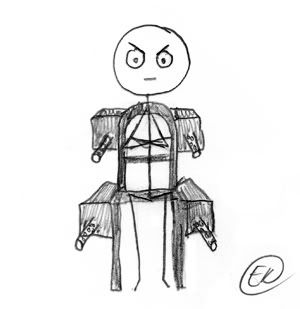 One of the key pieces of information I learned from the award-winning documentary Jurassic Park is that the Tyrannosaurus Rex's vision is based on movement. Logically, the best way to get the jump on one is to sit perfectly still. That's where the Chairgun earns its keep.
The Chairgun is as deadly as it is comfortable — and it is very, very comfortable. Sitting in one will not only provide you with a chance to catch your breath while you're waiting for all the bees to clear out, but it will also render you totally invisible to Tyrannosaurs. I assume it'll work on other dinosaurs, too, because they'll be too focused on the guy who just burned and/or sawed them in the face to pay you any mind.
What they don't know, however, is that the Chairgun isn't just a chair; it's also a gun. They don't know this because dinosaurs don't understand our human words, and you can use their ignorance to your advantage when you open fire on any one of those scaly bastards who happen to stand directly in front of where you're sitting.
---
3. The Grenade Knife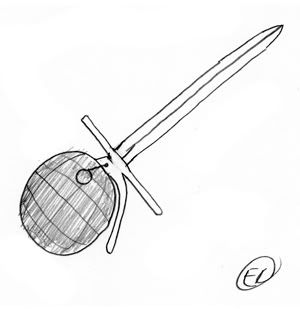 The Flamesaw is cool because it combines the ranged attack of a flamethrower with the devastating melee abilities of a chainsaw. As we know, all the best weapons let you attack in as many ways as possible. To that end, I offer the Grenade Knife, which offers several strategic options. With the Grenade Knife, you can:
Stab something.
Blow something up.
Stab something and then blow it up.
Note that you can't blow something up and then stab it; once the Grenade Knife explodes, its stabbing days are pretty much over.