Rhythm and flow mean everything in Fractured Soul
This post has been edited by the GamesBeat staff. Opinions by GamesBeat community writers do not necessarily reflect those of the staff.
Fractured Soul is a damn difficult game. The isolated platforming and run-and-gun sections in this Nintendo 3DS eShop title aren't that bad. In fact, they're almost easy at times. The real challenge comes from having to manage all the parallel action across two screens at once. But everything is quite manageable … once you get in tune with the game's rhythm.
Endgame Studios put together a solid, basic 2D platformer with easy-to-learn controls (move, jump, shoot, switch dimensions). The main draw comes from sending the robotic hero from one screen to another, leaving behind an invincible, mimicking ghost in the protagonist's place. In a sense, it's like the shoot-em-up Ikaruga where the player could toggle the playable ship between a black and white paint job which determined whether it would absorb or die from corresponding-colored bullets, except two-fold.
From here, the game throws out different challenges where, for instance, certain platforms or enemies will only be on one screen of the game, forcing you to teleport between areas to make a jump or shot. Then, the game will add some type of predictable variable to switch things up. Normally, a progression like that is pretty standard. But when you have to divide your attention to make sure the path through both areas is clear, it becomes significantly easier to end up hearing the hero death scream.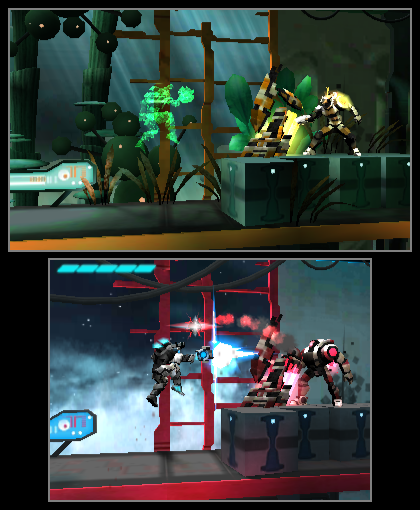 This is where patterns and rhythm play a key role. I've found that by skimming both screens and mentally computing which order and timing to switch dimensions at, the game becomes a bit easier to survive.
The most basic example would be running down a corridor and avoiding dangerous electric walls at alternating frequencies on each screen. If you press the switch button at the right rate, you'll get through without a scratch. Of course, Fractured Soul changes the flow by later adding water physics, or wind and ice physics to the top half of the game and not the other, making for more nuanced rhythms to figure out.
At one point, I found myself pausing the action and charting out the order of button presses I needed to endure the wind blowing me off of some moving platforms. I thought out the strategy, "OK, jump, double jump, then switch dimensions, jump again, switch, double, switch back to land." And with a little practice — and much trial and error — it worked.
And that's the beauty of Fractured Soul. The challenges are predictable variations that seem easy but are hard to manage on two screens. Once you learn how to skim, assess, and memorize the right pattern to get through each level, the game becomes a lot of fun. Of course, that's assuming you're able to find that groove.
And don't do the opposite timing…. It will quickly kill you.