Rock Band Blitz turned me into what I most fear
This post has been edited by the GamesBeat staff. Opinions by GamesBeat community writers do not necessarily reflect those of the staff.
Not too long ago, I wrote about what Rock Band Blitz means for those fake music groups you've been cultivating all these years. My conclusions were dire and troubling, but I've recently discovered an even darker side to developer Harmonix' jam-fest for Xbox Live Arcade and the PlayStation Network.
It's not the competition. I know that I'm susceptible to that, and I am as prone to trash-talk as anyone when I find something unimportant that I arbitrarily hitch my emotional wagon to. Nor is it the insidious social-game hallmarks like coins and social media integration littered throughout the title.
No, what I have discovered is an affront to everything I have spent the past 25 years of my video game "career" trying to avoid. It is a stark realization that has shaken me to my core and made me doubt my very existence and credibility as a gamer. When I made this discovery, all life as I knew it stopped instantaneously, and every molecule in my body exploded at the speed of light.
Metaphorically, I mean. It's hard to type these articles when your body's all exploded and traveling through time and shit.
What was this apocalyptic truth? What could have affected me so deeply? Why do I wake up in the middle of the night crying?
Rock Band Blitz turned me into one of these people: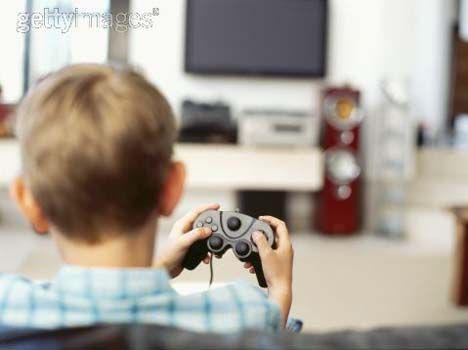 OK, so this picture has a lot going on, but try to ignore that the TV is off. Or that this kid is sitting easily 25 feet away from it. And also that the controller has three joysticks and conforms to no configuration ever devised by humans. But look at how he's holding that fucking thing.
Do you hold a controller that way? It looks like it would be really uncomfortable over long stretches, right? But guess what? That's how I play Rock Band Blitz.
I played around with several options before I found the one that worked for me: playing notes using the bumpers at the top of the Xbox 360 controller and switching tracks using the left analog stick. Unfortunately, my hands are huge, and they tend to cramp up after a few songs' worth of using those tiny buttons, and I realized that the best solution was to hold the controller straight up in front of my face.
What does it mean that I can only play Rock Band Blitz like a person in a shitty stock photograph? Do I dare do it in front of others? How high does my Gamerscore have to be to erase something like this?
And if I hold a controller like an asshole and nobody sees it, is it still embarrassing?
By the way, the answer to that last question is "Yes."