What do you do with Dishonored's USB oil lamp?
This post has been edited by the GamesBeat staff. Opinions by GamesBeat community writers do not necessarily reflect those of the staff.
I received my copy of developer Arkane Studios' stealth-action title Dishonored today. Because I preordered it from Best Buy, I received a special bonus item along with the game: a USB-powered "whale oil lamp." I've written before about all the useless plastic crap I've accumulated over the years, so, hey…here's some more.
I can't fault anyone for wanting to throw a little something extra in with a video game, but what exactly do I do with this thing? I turned to the instruction sheet for some guidance.
"The Dishonored USB Whale Oil Lamp," it reads, "is a fun way of making your computer more attractive and your workstation more inviting."
Huh.
I read the rest of the page looking for anything else that might tell me what to do with it, but all it had to offer were a few safety tips ("Do not cover the lights with paper or cloth") and some extra-helpful troubleshooting tips ("If lights do not illuminate, make sure switch is in ON position").
OK, so it looks like I'm on my own here.
I've been staring at the switched-on lamp for about 10 minutes now, and I've discovered that it's a really bad idea to stare at an LED for that long. I'm going to go ahead and declare that the claim of "fun" in the opening sentence of the instructions was a bit of an exaggeration.
Holy shit, my eyes.
So, does it make my computer more attractive? I'm going to go out on a limb and say that provided you do not look directly at them, cool blue LEDs can make anything more attractive. But my computer disagreed.
"Hey, what's going on?" my Mac asked when I placed the lamp next to its trackpad. "What the fuck is this shit?"
"Calm down," I said, hoping my computer had not been drinking again. "It's just a little lamp. The instructions say that it will make you more attractive."
"Oh, I see," Mac said, with what I assume would have been a snarl if it were capable of creating such expressions. "You think I'm ugly. Is that it?"
"Of course not. I'm just–"
"No, I get it. It's fine. I'm a year old now, and you've seen the new models. I know about the Retina displays. I know how you look at them. And by the way, it's really tacky that you were using me to check out pictures of other computers."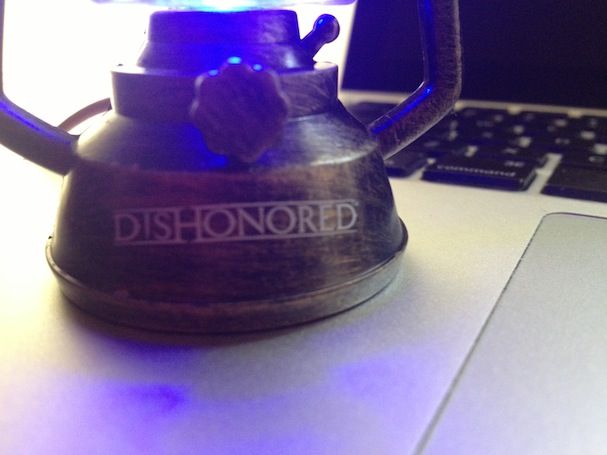 I'm going to spare you the rest of that conversation because it was super awkward. I also have no idea why I decided to take that turn.
So the whale lamp may or may not make your computer more attractive. I don't think I can make any claims either way. You know, for legal reasons.
How about "more inviting"? I'm going to answer that question with a question: Why am I inviting people to my workstation? That's where I, you know, work.
But maybe it's a waste of time to pick apart the oddly worded instructions for a cheap plastic lantern I received at absolutely no cost. The lamp is actually kind of cool, I guess.
I know I'm going to discover it in a dusty corner one day and go, "Hey, I remember this lamp," but as far as useless plastic crap goes, it's alright.
On second thought, does anyone want this?