I've always known music-makers let on less than they know. I didn't get scared senseless from Willy Wonka's apocryphal line for nothing.
News Blips: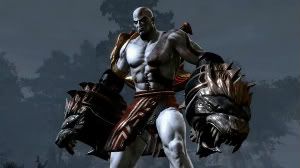 Kratos' eternal expression of maximum displeasure causes God of War 4 to appear on a composer's resume. OK, even though Kratos' frozen puss isn't the real cause (he's busy scowling the clothes off vapidly one-dimensional women), the tenebrous title nevertheless showed up on composer Timothy Williams' online resume. Apart from lending strong evidence to the obvious un-rumor that Sony is indeed plowing ahead with a multi-million-dollar franchise, Williams' unabashed proclamation of working on such a manly game apparently caused his website to explode in a cloud of testosterone. Joystiq later confirmed with Williams — who contributed melodic noises to games such as DOTA 2, Army of Two: The 40th Day, and Rise of the Argonauts — on his role "in the capacity of orchestrations and some additional music." That probably means I should expect another loud choir yelling at me in Greek later this year.
The Nintendo 3DS hits 4 million units sold. Thanks to a pre-holiday price cut and the success of stocking stuffers Super Mario 3D Land and Mario Kart 7, Nintendo posted a hefty number of 1.2 million units sold during December alone. You can always trust Mario and Mario for the big sell — and I just realized how disgustingly similar that sounds to a law firm's slogan.
Super Meat Boy squishes past the 1 million mark for total copies sold. Developer Team Meat's Twitter post modestly proclaiming "PLATINUM BABY" underscores both the fact that caps lock actually works in certain situations and that good, strong meat never spoils.
---
Got any hot news tips? Send 'em over to tips@bitmob.com.