Remember that freaky XCOM display at last year's PAX? Yeah, that was pretty much my reaction face to today's first News Blip. Yes, including getting impaled by energy tendrils. (I have weird prescription side effects.)
News Blips: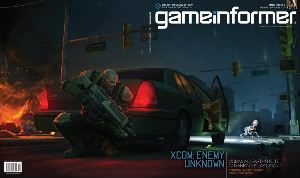 Game Informer's February issue unveils XCOM: Enemy Unknown, a turn-based strategy game in development by Civilization master Firaxis Games. Go ahead and cheer your brains out — I'll wait. All set? The magazine hinted at the title's features including "the interaction between the real-time strategic view and the turn-based combat" and "destructible tactical environments," the latter coincidentally the same description used by my parents whenever they surveyed my messy room. Enemy Unknown has a planned fall release on the PC, PlayStation 3, and Xbox 360.
Gears of War developer Epic Games throws its weight behind the opposition for the contentious Stop Online Piracy Act. "Epic Games supports efforts that would stop overseas websites profiting from pirating our games, but we have to do that in a way that's compatible with freedom of speech and due process of law," Senior PR Manager Dana Cowley wrote on the company's official forums. "Thus, we do not support the current version of SOPA." The bill — which, if passed, would enable the US Justice Department and copyright holders to censor and restrict websites accused of copyright infringement — is still under debate in Congress.
BioWare promises a Star Wars: The Old Republic patch "almost every week." Director James Ohlen wrote on the massively multiplayer game's official forums explaining the team's focus on fixing "bugs, minor balance changes, and fixing any exploits in the game." After channeling his inner Captain Obvious, Ohlen described how patches are first reviewed by senior leadership for that final boost of quality before heading out the door. I'm still saddened that I can no longer /getdown my way to top-tier loot.
---
Got any hot news tips? Send 'em over to tips@bitmob.com.