This post has not been edited by the GamesBeat staff. Opinions by GamesBeat community writers do not necessarily reflect those of the staff.
---
You may have really respected what some of us did at the gaming mag EGM back in the day (and if you didn't, read on — you're going to appreciate this even more). Honest, hard-hitting reviews. Honest, opinionated previews. Honest, no-holds-barred editorials.
Honestly? We were a bunch of jackasses.
I do think we used to put out a great product each month that we were extremely proud of. But we were also a bunch of 20- and 30-something year olds who, probably to this day, still haven't quite developed a fully mature brain yet. (I really think that's what happens when you get a bunch of people around the same young age working together on something fun that isn't in a traditional, stuffy corporate environment.)
We used to hurl Frisbee-like discs full speed at each other's heads (in a game we made up called Decapitato). We destroyed property. We screamed during heated NFL Blitz and NBA Showtime matches (we had the arcade units in the office). We tried driving a rusted-out, abandoned car into the building (it didn't work). We lit fireworks and shot paintball guns in the parking lot. We actively mocked the other tenants and businesses by doing things like rearranging the letters in the building directory….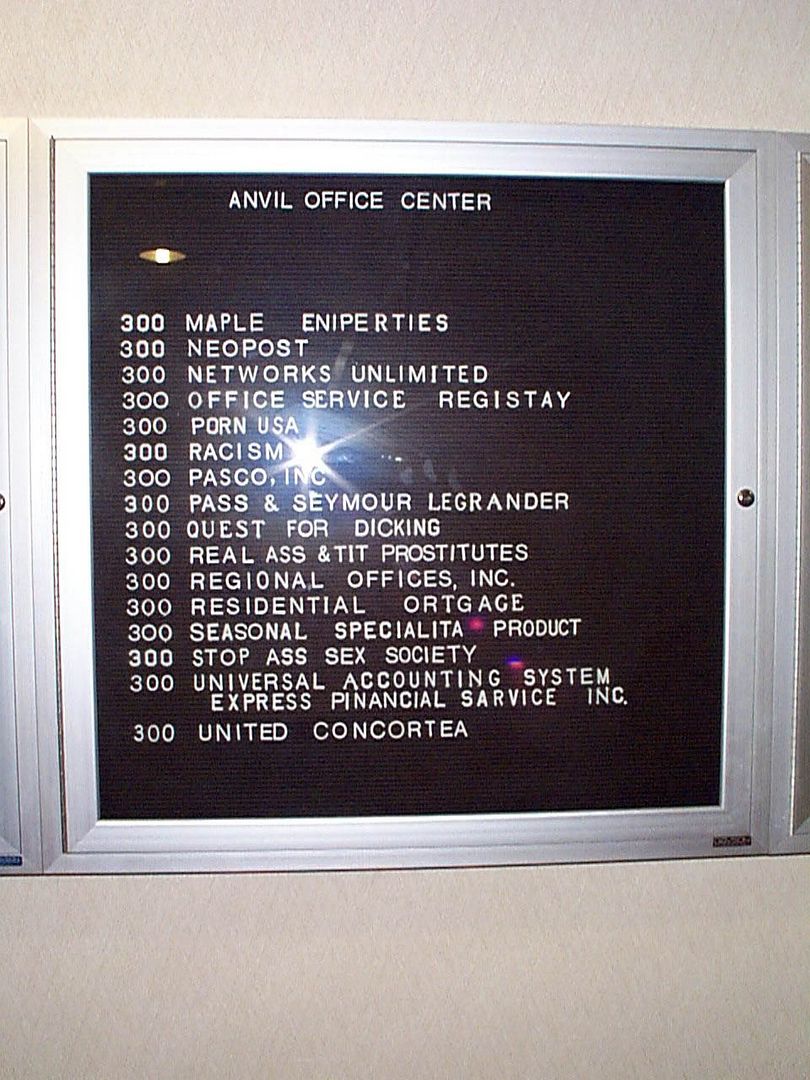 Hmm…I wonder who did this? My memory fails me…. (Click for a larger view.)
And we certainly weren't above leaking some of our sophomoric antics into the actual magazine. Take this page from a spring 2000 issue, where my buddies roast me when I left to go to Gamers.com: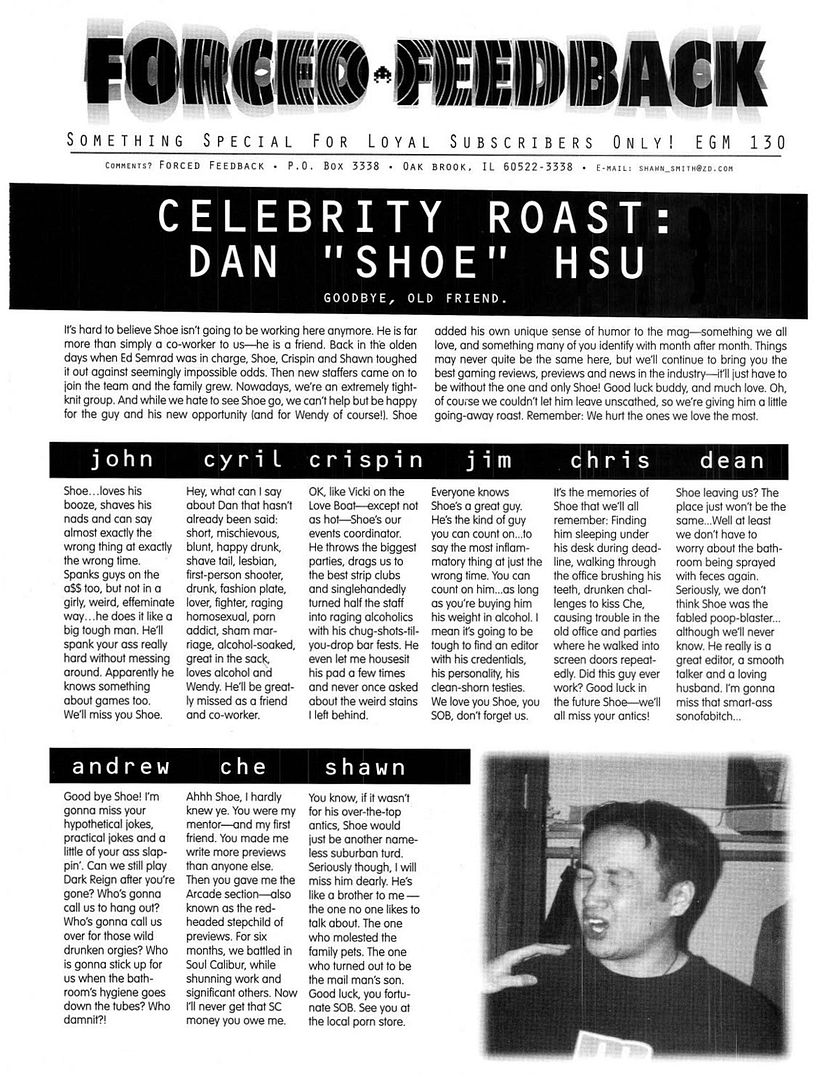 Click for a larger view. Special thanks to Matt Swain for scanning
this for me, which gave me an excuse to write this story.
Hard hitting? Hard-hitting dorkery, maybe. And it gets even worse if you discover the secret message hidden on that page (see if you can find it).
We had good times, though. It was a fun place to work, and nothing bonds a bunch of guys closer together than getting into trouble with each other.
For a more serious EGM Behind the Scenes article, check out how we scrounged up $10,000 to get Final Fantasy artist Yoshitaka Amano to paint us an exclusive cover piece.
And by the way, please don't let any of this cast the new EGM staff in a negative light. It's statistically impossible for them not to be more mature than we used to be.
---
For more of our nonsense, see Matt Swain's post.