This post has not been edited by the GamesBeat staff. Opinions by GamesBeat community writers do not necessarily reflect those of the staff.
---
What are they?
One's a four-player, co-op platformer in the vein of Super Mario Bros. Wii — only French. The other's a multipath shooter that looks like Far Cry and smells like Far Cry but sounds and tastes a whole lot better…even if you already love Far Cry.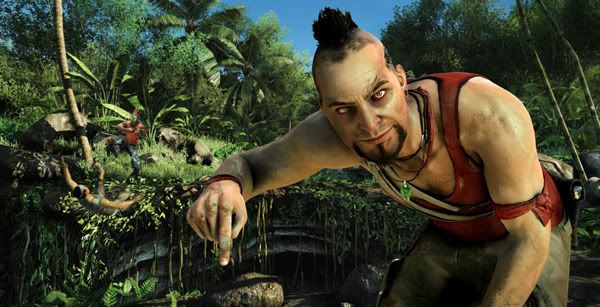 This is Far Cry 3's Vaas. This is his favorite direction. He's so happy to see you.

Taken together, they're a testament to Ubisoft's range as a developer because you'd have to work really hard to find two more dissimilar games that promise such a high bar of quality.
Why are they cool?
Every game should look as beautiful as Rayman Origins, but you'll find plenty of heart and brains under the hood. The backgrounds show off an amazing depth, everything moves with a entrancing fluidity, and the quick-hit flow throws a new and interesting challenge at you every 30 seconds or so.
Like Super Mario Bros. Wii, it plays better with more people, but either way, the levels are fun-hard, not frustrating-hard. Plus, you get to smack the crap out of your friends when their score creeps higher than yours. Or just because they deserve it. That never gets old.
Far Cry 3 drops Jack Carver and keeps the "one man alone in a jungle hell" theme for what promises to be a truly harrowing experience. Trapped on an island populated by all manner of psychopaths (not all of whom are quite so obviously insane when you meet them), you'll receive "get to the choppa!"-like objectives and be left to your own devices on how to do that: sneaky and quiet or all machine guns and machetes. You've seen that before, sure, but the strength of the writing and characterization so far elevates it well above the first-person shooter crowd.
If you reflexively skip cutscenes, try this: Two separate people on the development team hinted that savvy players who tag a rocketman before he blows your helicopter out of the sky (as shown in the demo) will actually escape; those that don't are recaptured. One of those developers admitted that might not go gold with the rest of the game. If it does — it can, and it should — Far Cry 3 will punk games of all genres when it comes to branching gameplay, period.

Friends only hurt friends in Rayman Origins because that's some pretty funny shit.

The moment I started grinning like an idiot
Rayman's got a desert level, but I'll just call it Bat Country. A mass of flying black pests swarms around the edges of the screen, but punch a conveniently located gong, and the reverb will keep them at bay for a while. Better still, you can travel with this protective field through the rest of the spiked course. Me and the Ubi representative running the demo died on that section — the last one, naturally — a half-dozen times, but we just couldn't let it go. We kept going back until we cleared the level. And that's a guy who's played the game all day. Made me a bit envious, really.
For early sections of Far Cry 3, a charmer named Vaas serves as your primary antagonist. He's got you tied up to a cinderblock, and before he kicks it into a ravine where you'll drown (along with a lot of other recent victims), he tells you that the definition of insanity is doing the same thing over and over and expecting a different result. And he calmly tells you the definition of insanity two more times in this demo alone. He's not being ironic.
And one producer described Vaas to me as "the tip of the iceberg." Me wants that iceberg.