This post has not been edited by the GamesBeat staff. Opinions by GamesBeat community writers do not necessarily reflect those of the staff.
---
A loud bang echoes across the convention hall.
Adrenaline Amusements Vice President Marc-Antoine Pinard has just repeatedly smacked his fist against a 46-inch television screen. Hard.
"It's basically first-level bulletproof glass," he says. "Obviously, when you place this in a commercial environment, people will do that. Our point was to try and design something that would sustain that."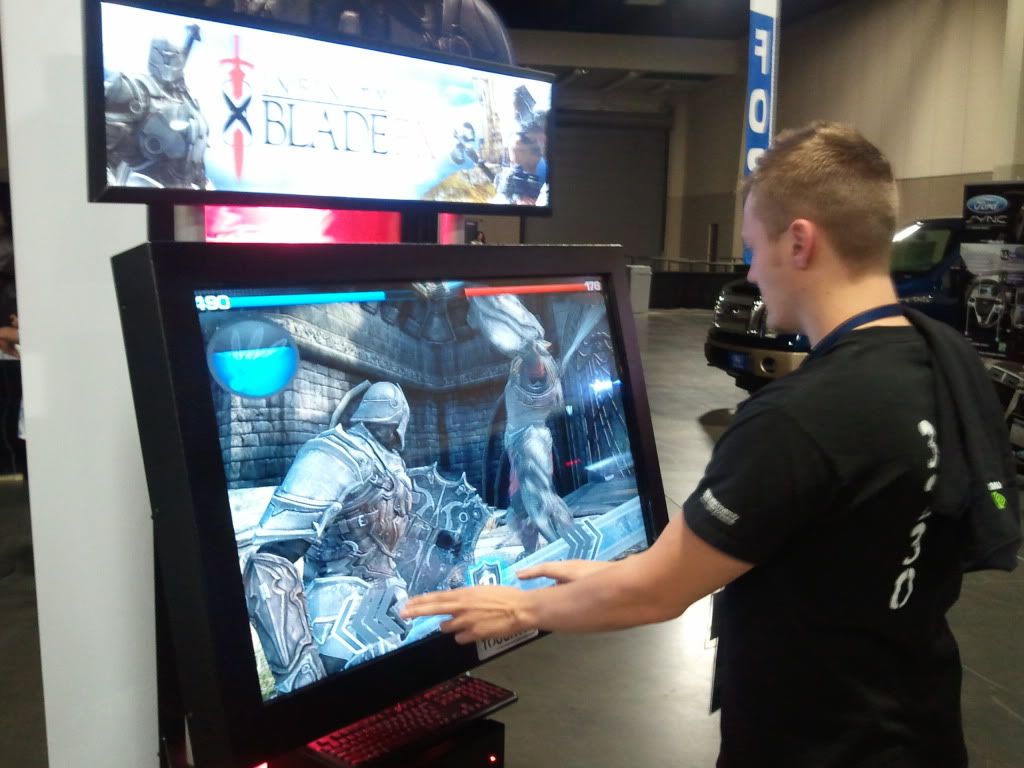 A gamer tests out Infinity Blade FX at the GEEX trade show in Salt Lake City, UT.
Pinard and I are standing in front of the new Infinity Blade FX arcade machine, a jumbo-sized conversion of Chair Entertainment's popular iOS game that pits a mysterious knight (and his descendants) against increasingly difficult foes.
The original title showed just what iOS games were capable of. Now its developers face a "bigger" (in every sense of the word) challenge as it attempts to become a successful arcade product. And they feel they've got the right tools in place to do it.
"Adrenaline wanted to show something that would really show off the capabilities of their TouchFX unit," says Chair Entertainment Senior Producer Simon Hurley. "We were really excited to see Infinity Blade blown up and bigger."
Infinity Blade FX works just as you'd expect — instead of swipes and taps of a finger to dodge, parry, and attack enemies, you use your whole hand. The "touch screen" isn't actually touch-sensitive at all, Pinard explains as he whacks the glass again. Sensors hidden on the sides of the screen, protected by hard, black plastic, actually read the inputs.
"The technology's on the side, not behind the screen itself," he says. "We're using a triangulation system, so even if one side is blocked, the others will get it."
The end result is a much more in-your-face experience than the one I'm accustomed to on my iPod Touch. I've played more than my fair share of that version, and the telltale pauses and weaknesses of each enemy are easy for me to spot. But the size of the screen — and your proximity to it — really up the intensity of each swipe.
"It almost feels a little bit like Dance Dance Revolution," says Hurley. "You get kind of a rhythm going with your whole body."
Infinity Blade FX units will hit Dave & Buster's locations nationwide starting on October 28, with the ultimate goal to place machines in as many different locations as possible. Pinard says the idea is to help the home market and arcades work in tandem.
"That's what arcades were in the '90s," Pinard says. "You would launch the game in the arcade, and then they would bring it back to the console. Now it's just flipped over. But we want to provide something that you cannot get at home."
It's a tough task, but Chair has already shown than it can create a fully featured gaming experience on iOS as well as on Xbox Live Arcade (with their previous title, Shadow Complex). If they're bringing that same creativity and enthusiasm to arcades…I wouldn't bet against them.