This post has not been edited by the GamesBeat staff. Opinions by GamesBeat community writers do not necessarily reflect those of the staff.
---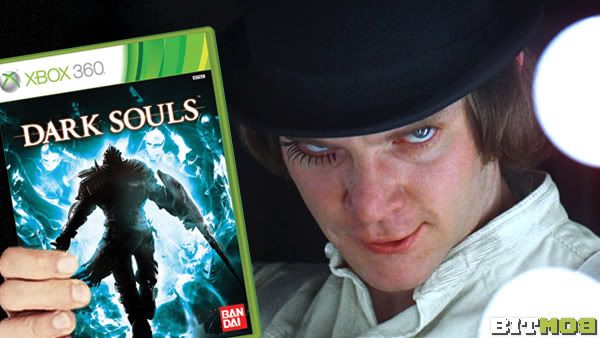 "What's it gonna be then, eh?"
There was me, that is Alex, and my droog, that is LugwigVan, LudwigVan being a digital malchick.
And I sat in the Undead Burg making up my rassoodocks what to do with the evening.
Dark Souls is a real horrorshow eegra, and you may, o my brothers, have forgotten what horrorshow eegras are like, things changing so skorry these days and everybody very quick to forget, NES not being played much neither.
Having just kupetted a few soul levels, there was no real need from the point of view of doing the ultra-violent any more starry, shrivelled-skin chellovecks, so I grabbed my nozh and went in search of a real bolshy veshch to tolchuck while I tried not to snuff it.
After oobivatting some real gloopy chassos, I goolied across a rampart between two towers. Then the ground started cracking like atomics, and I slooshied this clop-clop-clopping. What your humble narrator did viddy next was this real strack scoteena, all ready to jammiwam his shlaga on my gulliver. And jammiwam he did — so skorry, my guttiwuts colored the stones.
I came back to the bonfire with my rot all squaring up for a boohoohoo. But then I skazatted to myself, "Alex, you were not put on this earth just to platch like a malenky ptitsa." So I gathered up my sharries and ittied back for another drat.
Having a brilliant messel, I did what any moodge with half a mozg would do, I ran underneath his giant yarbles. Not for a bit of the in-out-in-out, but because only a really dim orange would tolchuck his own yarbles. So, my brothers, this did become a real dobby mesto to let the krovvy flow.
After I finished shiving this grahzny bratchny, I viddied a door and decided to ookadeet. I gavoreeted with this real nadmenny shoot, all covered in metal and such, before a bridge caught my glazz.
With a guff, I goolied to the bridge to see where it might privodeet. The last thing I did viddy, my dear droogs, was giant zoobies before the fire plesked all over my dear LudwigVan.
Appypolly loggies, o my brothers. It's time for Uncle Alex to grab a bit of spatchka before he tolchucks his controller real horrorshow-like. I'll filly again tomorrow.
---
Special thanks to Samir for the first image.
If you're totally lost with this story (or you just need to brush-up on your Nadsat), here's a dictionary for you.