This post has not been edited by the GamesBeat staff. Opinions by GamesBeat community writers do not necessarily reflect those of the staff.
---
Did you hear? Psychonauts 2. Oh, yeah.
Years ago, I wrote an article about crowdsourcing game budgets. Valve co-founder Gabe Newell, in the days before Steam really took off, had expressed an interest in community-funded game development before promptly abandoning the idea…presumably under a deluge of donation offers marked "Half-Life 2: Episode 3." Since then, Kickstarter.com started marrying ideas to money in an elegantly democratic way. Indie devs could build a cool trailer, build belief in their ability to deliver, build word of mouth, and earn a serious budget five bucks at a time.

It doesn't get weird until he has to milk that cow.
Then something interesting happened. Markus "Notch" Perrson (Minecraft) tweeted an offer to fund a sequel to Double Fine's 2005 commercial flop Psychonauts and then added, "I'm serious." Apparently, he was. Notch and Double Fine founder Tim Schafer have reportedly started "talking."
I like this, and not just because it might net me a sequel to the best action-platformer ever made that almost nobody played. When I first endorsed the idea in 2009, the whole "gamers as publishers" thing made a nice theory. Now the decision on what high-profile titles get made has left the accounting department. We decide — players, creators, geeks, enthusiasts. And that's going to change the entire game…starting with the games themselves.
Maybe you've noticed how many games come out of the major publishers with numbers on them — or else they arrive with "first of an epic trilogy" ambitions erroneously labeled as facts. They don't want hits; they want brands. They want franchises. By definition, a franchise is a safe bet, and they play it safe. Find a successful formula, repeat, repeat, repeat, and then annualize it. A top-tier game budget starts in the $50 million range and climbs from there, so it's easy to see why a company might want to stick to what works. Best of all, a popular brand sells itself. Witness the presale records broken every year by the latest Call of Duty regardless of which developer in the stack actually makes it.
You've got to go small-scale to see any real risks taken. They don't have brands or numbers. Sometimes they don't have any money. They just have ideas, passion, and ambition.
I'll throw out some names. Bastion. Limbo. Insanely Twisted Shadow Planet. Hawken. Super Meat Boy. Small teams, big games…all unfunded during their development, all unsupported by publishers until late in the process, all benefiting from an uncompromised creative direction. They took risks, and so far, they've paid off critically and commercially. So what if they asked us to bankroll their next project as an act of faith?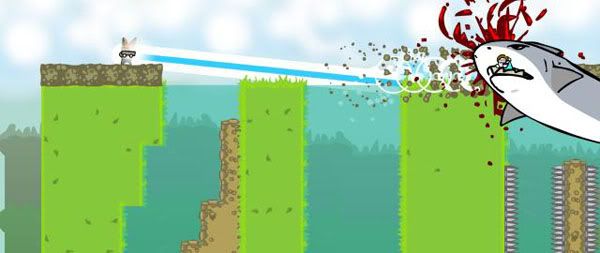 I'll give you $20 if you put in three more flying sharks and a giant space chicken.
If that sounds unrealistic, I'll point you to indie darling No Time to Explain, a time-bending death-a-thon guaranteed to have you giggling like a sick little monkey at its pervasive, abject cruelty. First-time developer Tiny Build Games went on Kickstarter with a mean-spirited trailer, asking for $7,000. They've raked in over $26,000 so far, giving them the wherewithal to move their PC game code onto console devkits and even produce a "season two" of additional content.
Would a Microsoft gatekeeper drink in No Time's madness and write Tiny Build a check? That's tough to say. But gamers immediately got it, and they opened their wallets.
Now we see this happening on the macro scale. Former baseball great Curt Schilling retired from the major leagues and immediately sunk his cash into a video game studio and a dream project: Kingdoms of Amalur: Reckoning. Publisher support came much later, and mainly centered on point-of-purchase matters. And now one guy with a hit game stepped forward to make a seven-figure offer. I don't have a million dollars to pledge, but Double Fine can have my $60 now if it means Psychonauts 2 in the next two years.

I hold the talking stick!
Is this the start of made-for-hire games? What if they let us choose their next project? Double Fine has a history of majority-rules project development, and XE.com founder Steven Dengler personally commissioned Mac ports of Psychonauts and Costume Quest. Schafer's also no stranger to Kickstarter, having recently posted a fundraiser for a prospective adventure game that reaches back to his Grim Fandango/Day of the Tentacle/Secret of Monkey Island roots. That's amazingly cool…when's the last time Activision, EA, or Ubisoft asked what game you wanted to play?
Put it together with a digital retail model that eliminates details like manufacturing and shipping, and you have a system that rewards creativity and originality rather than a play-it-safe mentality. I want that. We've seen it work. We know the market exists.
To paraphrase Notch, let's make it happen.