This post has not been edited by the GamesBeat staff. Opinions by GamesBeat community writers do not necessarily reflect those of the staff.
---
As the video-game industry's popularity continues to grow, more and more big-time celebrities do voice-over work for digital heroes and villains. Take a look at the folllowing cinema and TV stars, and guess which characters they've lent their vocal cords to.
---
A. Zobek (Castlevania: Lords of Shadow)
B. Emperor Martin Septim (The Elder Scrolls 4: Oblivion)
C. Elminster Aumar (Forgotten Realms)
D. Hugh Darrow (Deus Ex: Human Revolution)
---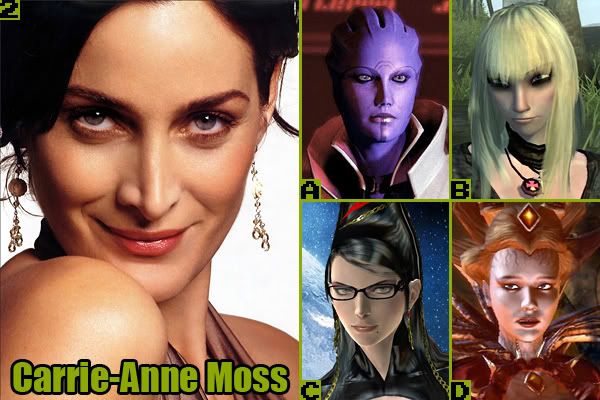 A. Aria T'Loak (Mass Effect 2)
B. Lita Halford (Brütal Legend)
C. Bayonetta (Bayonetta)
D. Beatrice Portinari (Dante's Inferno)
---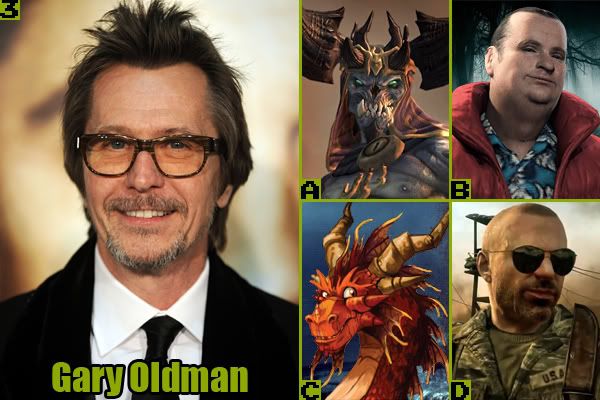 A. Vulgrim (Darksiders)
B. Barry Wheeler (Alan Wake)
C. Ignitus (The Legend of Spyro: Dawn of the Dragon)
D. Jason Hudson (Call of Duty: Black Ops)
---
A. Rain Qin (Fear Effect 2: Retro Helix)
B. Elise Riggs (SSX Tricky)
C. Faith (Mirror's Edge)
D. Dawn Star (Jade Empire)
---
A. Jorhan Brimve Stahl (Killzone 3)
B. Zeus (God of War 3)
C. Augustus Sinclair (Bioshock 2)
D. Sabine (Fable 3)
---
A. Morrigan (Dragon Age: Origins)
B. Miss Aubrey (Dance Central 2)
C. Anya Stroud (Gears of War 3)
D. Aya Brea (The 3rd Birthday)
---
A. TK (Dead Rising 2)
B. Sergeant Foley (Call of Duty: Modern Warfare 2)
C. Roland (Borderlands)
D. Officer Frank Tenpenny (Grand Theft Auto: San Andreas)
---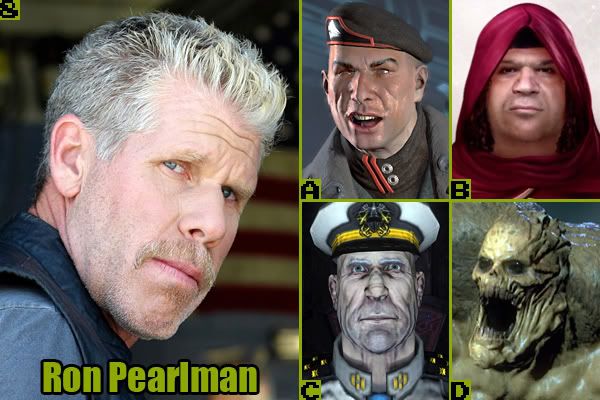 A. Victor Serrano (Bulletstorm)
B. Silvio Barbarigo (Assassin's Creed 2)
C. Lord Hood (Halo 3)
D. Clayface (Batman: Arkham City)
---
A. Tara Strickland (Crysis 2)
B. Tanya (Saints Row)
C. Ellie Langford (Dead Space 2)
D. Trip (Enslaved: Odyssey to the West)
---
A. Manny Escuela (Grand Theft Auto 4)
B. Abraham Reyes (Red Dead Redemption)
C. Raul Alfonso Tejada (Fallout: New Vegas)
D. Tyson Rios (Army of Two: The 40th Day)
---
Check out page two for the answers.
Puzzler: Match the celebrity voices to the video-game characters answers:
---

A. Zobek (Castlevania: Lords of Shadow)

---

A. Aria T'Loak (Mass Effect 2)

---

C. Ignitus (The Legend of Spyro: Dawn of the Dragon)

---

B. Elise Riggs (SSX Tricky)

---

A. Jorhan Brimve Stahl (Killzone 3)

---

D. Aya Brea (The 3rd Birthday)

---

D. Officer Frank Tenpenny (Grand Theft Auto: San Andreas)

---

C. Lord Hood (Halo 3)

---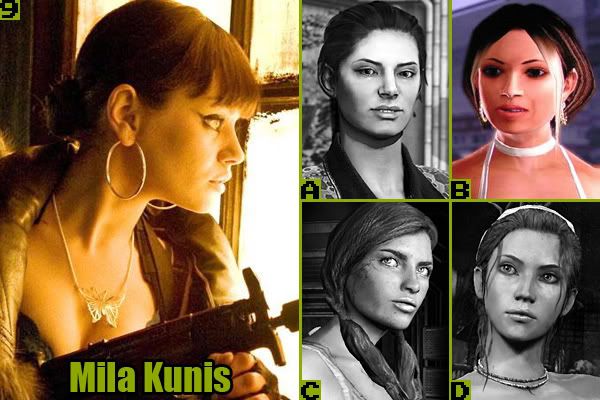 B. Tanya (Saints Row)

---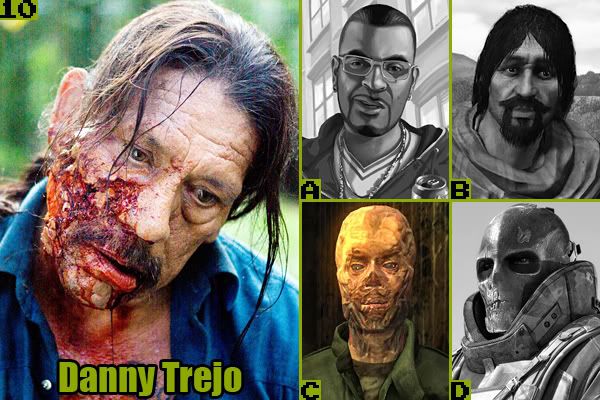 C. Raul Alfonso Tejada (Fallout: New Vegas)