This post has not been edited by the GamesBeat staff. Opinions by GamesBeat community writers do not necessarily reflect those of the staff.
---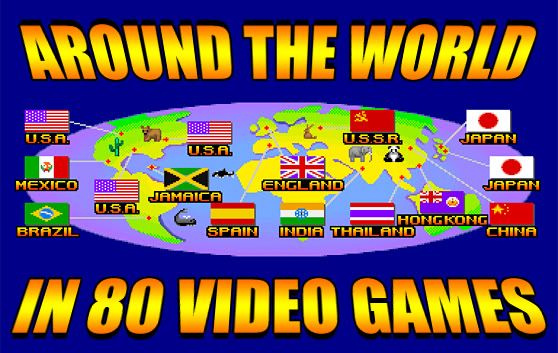 Heroes journey to amazing alien worlds and parallel dimensions all the time, but some of the most extraordinary locations in the galaxy are right here on planet Earth.
Join my epic, eight-part adventure as I travel to 80 landmarks and touristic attractions from all over the big, blue marble as seen in retro video games.
---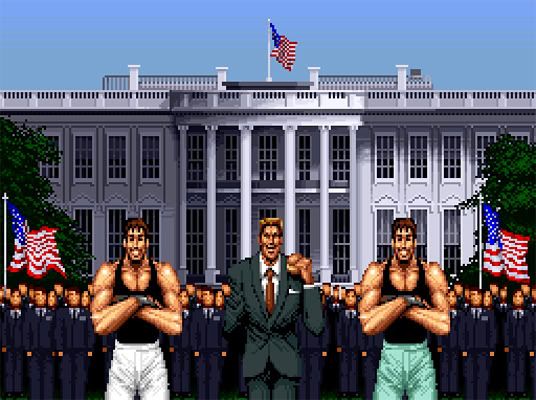 Bad Dudes vs. DragonNinja: President Ronnie pays his rescuers with burgers at the White House, Washington DC.
---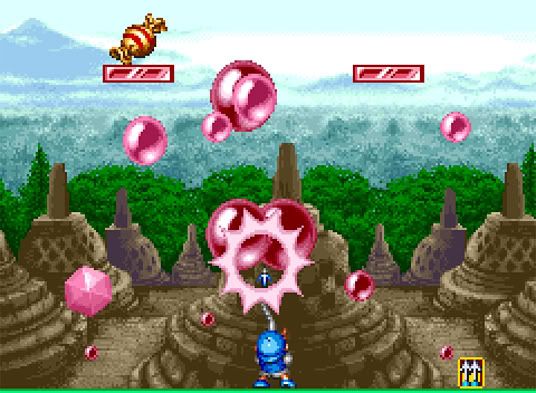 Super Buster Bros.: A kid plays with his balls at the Borobudur Temple in Central Java, Indonesia.
---

The NewZealand Story: A pack of kiwis gathers at the Auckland zoo in New Zealand. One of them is clearly smoking pot.
---

Rage of the Dragons: Elias knocks some holy sense into Alice inside an Irish cathedral.
---

8 Eyes: Orin and Cutrus face a giant swordsman in the Arabian Peninsula. I will not mention that "orín" means "urine" in Spanish. I won't.
---

Where in the World is Carmen Sandiego?: A merchant in a 75 cents hat has not seen a silverback gorilla in Kigali, Rwanda.
---

Prince of Persia 2: The Shadow and the Flame: The prince ends his miserable life by jumping off a cliff somewhere in Iran.
---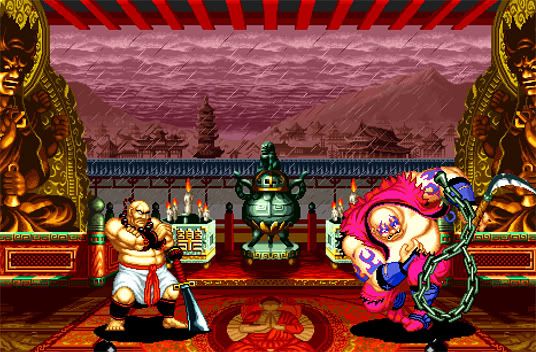 Samurai Shodown: Wan-Fu and Earthquake do the "rain dance" in Cangshan, China.
---

Taz-Mania: The sun in Tasmania's outback is so hot that it causes hallucinations. Birds don't really crap pixie dust.
---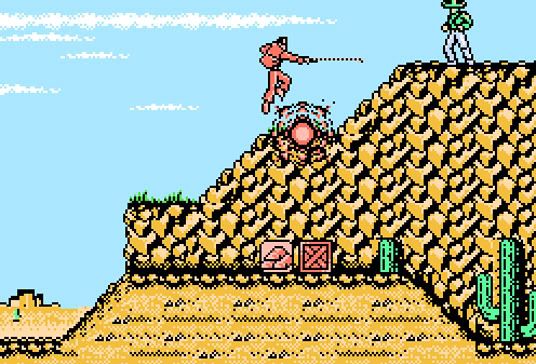 The Young Indiana Jones Chronicles: Before nuking the fridge in Kingdom of the Crystal Skull, young Indy "jumped the grenade" in Chihuahua, Mexico.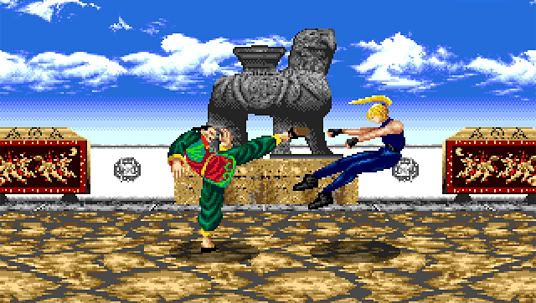 Virtua Fighter 2: A proud lion statue in Hong Kong tries to ignore the lameness that is Virtua Fighter 2 on the Genesis.
---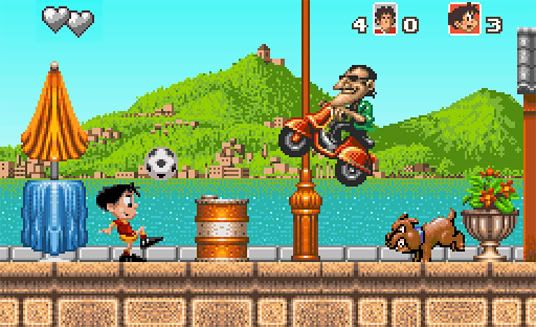 Adventures of Kid Kleets: The title of this soccer game sounds dirty but not more than that creepy guy cruising the Italian Riviera in a moped.
---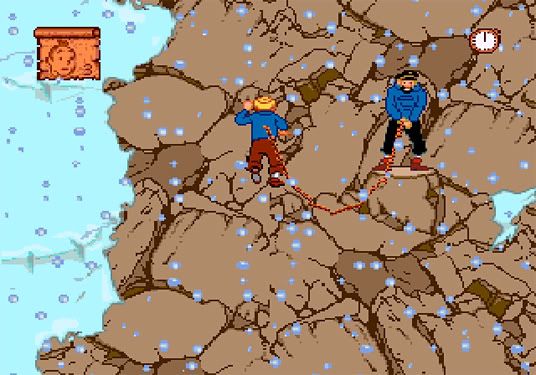 Tintin in Tibet: I don't think this is the safest way to climb snowy mountains in Tibet.
---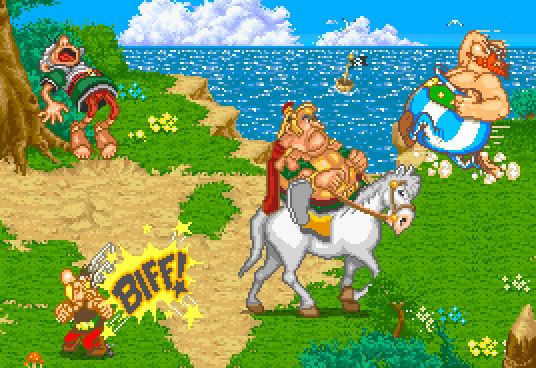 Asterix: Asterix and Obelix fight the power in Luxemburg. Poor horse.
---

Frankenstein: Igor gets harassed by every single villager in Ingolstadt, Bavaria.
---

Super Gem Fighter Mini Mix: Undead cats on carriages drawn by pigs, howling werewolves, the biggest moon ever…yep, Scotland gets wild and crazy at night.
---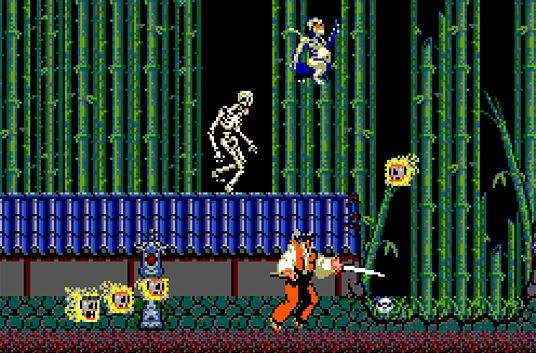 Kenseiden: The bamboo forest in Kagoshima, Japan is beautiful…until zombie monkeys and floating skulls pop out of it.
---

Road Rash II: A serene Alaskan scene is ruined by rowdy motorists. Is Lesley the biker throwing a punch or the one about to deliver death by club?
---

Skitchin': The game's manual warns players that skitching (seen here in Vancouver) is dangerous and can get you killed. Have fun, kids.
---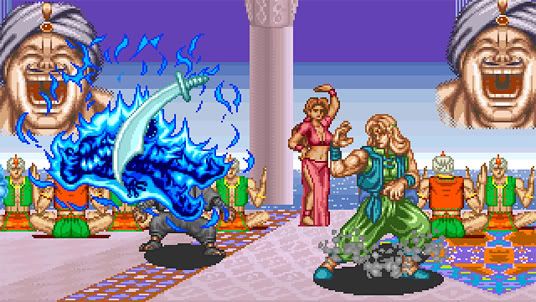 Power Instinct 2: I'd love to describe this stage in Lebanon, but I have no idea what is going on.

Rambo 3: John Rambo vs. a Soviet Hind helicopter in Khost, Afghanistan. Guess who will win.
---

TaleSpin: Baloo von Bruinwald XIII gets high as a kite over the Alps in Slovenia.
---

Crossfire (aka Super Airwolf): This helicopter pilot is a badass. He goes on foot over the Panama Canal just for shits and giggles.
---

Where in Time is Carmen Sandiego?: Could Carmen be at the Arc de Triomphe in Paris? Who cares?
---

Super Hang-On: If the tight corners don't kill you, the high temperatures of the Ghardaïa desert in Algeria will.
---

Double Dragon: The grotesque Bo Abobo bullies Rebecca in front of her burning dojo in the Netherlands.
---

Indiana Jones Trilogy: Indy is in for the ride of his life down the Himalayas. Hey, where's Wilhelmina and Short Round?
---

Street Fighter II: The World Warrior: A giant Buddha statue in Thailand enjoys a street fight between the Emperor of Muay Thai and a legendary sumo wrestler.
---

Rolling Thunder 2: Agents Leila and Albatross have some fun in the sun in Key West, Florida. By "fun in the sun" I mean shooting people in the face.
---

Time Killers: Rancid takes a small souvenir from Leif the Viking off the coast of Greenland.

Fatal Fury 2: Wolfgang Krauser craves a hug from Tung Fu Rue in Stroheim, Austria.
---

Road Rash 3: The Isle of Man is so small that this biker prefers to travel by foot.
---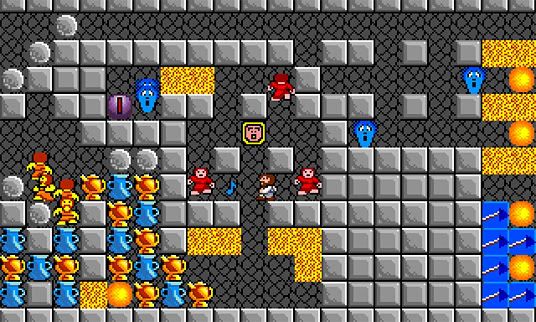 Joshua & the Battle of Jericho: The Bible's description of the battle of Jericho (Book of Joshua) is bloody and disturbing, but it's so much worse on the Sega Genesis.
---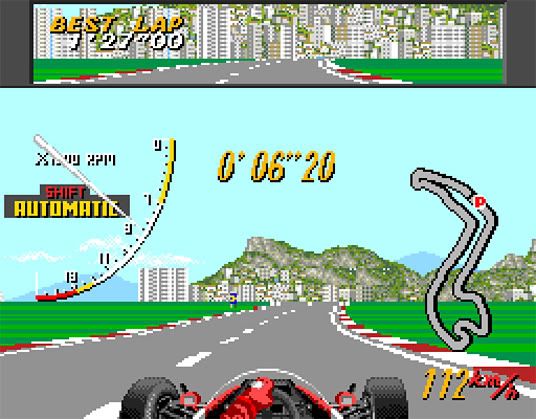 Super Monaco Grand Prix: The city of Monaco looks like an exquisite blur when racing at over 100kmh.
---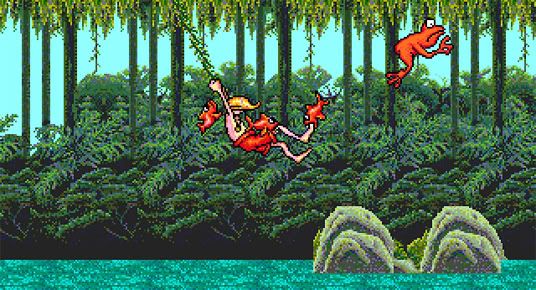 Greendog: The Beached Surfer Dude: Greendog could have been Sega's mascot if the game didn't suck ass. These piranha from Grenada are doing the world a favor.
---

Street Fighter III: 3rd Strike: Necro is one odd-looking, dangerous brawler. Alex should have stayed the hell away from Russia.
---

OutRunners: The Wild Chaser drifts out of control near the Matterhorn mountain in Switzerland.
---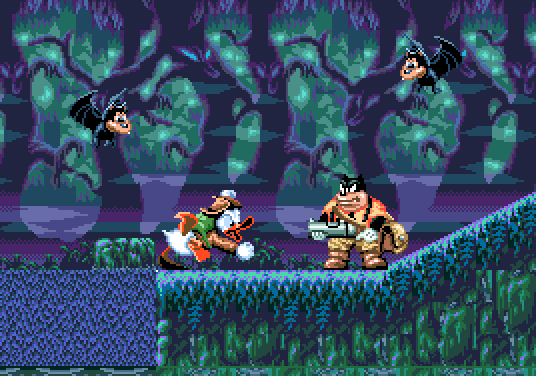 QuackShot: Starring Donald Duck: To reach Count Dracula in Transylvania, Romania, Donald must go through Big Bad Pete and his…shotgun?
---

The King of Fighters '95: Heidern and Ryo need to watch their footing on top of that canyon in Brazil.
---

Jurassic Park: Isla Nublar is supposed to be part of Costa Rica, but the movie was shot in Hawaii. Regardless of the location, Dr. Grant is f****ed.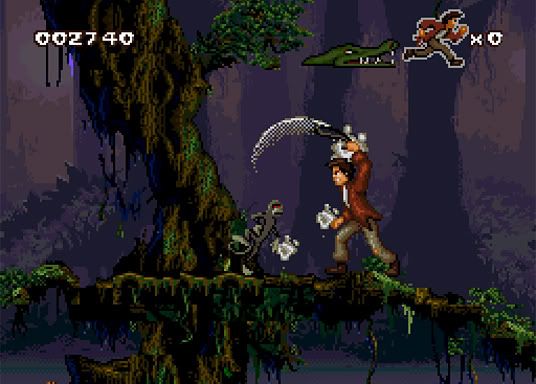 Pitfall: The Mayan Adventure: Harry spanks his monkey in the forest of La Ceiba, Honduras.
---

Duck Tales 2: Frog baseball is a new extreme sport in Niagara Falls. All the rich ducks are doing it.
---

F1 World Championship: You haven't raced until you compete in the Interlagos circuit in Portugal.
---

Deadly Moves: Kenya used to be the home of dinosaurs with ginormous heads.
---

Winter Olympics: Lillehammer 94: If you're into freezing weather and sports, take a trip to Lillehammer, Norway.
---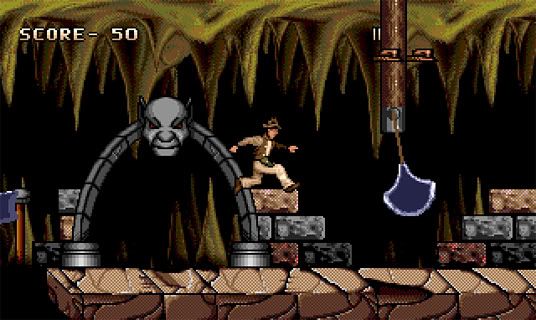 Indiana Jones and the Last Crusade: Dr. Jones dodges booby traps in Hatay, Turkey while searching for the Holy Grail.
---

Eternal Champions: Blade (not THAT Blade) and Midknight fight for the only fan in the Syrian desert.
---

Mario's Time Machine: Bowser finally realizes he has no genitalia in Mainz, Germany.
---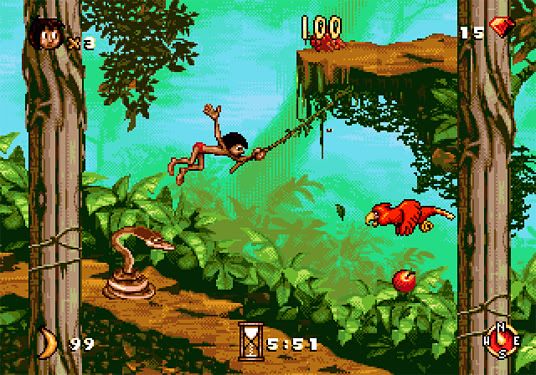 The Jungle Book: Mowgli goes apeshit while swinging on a vine in Madhya Pradesh, India.
---

Street Fighter Alpha 2: Charlie practices his new dance moves on M. Bison's face at the top of Angel Falls, Venezuela.

Ninja Gaiden: Ryu Hayabusa's search for Guardia de Mieux (Jaquio) takes him deep into the Amazon jungle.
---

Aerobiz Supersonic: A plane crashes on its way to Havana, Cuba. Apparently it was some kind of accident.
---

Ferrari Grand Prix Challenge: Formula One race cars test their speed near a wall of Scotch pines in Belgium.
---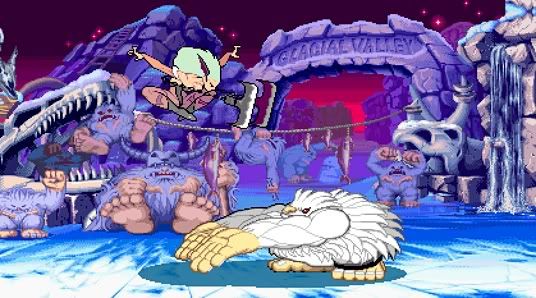 DarkStalkers: Sasquatch's Glacial Valley lies somewhere in the Rocky Mountains, Canada.
---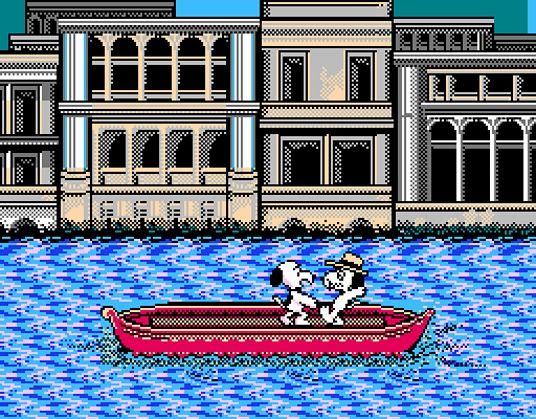 Snoopy's Silly Sports Spectacular: Snoopy attempts to murder his older brother, Spike, in the waters of Venice, Italy.
---

USAAF Mustang: Now you know why the bottom of Truk Lagoon in the Pacific Ocean is full of sunken wreckage.
---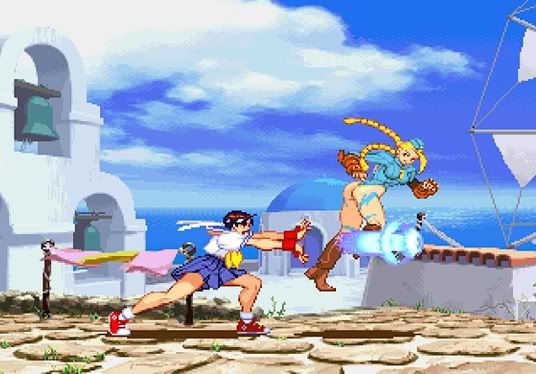 Street Fighter Alpha 3: Sakura and Cammy just wanna have fun in Mykonos, Greece.
---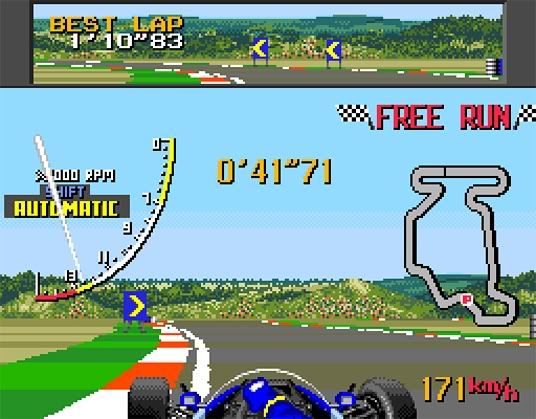 Ayrton Senna's Super Monaco GP II: Engines roar and tires screech near the town of Mogyoród in Hungary.
---

The King of Fighters '97: Ralf Jones and Billy Kane settle their differences in the Indonesian island of Bali.
---

Desert Strike: Return to the Gulf: Electronic Arts denies it, but we all know this is one of Saddam Hussein's palaces in Iraq.

Mario is Missing!: Bowser gets paralyzed by Luigi's ungodly stare on the streets of Buenos Aires, Argentina.
---

Super Street Fighter II: The New Challengers: Tourists enjoy good food, reggae music, and a brutal street fight in Jamaica.
---

Power Drive: A lush forest becomes a racetrack in the island of Corsica.
---

World Heroes 2: Johnny Maximum teaches American football to Mudman in New Guinea.
---

The Lucky Dime Caper: Donald Duck is about to clobber a pig (cow?) in a hat in Machu Picchu, Peru. Classic Disney.
---

Fatal Fury Special: Laurence Blood makes a fool out of Big Bear in Pamplona, Spain.
---

Final Fight 2: Haggar and Maki beat the shit out of the locals in Holland.
---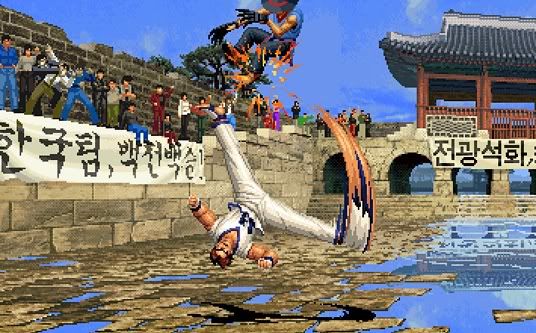 The King of Fighters '96: Kim Kaphwan and Choi Bounge train at a slippery Korean temple.
---

Rampage World Tour: I don't know how giant monsters travel (by blimp?), but no building in Moab, Jordan is safe from them.
---

Street Fighter III: 2nd Impact: Oro seems more interested in Elena's diaper than the beautiful Nairobian scenery behind him.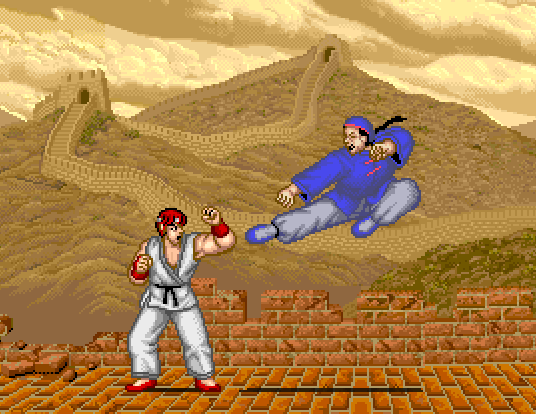 Street Fighter: Ryu and Lee square off on top of the Great Wall of China.
---

Castlevania: Bloodlines: John Morris takes a dip in a bloody fountain near the Palace of Versailles, France.
---

Super Dodge Ball: Team USA faces tough competition at Vatnajökull, Iceland. Cold crowd.
---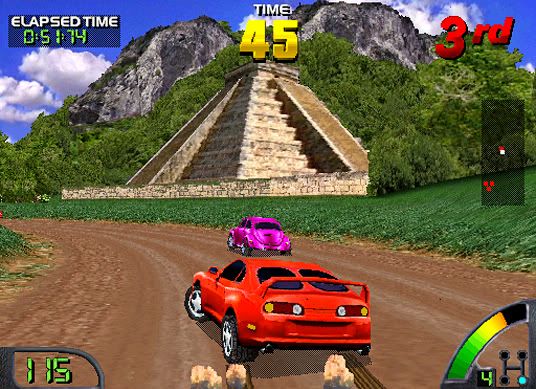 Cruis'n World: A red Toyota Supra drifts way too close to a pyramid in the ancient city of Chichen Itza, Mexico.
---

Double Dragon 3: The Sacred Stones: The Lee brothers spar against a couple of fools at Giza Necropolis, Egypt.
---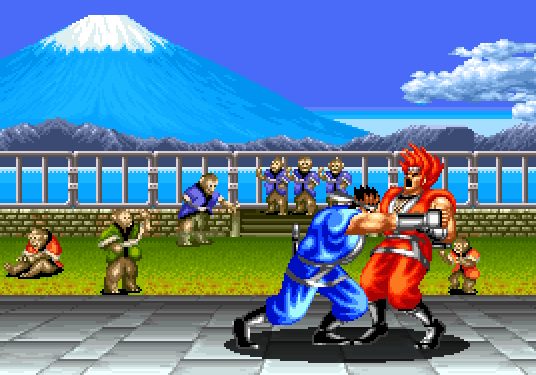 World Heroes: When you're done staring at the cute, Japanese monkeys you might notice the gigantic Mount Fuji in the background.
---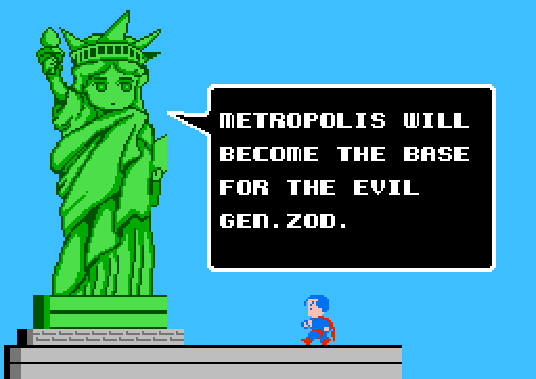 Superman: Metropolis is NOT New York. Yeah, and that's not the Statue of Liberty….
---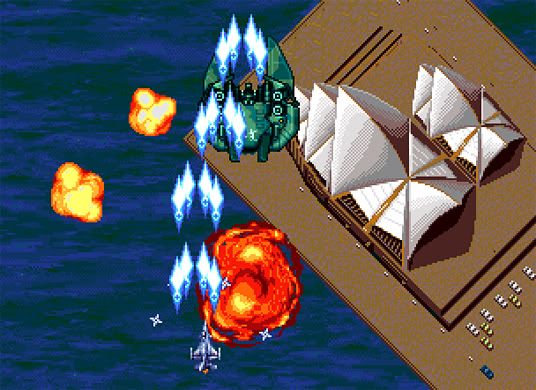 Aero Fighters 2: Hien saves Sydney's Opera House from aliens. Australia is safe, for now….
---

Killer Instinct 2: Tusk and Jago battle to the death at the mysterious Stonehenge in Wiltshire, England.
---

Gradius III: While technically not Earth, huge, stone heads like these cover part of the land around the Rano Raraku region of Easter Island. Mystery solved.