This post has not been edited by the GamesBeat staff. Opinions by GamesBeat community writers do not necessarily reflect those of the staff.
---
If bootleg Super Mario Bros. stickers can be this bizarre and fun, I don't think I ever want official ones. I picked these sheets up for a buck each from a little mom-and-pop shop near my house. So far, the laughs I've had far outweigh the initial cost. I expect no less from a product that features the awkward phrase, "We have hopes because we have love. Made in china [sic]".
Though all of these stickers are pretty charming in their own devoid-of-context way, if I had to choose my top five oddities, it would be these:
1. One of the most noticeable peculiarities of these sticker sheets is the varying art style. It only took me about two seconds before I realized that someone borrowed some SMB fan art from the Internet to use as filler. Then again, the print of the realistic, obese Mario riding a Nike Air Jordan-sporting T-rex Yoshi is something I would have wanted anyway.
---
2. The special jumbo sticker on one of my sheets depicts the lovable Luigi from the Mario Kart series. For some unexplainable reason, however, he has a flying red koopa stuck to his elbow. In the end, they both look pretty happy about the situation, so who am I to complain?
---
3. I wonder how many observant six year olds will see some of these and realize that they're actually printed photos of Mario figurines….
---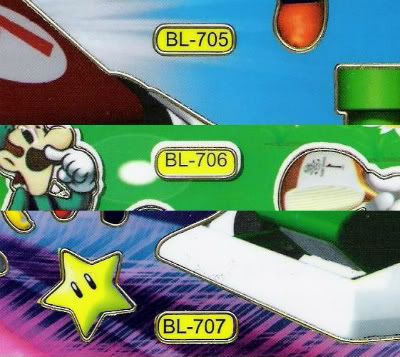 4. What significance do the phrases "BL-705," "BL-706," and "BL-707" have in the Mushroom Kingdom? Absolutely nothing. I'm 99.9 percent sure those are just the codes the manufacturer used to keep track of the different sheets. I imagine the business decision sounded something like, "Eff it, let's give the kids another sticker."
---
5. And the award for my favorite bootleg Nintendo sticker goes to one showing Mario angrily pointing at a pair of PlayStation Portables. What seals the deal is that he's wearing a belt (on top of his overalls) that at one time held up the FLUDD backpack accessory from Super Mario Sunshine. It's as if he's saying, "If you dare try to play these PSPs, I will take off my belt and beat you until you're left with just one extra life."
---
Now, I can honestly say that I have not had this much fun with some knockoff Nintendo merchandise since my tanooki-tail Mario (with brown skin) T-shirt that I got from Mexico in the early 1990s.