This post has not been edited by the GamesBeat staff. Opinions by GamesBeat community writers do not necessarily reflect those of the staff.
---
This article might contain spoilers for Xenoblade Chronicles.
---
I was feeling depressed.
I had just gotten out of a horrible journalism class about the future of web journalism. The speaker was motivational, but his lecture was full of false get-rich claims.
Thankfully, Xenoblade Chronicles changed my entire outlook on the week with a humongous universe full of stunning visuals.
A Japanese RPG shouldn't look this beautiful and detailed on a Nintendo Wii. That's why Xenoblade is such a breath of fresh air. The characters move more smoothly than the main characters of Final Fantasy XIII-2. The graphics are marvelous. I literally spent two hours exploring the grassy hills around the first area of Colony Nine.
Each town housed residents with plenty of side quests to offer my main characters. I spent a few more hours killing monsters to collect items for these people. I earned plenty of experience and rewards just for helping them out.
The fighting system took some time to adjust to. In the beginning, the game threw me into a sword battle with giant Mechon robots. I literally panicked. Fortunately, each battle was a simple matter of choosing special commands in an automatic fighting sequence. It plays similarly to Final Fantasy XII, but everything flows much more smoothly in Xenoblade.
The story is really what sets this adventure apart from every other recent Japanese RPG. Although it dabbles in ancient tales about the creation of the universe, the meat of the story takes place early in the adventure. In a heated battle against giant robots, a young man named Shulk loses one of his best friends in a fatal attack.
Thus, he begins his quest to find the robot who killed this person and countless other soldiers. Longtime gamers have probably seen this type of story before, but Xenoblade has a style that lingers on heart-breaking deaths and tragedy. The title screen literally encompasses this longing for everything that is beautiful. It only shows a sword stuck in a grassy field as the sky changes from day to night. The delicate piano music expresses all the repressed emotional feelings in a touching, abstract fashion.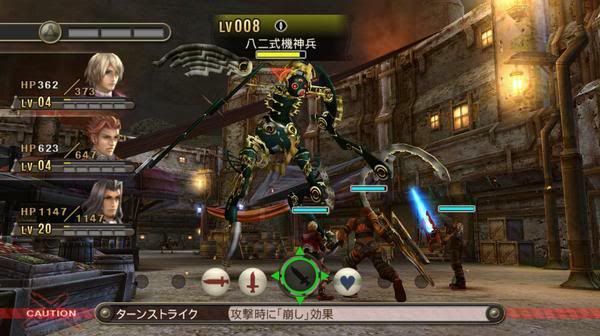 This game, developed by Monolith Soft, is unconventional in nearly every way imaginable. It expresses all the emotions that I've forgotten in recent big-budget productions. Rather than showing off cutting-edge graphics, it dwells on the loss of human life. Instead of pushing people into action sequences, it focuses on the intimate friendship of wonderful characters.
To be honest, I've never played anything quite like Xenoblade Chronicles. Fallout 3 came close, but the ruins of Washington D.C. are nowhere near as colorful. Xenoblade made up for all the aggravation I've experienced from fraudulent motivational speakers and various other fake employers I've met in the past. This game is just a genuine, down-to-earth adventure that gives me everything I haven't received from experiences in the past.
No one could ever argue that Xenoblade isn't art because this piece of software is one of the greatest games I've ever played.
---
What other recent offerings from Japan could be considered artistic masterpieces? Why hasn't Nintendo had the guts to release more amazing titles like Xenoblade Chronicles? Feel free to emote about this topic in the comments below.